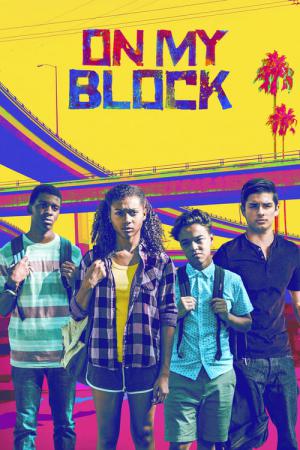 17 Best Shows Like On My Block ...
If you liked this one , you will definitely love these too! In this selection we highlight some of the best films that share a very similar mood to '', and are worth checking out.
1.
Never Have I Ever (2020)
27m Comedy
After a traumatic year, all an Indian-American teen wants is to go from pariah to popular -- but friends, family and feeling won't make it easy on her.
1h 25m Comedy
Felix (Cameron Dallas) is a legendary prankster who gets expelled from his high school and, with his friend's help, stops at nothing to hide it from his parents.
3.
10 Things I Hate About You (1999)
1h 44m Comedy
In Los Angeles, five high-school friends deal with romance, money, prom, college, sex, bullies, Facebook, fitting in, standing out, and finding themselves.
5.
I Hate My Teenage Daughter (2011)
22m Comedy
I Hate My Teenage Daughter is an American sitcom that ran on Fox from November 30, 2011 to March 20, 2012. It aired at the 9:30 pm /8:30 pm timeslot after The X Factor. The series stars Jaime Pressly and Katie Finneran. On May 10, 2012, Fox canceled the series. The six remaining episodes subsequently aired in Australia and New Zealand.
6.
General Education (2012)
1h 34m Comedy
Levi Collins is set to go to the local University on a tennis scholarship, but he forgot to tell his parents one thing - he didn't graduate. As a result, he must take summer school before his mom and dad discover he's failed senior science. At school, Levi falls in love with his classmate, Katie, and learns that he has to make a choice between playing tennis and receiving a proper education. General Education is a quirky comedy about a family learning to grow together.
30m Comedy
Esther and Benji are platonic best friends who want nothing more than to be accepted by the vain and status-obsessed culture of Los Angeles. Despite their sometimes contentious relationship, when push comes to shove, they've got each other's back … And they have nobody else to hang out with.
30m Comedy
Middle school as it really happened. Maya Erskine and Anna Konkle star in this adult comedy, playing versions of themselves as thirteen-year-old outcasts in the year 2000, surrounded by actual thirteen-year-olds, where the best day of your life can turn into your worst with the stroke of a gel pen.
22m Comedy Drama
An irreverent look at the conflict, chaos and humor that defines teenage life through the eyes of 15-year-old Jenna Hamilton whose life begins to change when a simple accident becomes an epic misunderstanding and is blown way out of proportion. Narration in the first-person voice of Jenna's blog posts captures the humor within the struggles and experiences everyone can relate to from their formative years.
1h 35m Comedy
After falling victim to a humiliating prank by the high school Queen Bee, best friends and world-class geeks, Mindy and Jodi, decide to get their revenge by uniting the outcasts of the school against her and her circle of friends.
11.
Now Apocalypse (2019)
32m Documentary
In the 1970s, Dutch photographer Charles 'Chas' Gerretsen suddenly became world famous with his then small oeuvre. Privateer from a young age and former war photographer, he was invited by Francis Ford Coppola to capture everything on the set of Apocalypse Now because of his wartime experiences. Most of his work on the legendary set has never been seen before. Until now. In honor of the 40th anniversary of Apocalypse Now, Rotterdam-based cinema KINO Rotterdam and the Nederlands Fotomuseum joined forces to unearth the archive of Gerretsen and produced a documentary together. The documentary contains an in-depth interview with Gerretsen and more than 100 pictures of the stellar cast including Marlon Brando, Dennis Hopper and Martin Sheen. It even features images of deleted scenes.
12.
The F**k-It List (2020)
1h 43m Comedy
After a prank blows up a studious high school senior's life, he shares a list of certain things he wishes he'd done differently — and maybe still can.
13.
Zach Stone Is Gonna Be Famous (2013)
21m Comedy
Zach hires a camera crew to film him throughout his daily life as a part of his quest to become an over-night celebrity - even though he possesses no real talent. From Zach's attempts to become a celebrity chef or a ring-tone recording artist to purposefully going missing, he'll try any avenue to get noticed and stop at nothing until he reaches fame.
14.
Ja'mie: Private School Girl (2013)
25m Reality
We don't have an overview translated in English. Help us expand our database by adding one.
15.
How to Be a Gentleman (2011)
22m Comedy
How to Be a Gentleman, inspired by the book of the same name, is a comedy about the unlikely friendship between a traditional, refined writer and an unrefined personal trainer. Andrew Carlson (David Hornsby) is an etiquette columnist whose devotion to ideals from a more civilized time has lead to a life detached from modern society. Infectiously optimistic, Bert Lansing (Kevin Dillon) is a reformed "bad boy" from Andrew's past who inherited a fitness center, but can still be rude, loud and sloppy. When Andrew's editor, Jerry (Dave Foley), tells him to put a modern, sexy twist on his column or be fired, he hires Bert as a life coach in the hopes of learning to be less "gentle man" and more "real man."
15m Comedy
Loiter Squad is an American sketch comedy television series starring Tyler, The Creator, Jasper Dolphin, Taco Bennett, and Lionel Boyce from the Los Angeles hip hop group Odd Future. The show regularly features other members of the group as well. Jeff Tremaine, Shanna Zablow, Dimitry Elyashkevich, Lance Bangs, Nick Weidenfeld and Keith Crofford are the show's executive producers. The show is produced by Dickhouse Entertainment for Cartoon Network's Adult Swim programming block. The show's second season made its debut on March 10, 2013.
explore
Check out more list from our community