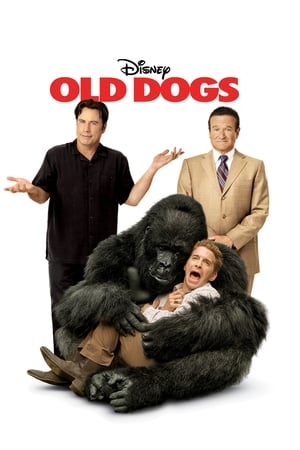 11 Best Movies Like Old Dogs ...
If you liked this movie , you will for sure love these too! In this selection we highlight some of the best films that share a very similar mood to 'Old Dogs', and are worth checking out.
1.
Diary of a Wimpy Kid: Dog Days (2012)
1h 34m Comedy Family
It's summertime, and Greg Heffley is looking forward to playing video games and spending time with his friends. However, Greg's dad has other plans: He's decided that some father-son bonding time is in order. Desperate to prevent his dad from ruining summer vacation, Greg pretends he has a job at a ritzy country club. But Greg's plan backfires, leaving him in the middle of embarrassing mishaps and a camping trip gone wrong.
1h 40m Comedy Family
Placed in a foster home that doesn't allow pets, 16-year-old Andi and her younger brother, Bruce, turn an abandoned hotel into a home for their dog. Soon other strays arrive, and the hotel becomes a haven for every orphaned canine in town. But the kids have to do some quick thinking to keep the cops off their tails.
1h 30m Family Comedy
Shakey is a family film about a 35-year-old widower named J.T. O'Neil, his precocious 10-year-old daughter and their devoted mutt Shakey. After moving from a small town to Chicago and missing the fine print in their rental contract, J.T. is forced to try and get rid of his lovable pooch. Shakey and Chandler won't have it and hatch a plan to keep Shakey and teach J.T. a valuable lesson about loyalty and the importance of keeping family together.
4.
Man of the House (1995)
1h 36m Action Comedy Family
Ben Archer is not happy. His mother, Sandy, has just met a man, and it looks like things are pretty serious. Driven by a fear of abandonment, Ben tries anything and everything to ruin the "love bubble" which surrounds his mom. However, after Ben and Jack's experiences in the Indian Guides, the two become much closer.
1h 29m Family Comedy
Seeking to offer his son the satisfying summer camp experience that eluded him as a child, the operator of a neighborhood daycare center opens his own camp, only to face financial hardship and stiff competition from a rival camp.
6.
Beethoven's Big Break (2008)
1h 41m Comedy Family
Eddie, a struggling animal trainer and single dad suddenly finds himself the personal wrangler for a large and lovable St. Bernard whose fabulous movie "audition" catapults the dog to stardom. However, a trio of unscrupulous ne'er-do-wells have plans to kidnap the famous dog and hold him for ransom.
7.
Beethoven's 4th (2001)
1h 33m Comedy Family
The family is pleasantly surprised and puzzled when Beethoven suddenly becomes obedient. Turns out it's a prince and the pauper scenario, with the real Beethoven now living with a pompous rich family.
1h 40m Comedy Family
All Ira Finkelstein wants for Christmas is...Christmas. Unfortunately, his parents are sending him to Florida to be with his Grandparents. Ira's spirit soars as he manages to land in Christmas Town, USA, instead.
9.
The Little Rascals (1994)
1h 22m Romance Comedy Family
When Alfalfa starts to question his devotion to the club's principles after falling for the beautiful nine-year old Darla, the rest of the gang sets out to keep them apart.
10.
Are We There Yet? (2005)
1h 35m Adventure Comedy Family Romance
The fledgling romance between Nick, a playboy bachelor, and Suzanne, a divorced mother of two, is threatened by a particularly harrowing New Years Eve. When Suzanne's work keeps her in Vancouver for the holiday, Nick offers to bring her kids to the city from Portland, Oregon. The kids, who have never liked any of the men their mom dates, are determined to turn the trip into a nightmare for Nick.
11.
Are We Done Yet? (2007)
1h 32m Comedy Family
Newlyweds Nick and Suzanne decide to move to the suburbs to provide a better life for their two kids. But their idea of a dream home is disturbed by a contractor with a bizarre approach to business.
explore
Check out more list from our community