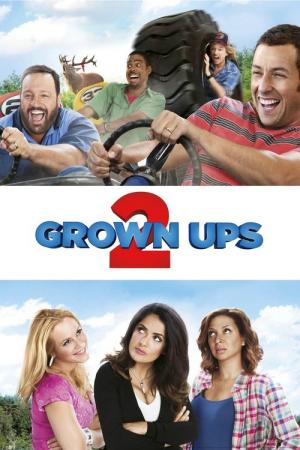 12 Best Movies Like Grown Ups ...
If you liked this film , you will probably love these too! In this list we highlight some of the best films that share a very similar premise to 'Grown Ups 2', and are worth checking out.
1h 25m Comedy
Felix (Cameron Dallas) is a legendary prankster who gets expelled from his high school and, with his friend's help, stops at nothing to hide it from his parents.
2.
Good Intentions (2010)
1h 25m Comedy
Meet Etta Milford. Loving Wife. Doting Mother. Armed Robber. Etta's husband constantly blows their money on make-shift inventions. When she decides to secretly take "investment" matters into her own hands - things quickly go awry! With their savings gone, her husband suspicious, and their children out of control, Etta concocts a scheme to get back their money and save her family.
3.
American Reunion (2012)
1h 53m Comedy
The characters we met a little more than a decade ago return to East Great Falls for their high-school reunion. In one long-overdue weekend, they will discover what has changed, who hasn't, and that time and distance can't break the bonds of friendship.
4.
The Brothers Solomon (2007)
1h 33m Comedy
A pair of well-meaning, but socially inept brothers try to find their perfect mates in order to provide their dying father with a grandchild.
5.
Kickin' It Old Skool (2007)
1h 48m Comedy
"Kickin' It Old Skool" revolves around a 12-year-old breakdancer, who in 1986 hits his head while performing at a talent show and as a result is comatose for 20 years. He awakens to find he is a grown man. With the mind and experience of a young kid, he attempts to revive his and his dance team's short-lived career with the hopes of helping support his parents' failing yogurt shop.
1h 56m Comedy
The parents of a soon-to-be married couple make the final preparations for the wedding ceremony.
1h 48m Comedy Romance
After a year apart - attending different schools, meeting different people - the guys rent a beach house and vow to make this the best summer ever. As it turns out, whether that will happen or not has a lot to do with the girls. Between the wild parties, outrageous revelations and yes, a trip to band camp, they discover that times change and people change, but in the end, it's all about sticking together.
8.
Moms' Night Out (2014)
1h 38m Comedy
Yearning for an evening without their kids, some friends plan a night out. But to do this, their husbands need to watch the kids. What can go wrong?
9.
Couples Retreat (2009)
1h 53m Comedy Romance
Four couples, all friends, descend on a tropical island resort. Though one husband and wife are there to work on their marriage, the others just want to enjoy some fun in the sun. They soon find, however, that paradise comes at a price: Participation in couples therapy sessions is mandatory. What started out as a cut-rate vacation turns into an examination of the common problems many face.
10.
Where the #$&% Is Santa? (2008)
1h 33m Comedy
In the midst of a trip to Finland to find the perfect Christmas gift for his wife, Missy, skateboarding superstar MTV personality Bam Margera is struck by inspiration to find the elusive Santa clause.
2h 10m Comedy
When a hapless but dedicated talent manager signs his first client who actually has talent, his career finally starts to take off.
explore
Check out more list from our community