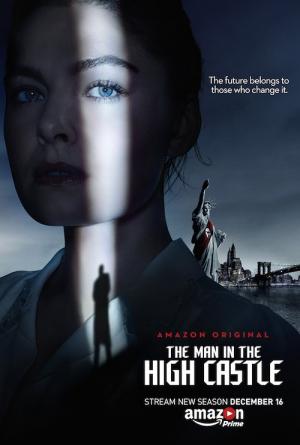 14 Best Shows Like Man In The High Castle ...
If you liked this one , you will definitely love these too! In this selection we highlight some of the best films that share a very similar premise to 'The Man in the High Castle', and are worth checking out.
An English teacher travels back in time to prevent the Kennedy assassination, but discovers he is attached to the life he has made in a bygone era.
1h 21m
Drama Sci-Fi & Fantasy
Howard Silk is a lowly cog in a bureaucratic UN agency who is turning the last corner of a life filled with regret when he discovers the agency he works for is guarding a secret: a crossing to a parallel dimension.
56m
Drama Science Fiction
3.
The Secret Agent (1996)
In 1880s London, pornographic bookseller Verloc is a double agent for the Russian government, providing information to Chief Inspector Heat about a lazy anarchist organization. In order for the anarchists to be arrested, an act of terrorism must occur. So Verloc decides to set up bombs – which leads to tragedy – not only for himself but also for his family, including wife Winnie and brother-in-law, Stevie.
1h 35m
Director, Writer: Christopher Hampton
Novel: Joseph Conrad
Drama Thriller
4.
Seven Days in May (1964)
A U.S. Army colonel alerts the president of a planned military coup against him.
1h 58m
Director: John Frankenheimer
Novel: Fletcher Knebel
Novel: Charles W. Bailey II
Screenplay: Rod Serling
Drama Thriller
"The Game" is a 1970s Cold War spy thriller set in the world of espionage. It tells the story of the invisible war fought by MI5 as it battles to protect the nation from the threats of the Cold War.
59m
War & Politics Drama Crime
An emotionally-driven character drama, set in the thrilling and dangerous world of WWII espionage and covert operations. It follows the stories of five highly skilled young recruits - Canadian, American and British - torn from their ordinary lives to train as agents in an ultra-secret facility on the shores of Lake Ontario. These agents parachute behind enemy lines, where they're fair game for torture and execution. From elegant hotels to hellholes in the field, it's one risky operation after another, masterminded by the brains of Camp X.
44m
Creator: Stephanie Morgenstern
Creator: Mark Ellis
Drama
Imagine the perfect American town... beautiful homes, manicured lawns, children playing safely in the streets. Now imagine never being able to leave. You have no communication with the outside world. You think you're going insane. You must be in Wayward Pines.
43m
Drama Mystery Sci-Fi & Fantasy
10.
Deutschland 83 (2015)
11.
The Ipcress File (1965)
Sly and dry intelligence agent, Harry Palmer is tasked with investigating British Intelligence security, and is soon enmeshed in a world of double-dealing, kidnap and murder when he finds a traitor operating at the heart of the secret service.
1h 49m
Director: Sidney J. Furie
Novel: Len Deighton
Screenplay: W.H. Canaway
Screenplay: James Doran
Thriller Mystery
12.
Tinker Tailor Soldier Spy (1979)
Tinker, tailor, soldier, sailor, rich man, poor man, beggar-man, thief. George Smiley, the aging master spy of the Cold War and once heir apparent to Control, is brought back out of retirement to flush out a top level mole within the Circus. Smiley must travel back through his life and murky workings of the Circus to unravel the net spun by his nemesis Karla 'The Sandman' of the KGB and reveal the identity of the mole before he disappears.
50m
Creator: John Irvin
Creator: John le Carré
Drama
The story of the Cuban Missile Crisis in 1962—the nuclear standoff with the USSR sparked by the discovery by the Americans of missile bases established on the Soviet-allied island of Cuba.
2h 25m
Director: Roger Donaldson
Screenplay: David Self
Thriller
explore
Check out more list from our community