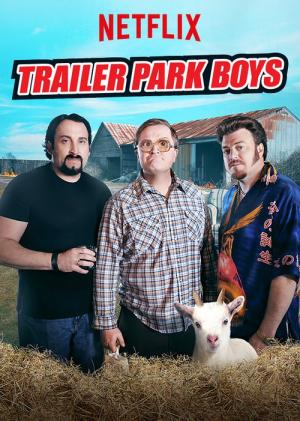 9 Best Shows Like Trailer Park Boys ...
If you liked this film , you will probably love these too! In this selection we highlight some of the best films that share a very similar mood to '', and are worth checking out.
1.
Trailer Park Boys: The Movie (2006)
1h 35m Comedy
Set in a separate storyline not related to the "Trailer Park Boys" Television show, but with the same lovable characters. The boys get arrested for robbing an ATM machine and spend 18 months in jail. When the get out, they decide to pull off "The Big Dirty" which is to steal a large amount of coins because they are untraceable and quit their life of crime forever
2.
Trailer Park Boys: Countdown to Liquor Day (2009)
Ricky, Julian and Bubbles are about to get out of jail, and this time, Julian vows to go straight, even open a legit business. Soon the Boys will all be rich. At least that's what they've told the parole board. But when they arrive back at the park, they find it's not the same old Sunnyvale - and it's not the same old Jim Lahey, Trailer Park Supervisor.
3.
Swearnet: The Movie (2014)
1h 52m Comedy
Fed up with being censored in their post-Trailer Park Boys lives, the out of work stars/world-renowned 'swearists', Mike Smith, Robb Wells and John Paul Tremblay decide to start their own uncensored network on the internet.
4.
The Knights of Prosperity (2007)
30m Comedy
Eugene Gurkin has dreamt of opening his own bar for years, but his dead-end job as a janitor won't even fund a bottle of booze. In a serendipitous moment, he catches an episode of "E! News" and his passion is ignited. Soon Eugene recruits a group of average joes into his gang, The Knights of Prosperity, for a heist to finance their dreams. The initial target: rock icon Mick Jagger's super-luxe Central Park West apartment.
5.
Grounded for Life (2001)
22m Comedy
Right out of high school, Sean Finnerty got his girlfriend Claudia pregnant. Now she's his wife, and at just 32, he's somehow found himself with 14-year-old daughter Lily, two little boys, and a constant struggle between his need to be responsible and his desperate desire to be irresponsible. His judgmental father Walt and devil-may-care brother Eddie are no help at all. When they all get together, stories always start to fly. Of course, Sean's family will never let him finish a story; they interrupt, they debate, they derail, they defend themselves; just like any good family would.
6.
It's Always Sunny in Philadelphia (2005)
30m Comedy
Set in the corridors of power and spin, the Minister for Social Affairs is continually harassed by Number 10's policy enforcer and dependent on his not-so-reliable team of civil servants.
1h 39m Comedy
A high school valedictorian who gets baked with the local stoner finds himself the subject of a drug test. The situation causes him to concoct an ambitious plan to get his entire graduating class to face the same fate, and fail.
Paulette lives alone in a housing project in the Paris suburbs. With her meager pension, she can no longer make ends meet.
explore
Check out more list from our community