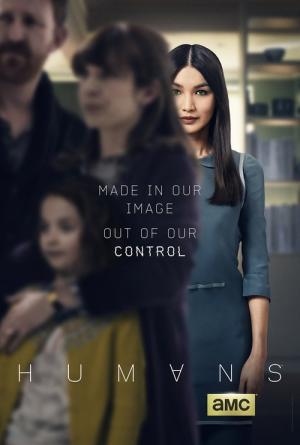 26 Best Shows Like Humans ...
If you liked this film , you will definitely love these too! In this selection we highlight some of the best films that share a very similar mood to '', and are worth checking out.
1h Drama Sci-Fi & Fantasy
Set in a parallel universe, Real Humans imagines a world where robots have become so human that they're barely distinguishable from real humans and follows the resulting emotional effects on two families as well as the trials of a group of robots who have attained free will and want their freedom from human ownership.
1h Western Science Fiction
A dark odyssey about the dawn of artificial consciousness and the evolution of sin. Set at the intersection of the near future and the reimagined past, it explores a world in which every human appetite, no matter how noble or depraved, can be indulged.
1h Sci-Fi & Fantasy Drama
A contemporary British re-working of The Twilight Zone with stories that tap into the collective unease about our modern world. Over the last ten years, technology has transformed almost every aspect of our lives before we've had time to stop and question it. In every home; on every desk; in every palm - a plasma screen; a monitor; a smartphone - a black mirror of our 21st Century existence.
1h 59m Thriller Science Fiction Drama Mystery
Two leading computer scientists work toward their goal of Technological Singularity, as a radical anti-technology organization fights to prevent them from creating a world where computers can transcend the abilities of the human brain.
1h 55m Action Science Fiction
In 2035, where robots are commonplace and abide by the three laws of robotics, a technophobic cop investigates an apparent suicide. Suspecting that a robot may be responsible for the death, his investigation leads him to believe that humanity may be in danger.
7.
A.I. Artificial Intelligence (2001)
2h 26m Drama Science Fiction Adventure
David, a robotic boy—the first of his kind programmed to love—is adopted as a test case by a Cybertronics employee and his wife. Though he gradually becomes their child, a series of unexpected circumstances make this life impossible for David. Without final acceptance by humans or machines, David embarks on a journey to discover where he truly belongs, uncovering a world in which the line between robot and machine is both vast and profoundly thin.
8.
Tales from the Loop (2020)
50m Drama Mystery Sci-Fi & Fantasy
The story of the town and people who live above "The Loop," a machine built to unlock and explore the mysteries of the universe – making things possible that were previously relegated only to science fiction.
43m Drama Crime Sci-Fi & Fantasy Action & Adventure
The year is 2048. By mandate, every cop must partner with a robot. Detective John Kennex returns to work after waking up from a 17-month coma. As he adjusts to working with his new partner, Dorian, a discontinued android with unexpected emotional responses, John also must learn to get along with his new colleagues.
10.
Years and Years (2019)
1h Drama War & Politics Sci-Fi & Fantasy
As Britain is rocked by unstable political, economic and technological advances, members of the Lyons family converge on one crucial night in 2019. Over the next 15 years, the twists and turns of their everyday lives are explored as we find out if this ordinary family could change the world.
44m Drama Science Fiction
A disgraced, 75-year-old ex-sheriff, whose life ends at the hands of corrupt cops, is brought back to life and given a second chance by a pair of young tech scientists, as a 35-year-old with unpredictable near-superhuman abilities.
42m Drama
A family drama that explodes from one small incident where a man slaps another couple's misbehaving child. This seemingly minor domestic dispute pulls the family apart, exposes long-held secrets, and ignites a lawsuit that challenges the core values of all who are pulled into it.
1h Sci-Fi & Fantasy Drama
Survivors was a British science fiction television series produced by the BBC. It depicts the lives of a group of people who survived a virulent unknown strain of influenza which has wiped out most of the human species. According to the producers, the series is not a remake of the 1970s BBC television series Survivors, created by Terry Nation, but is loosely based on the novel of the same name that Nation wrote following the first series of the 1970s series. Two series were produced of the new series. Series 1 ran on BBC One and BBC HD in November–December 2008, and series 2 ran in January–February 2010, ending with a cliffhanger. The BBC announced on 13 April 2010 that, due to poor viewing figures and other considerations, Survivors had been cancelled.The series had its premiere in South Africa on BBC Entertainment in September 2009, in France on DTTV channel NRJ 12 on 12 January 2010, and on BBC America in the United States on 13 February 2010. The series' Australian premiere was on Channel Nine, on 21 March 2010.
7m Comedy Action
Soon to be Martial Arts Master, Luna is forced to go on a dangerous journey when her teacher, Sensei Sirius is kidnapped by a vengeful ex-student.
44m Mystery Sci-Fi & Fantasy
A young woman is recruited into a secret government agency to be "stitched" into the minds of the recently deceased, using their memories to investigate murders.
17.
Brave New World (2020)
48m Sci-Fi & Fantasy Drama
In a utopia whose perfection hinges upon control of monogamy and privacy, members of the collective begin to question the rules, putting their regimented society on a collision course with forbidden love and revolution.
18.
Childhood's End (2015)
1h 25m Drama Sci-Fi & Fantasy
The peaceful alien invasion of Earth by the mysterious "Overlords," whose arrival begins decades of apparent utopia under indirect alien rule, at the cost of human identity and culture.
1h 23m Documentary Mystery Crime
Using raw, firsthand footage, this documentary examines the disappearance of Shanann Watts and her children, and the terrible events that followed.
35m Sci-Fi & Fantasy War & Politics Drama
Pioneer One is a 2010 American web series produced by Josh Bernhard and Bracey Smith. It has been funded purely through donations, and is the first series created for and released on BitTorrent networks.
21.
Are You Human? (2018)
35m Sci-Fi & Fantasy Drama Mystery
Nam Shin is a son from a family who runs a large company. After an unexpected accident, he falls into a coma. His mother Oh Ro-Ra is an authority on brain science and artificial intelligence. She creates an android named Nam Shin III which looks like just like her son Nam Shin. The android pretends to be Nam Shin and he has a bodyguard So-Bong.
43m Drama Mystery Sci-Fi & Fantasy
Imagine the perfect American town... beautiful homes, manicured lawns, children playing safely in the streets. Now imagine never being able to leave. You have no communication with the outside world. You think you're going insane. You must be in Wayward Pines.
42m Sci-Fi & Fantasy Drama
An astronaut returns home from a year long solo mission in space. She tries to reconnect with her husband and son in their everyday life. Her experiences in space and home lead to events that ultimately will change the course of human history.
explore
Check out more list from our community