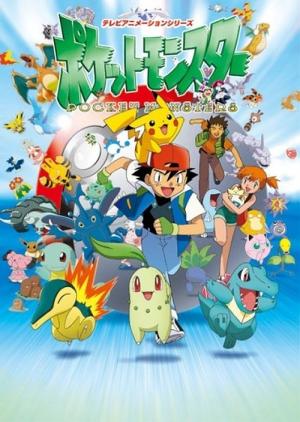 22 Best Shows Like Pokemon ...
If you liked this film , you will probably love these too! In this list we highlight some of the best films that share a very similar premise to '', and are worth checking out.
2.
Digimon: Digital Monsters (1999)
20m Animation Action & Adventure Sci-Fi & Fantasy
While at summer camp, seven kids are transported to a strange digital world. In this new world they make friends with creatures that call themselves Digimon who were born to defend their world from various evil forces.
3.
Pokémon Origins (2013)
21m Action & Adventure Animation Sci-Fi & Fantasy
Follow Red as he travels through the Kanto region, encounters Team Rocket, battles his rival, and challenges the Pokémon League!
4.
Pokemon: Lucario and the Mystery of Mew (2005)
1h 43m Adventure Animation Fantasy Action Family Science Fiction
In the legendary past, before Poké Balls were invented, an aura-guiding hero Pokémon named Lucario sensed two groups of armies about to clash, and a threat of a massive war in front of Oldoran Castle in Kanto that would leave no survivors. He transferred this message to his master, the legendary hero Arlon, while he was being attacked by a violent group of Hellgar. During the battle, his sense of sight was lost and he was rendered unable to see. He used the detection of his Aura, and so with the offensive Wave Bomb, he eliminated them. Though by the threat, the queen of Rota, Lady Rin was resolute to die with her civilians, and so Arlon made a choice.
5.
Pokemon: Mewtwo Returns (2000)
6.
Beyblade: Metal Fusion (2009)
21m Animation
Metal Fight Beyblade is a Japanese manga created by Takafumi Adachi. It is also an anime production based on the original. It is currently being serialized by the monthly CoroCoro Comic.
7.
Pokemon: Jirachi - Wish Maker (2003)
1h 21m Action Animation Adventure Family Fantasy Science Fiction
Ash, May, Brock, and Max come upon the festival of the Wishing Star of Seven Nights. During their enjoyment, the legendary Pokemon--Jirachi, descends from the heavens and befriends Max. Jirachi, with the power to grant any wish, is sought after by many people wanting to claim its power. One man seeks to use its legendary power to revive an ancient Pokemon known as Groudon, unaware of the dangers hidden within Jirachi's powers
8.
Pokemon: The First Movie - Mewtwo Strikes Back (1998)
1h 25m Animation Family Adventure Fantasy Action
The adventure explodes into action with the debut of Mewtwo, a bio-engineered Pokémon created from the DNA of Mew, the rarest of all Pokémon. Determined to prove its superiority, Mewtwo lures Satoshi, Pikachu and others into a Pokémon match like none before. Mewtwo vs. Mew. Super-clones vs. Pokémon. It's the ultimate showdown ... with the very future of the world at stake!
9.
Pokemon the Movie: Destiny Deoxys (2004)
1h 38m Adventure Animation Family Fantasy
A comet bearing a deadly Pokemon creature crash-lands onto Earth, terrorising a nearby high-tech city, where Ash, Pikachu and friends are currently visiting...
10.
Yu-Gi-Oh!: The Movie (2004)
1h 30m Adventure Fantasy Animation Action Comedy Thriller Science Fiction Family
After the conclusion of the Battle City Tournament, deep below the sands of Egypt, an ancient evil has awakened. Anubis, who was defeated centuries ago by Yugi's mysterious alter ego – the ancient Pharaoh – has returned for revenge. Wielding the power of the Eighth Millennium Item, Anubis is determined to destroy Yugi and take over the world.
11.
Pokémon the Movie White: Victini and Zekrom (2011)
1h 36m Adventure Animation Family Drama Fantasy
The Kingdom of the People of the Earth once ruled over the land, but now all that remains is the Sword of the Earth. in the city of Eindoak. Satoshi, Iris, and Dent arrive in Eindoak during a harvest festival's Pokémon Tournament and meet the legendary Pokémon Victini who wishes to share its powers of victory to someone. Elsewhere in the city, a descendant of the People of the Earth named Dred Grangil has arrived who seeks to revive the kingdom's power with the Sword of the Earth, bringing them back into power over the land, and Satoshi and his friends must stop him before he destroys the land along with Victini.
12.
Pokemon Heroes (2002)
1h 11m Animation Adventure Action Fantasy
Ash, Pikachu and his friends try and stop a pair of thieves hiding out in the canals and alleyways of Altomare, the age-old water capital. Joining the adventure are two new legendary Pokémon, a pair of siblings named Latias and Latios, who serve as peacekeepers and protectors of the Soul Dew - a priceless treasure with a mysterious power.
13.
Pokémon the Movie: Kyurem vs. the Sword of Justice (2012)
1h 11m Animation Action Adventure Family Fantasy Science Fiction
The movie features Satoshi and his two friends Iris and Dent, as they help a Keldeo battle against a powerful Dragon-type Pokémon named Kyurem as his test to become a Sacred Swordsman.
24m Animation Action & Adventure Sci-Fi & Fantasy
In another world, ninja are the ultimate power, and in the Village Hidden in the Leaves live the stealthiest ninja in the land. Twelve years earlier, the fearsome Nine-Tailed Fox terrorized the village and claimed many lives before it was subdued and its spirit sealed within the body of a baby boy. That boy, Naruto Uzumaki, has grown up to become a ninja-in-training who's more interested in pranks than in studying ninjutsu.. but Naruto is determined to become the greatest ninja ever!
23m Animation Action & Adventure
In a magical universe, witches, warriors begin fighting in the name of good .vs. evil! At a magic school, five teenage girls are selected to defend the universe with their magic.
16.
Niko and the Sword of Light (2015)
25m Action & Adventure Animation Comedy Sci-Fi & Fantasy
At the Death Weapon Meister Academy, three teams must collect the souls of 99 evil humans and one witch.
18.
Pokemon: Power of One (1999)
1h 24m Adventure Fantasy Animation Science Fiction Family
Satoshi must put his skill to the test when he attempts to save the world from destruction. The Greedy Pokemon collector Gelardan throws the universe into chaos after disrupting the balance of nature by capturing one of the Pokemon birds that rule the elements of fire, lightning and ice. Will Satoshi have what it takes to save the world?
19.
Yona Yona Penguin (2009)
1h 25m Family Animation Adventure
Rintaro directs a tale of three children who visit a land of wonder. This is the first "3D anime" that Madhouse has produced. Oh, and there are penguins.
20.
Pokémon the Movie: The Power of Us (2018)
1h 40m Animation Family Adventure Fantasy
A young athlete whose running days might be behind her, a compulsive liar, a shy researcher, a bitter old woman, and a little girl with a big secret—the only thing they have in common is the annual Wind Festival in Fula City. The festival celebrates the Legendary Pokémon Lugia, who brings the wind that powers this seaside city. When a series of threats endangers not just the festival, but all the people and Pokémon of Fula City, it'll take more than just Satoshi and Pikachu to save the day! Can everyone put aside their differences and work together—or will it all end in destruction?
21.
Digimon: The Movie (2000)
1h 22m Fantasy Animation Science Fiction Family
The first story focused on Tai and Kari Kamiya four years before their adventure in the Digital World. It shows their first encounter with Digimon and what happened to them (as well as the other children). Tai and Kari wake one morning to find a Digi-Egg that came out of their computer the night before and the egg soon hatches, revealing a Botamon. The Digimon then evolves into Koromon and then Agumon (not the same one that became friends with Tai in the series, and yet, somehow, both Koromon and Kari remember each other), who then goes out and unintentionally destroys a good part of the neighborhood with Kari riding on his back. A second Digi-Egg appears in the sky to reveal an evil digimon, Parrotmon. Agumon then Digivolves to Greymon but isn't strong enough to beat Parrotmon and is knocked out. Tai grabs Kari's whistle and wakes up Greymon, who defeats Parrotmon and disappears with him.
explore
Check out more list from our community