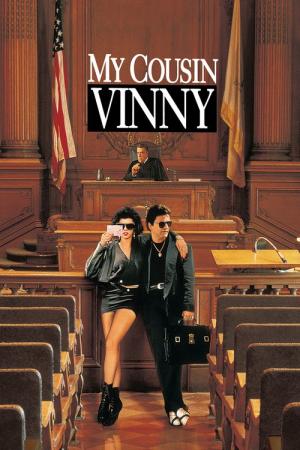 11 Best Movies Similar To My Cousin Vinny ...
If you liked this movie , you will probably love these too! In this list we highlight some of the best films that share a very similar mood to 'My Cousin Vinny', and are worth checking out.
1.
A Fish Called Wanda (1988)
1h 49m Comedy Crime
A diamond advocate is attempting to steal a collection of diamonds, yet troubles arise when he realizes that he is not the only one after the diamonds.
30m Animation Comedy
Mario, Luigi, Yoshi and Princess Toadstool are on Dinosaur Island foiling the plans of King Koopa and his Koopa kids.
3.
See No Evil, Hear No Evil (1989)
1h 43m Crime Comedy
A murder takes place in the shop of David Lyons, a deaf man who fails to hear the gunshot being fired. Outside, blind man Wally Karue hears the shot but cannot see the perpetrator. Both are arrested, but escape to form an unlikely partnership. Being chased by both the law AND the original killers, can the pair work together to outwit them all?
1h 40m Comedy
When obscenely rich hedge-fund manager James is convicted of fraud and sentenced to a stretch in San Quentin, the judge gives him one month to get his affairs in order. Knowing that he won't survive more than a few minutes in prison on his own, James desperately turns to Darnell-- a black businessman who's never even had a parking ticket -- for help. As Darnell puts James through the wringer, both learn that they were wrong about many things, including each other.
2h 29m Crime Drama Thriller
A young lawyer defends a black man accused of murdering two white men who raped his 10-year-old daughter, sparking a rebirth of the KKK.
2h 15m Crime Mystery Drama Thriller Comedy
Based primarily on the first game in the series, Phoenix Wright: Ace Attorney, the film focuses on rookie defense attorney Phoenix Wright, as he strives to protect his clients in various murder trials, including the death of his mentor, Mia Fey, and the accusation of rival prosecutor, Miles Edgeworth. Phoenix's greatest ally is Mia's younger sister Maya, a spirit medium whose body is posessed by Mia to communicate with him.
7.
Anger Management (2003)
1h 46m Comedy
After a small misunderstanding aboard an airplane escalates out of control, timid businessman Dave Buznik is ordered by the court to undergo anger management therapy at the hands of specialist Dr. Buddy Rydell. But when Buddy steps up his aggressive treatment by moving in, Dave goes from mild to wild as the unorthodox treatment wreaks havoc with his life.
8.
Take the Money and Run (1969)
1h 25m Comedy Crime
Virgil Starkwell is intent on becoming a notorious bank robber. Unfortunately for Virgil and his not-so-budding career, he is completely incompetent.
9.
The Whole Nine Yards (2000)
1h 38m Comedy Crime
After a mobster agrees to cooperate with an FBI investigation in order to stay out of prison, he's relocated by the authorities to a life of suburban anonymity as part of a witness protection program. It's not long before a couple of his new neighbours figure out his true identity and come knocking to see if he'd be up for one more hit—suburban style.
10.
My Blue Heaven (1990)
1h 37m Action Comedy
FBI agent Barney Coopersmith is assigned to protect former Mafia figure turned informant Vincent Antonelli. In the witness protection program one is supposed to keep a low profile, but that is something that Antonelli has trouble doing. Coopersmith certainly has his hands full keeping Antonelli away from the Mafia hitmen who want to stop him testifying, not to mention the nightclubs...
2h 1m Crime Drama Thriller
When a Supreme Court judge commits suicide and his secretary is found murdered, all fingers point to Carl Anderson (Liam Neeson), a homeless veteran who's deaf and mute. But when public defender Kathleen Riley (Cher) is assigned to his case, she begins to believe that Anderson may actually be innocent. Juror Eddie Sanger (Dennis Quaid), a Washington lobbyist, agrees, and together the pair begins their own investigation of events.
explore
Check out more list from our community