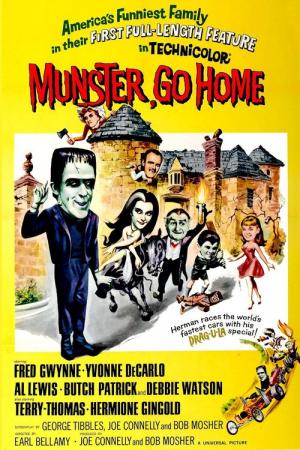 9 Best Shows Like The Munsters ...
If you liked this movie , you will for sure love these too! In this collection we highlight some of the best films that share a very similar premise to 'Munster, Go Home!', and are worth checking out.
1.
3rd Rock from the Sun (1996)
2.
The Boy Who Cried Werewolf (2010)
1h 37m Family Fantasy Horror TV Movie
A Californian family inherits a castle in Romania. This is especially exciting to the son, who is obsessed with monsters. And he is not disappointed.
3.
The Fresh Prince of Bel-Air (1990)
23m Comedy Family Drama
Will, a street-smart teenager, moves from the tough streets of West Philly to posh Bel-Air to live with his Uncle Philip, Aunt Vivian, his cousins — spoiled Hilary, preppy Carlton and young Ashley — and their sophisticated British butler, Geoffrey. Though Will's antics and upbringing contrast greatly with the upper-class lifestyle of his extended relatives, he soon finds himself right at home as a loved part of the family.
4.
My Stepbrother Is a Vampire!?! (2013)
5.
I Dream of Jeannie (1965)
25m Sci-Fi & Fantasy Comedy Family
I Dream of Jeannie is an American sitcom with a fantasy premise. The show starred Barbara Eden as a 2,000-year-old genie, and Larry Hagman as an astronaut who becomes her master, with whom she falls in love and eventually marries. Produced by Screen Gems, the show originally aired from September 1965 to May 1970 with new episodes, and through September 1970 with season repeats, on NBC. The show ran for five seasons and produced 139 episodes. The first season consisted of 30 episodes filmed in black and white.
25m Sci-Fi & Fantasy Comedy Family
Samantha Stephens is a seemingly normal suburban housewife who also happens to be a genuine witch, with all the requisite magical powers. Her husband Darrin insists that Samantha keep her witchcraft under wraps, but situations invariably require her to indulge her powers while keeping her bothersome mother Endora at bay.
22m Comedy
When the Weavers move to a gated community in New Jersey, they discover that the entire neighborhood is comprised of aliens from the planet Zabvron. But as the Weavers and the aliens face the struggles of everyday life together, they discover that some things -- the ups and downs of marriage, the desire to be a good parent and raise a happy family -- are universal. Intergalactic, even.
8.
Grounded for Life (2001)
22m Comedy
Right out of high school, Sean Finnerty got his girlfriend Claudia pregnant. Now she's his wife, and at just 32, he's somehow found himself with 14-year-old daughter Lily, two little boys, and a constant struggle between his need to be responsible and his desperate desire to be irresponsible. His judgmental father Walt and devil-may-care brother Eddie are no help at all. When they all get together, stories always start to fly. Of course, Sean's family will never let him finish a story; they interrupt, they debate, they derail, they defend themselves; just like any good family would.
9.
The Munsters' Scary Little Christmas (1996)
explore
Check out more list from our community