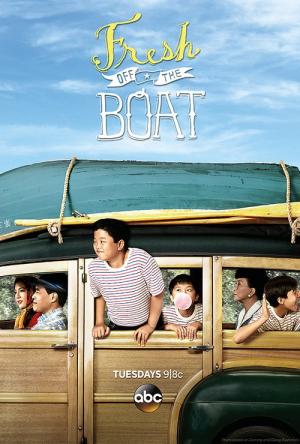 15 Best Shows Like Fresh Off The Boat ...
If you liked this one , you will probably love these too! In this list we highlight some of the best films that share a very similar mood to '', and are worth checking out.
Before there were parenting blogs, trophies for showing up, and peanut allergies, there was a simpler time called the '80s. For geeky 11-year old Adam these were his wonder years and he faced them armed with a video camera to capture all the crazy. The Goldbergs are a loving family like any other, just with a lot more yelling.
2.
The Fresh Prince of Bel-Air (1990)
Will, a street-smart teenager, moves from the tough streets of West Philly to posh Bel-Air to live with his Uncle Philip, Aunt Vivian, his cousins — spoiled Hilary, preppy Carlton and young Ashley — and their sophisticated British butler, Geoffrey. Though Will's antics and upbringing contrast greatly with the upper-class lifestyle of his extended relatives, he soon finds himself right at home as a loved part of the family.
23m Comedy
A family man struggles to gain a sense of cultural identity while raising his kids in a predominantly white, upper-middle-class neighborhood.
22m Comedy
The early life of child genius Sheldon Cooper, later seen in The Big Bang Theory.
5.
Kim's Convenience (2016)
22m Comedy
The funny, heartfelt story of The Kims, a Korean-Canadian family, running a convenience store in downtown Toronto. Mr. and Mrs. Kim ('Appa' and 'Umma') immigrated to Toronto in the 80's to set up shop near Regent Park and had two kids, Jung and Janet who are now young adults. However, when Jung was 16, he and Appa had a major falling out involving a physical fight, stolen money and Jung leaving home. Father and son have been estranged since.
22m Comedy
The daily mishaps of a married woman and her semi-dysfunctional family and their attempts to survive life in general in the city of Orson, Indiana.
7.
Malcolm in the Middle (2000)
A gifted young teen tries to survive life with his dimwitted, dysfunctional family.
22m Comedy
Recently divorced entrepreneur George Lopez is successful in his business ventures but caught between two cultures in his personal life. He struggles to find balance between the parenting demands of his Anglo ex-wife, Mackenzie, and the cultural expectations of his Latina mother, Alma. His freeloading Uncle Tio and Cousin Junior further complicate his life, which includes 11-year-old son Harper. Outside the home, the successful businessman gives back to the community by teaching history to a multicultural class at a Los Angeles night school; there he is supervised by tough, attractive Assistant Principal Concepcion.
9.
Your Family or Mine (2015)
30m Comedy
Oliver and Kelli are living proof of the old saying, "When you marry someone, you don't just marry them, you marry their whole family."
10.
I Hate My Teenage Daughter (2011)
22m Comedy
I Hate My Teenage Daughter is an American sitcom that ran on Fox from November 30, 2011 to March 20, 2012. It aired at the 9:30 pm /8:30 pm timeslot after The X Factor. The series stars Jaime Pressly and Katie Finneran. On May 10, 2012, Fox canceled the series. The six remaining episodes subsequently aired in Australia and New Zealand.
11.
Grounded for Life (2001)
22m Comedy
Right out of high school, Sean Finnerty got his girlfriend Claudia pregnant. Now she's his wife, and at just 32, he's somehow found himself with 14-year-old daughter Lily, two little boys, and a constant struggle between his need to be responsible and his desperate desire to be irresponsible. His judgmental father Walt and devil-may-care brother Eddie are no help at all. When they all get together, stories always start to fly. Of course, Sean's family will never let him finish a story; they interrupt, they debate, they derail, they defend themselves; just like any good family would.
12.
The Jim Gaffigan Show (2015)
23m Comedy
Comedy about a husband and wife trying to raise their five kids in a New York two-bedroom apartment.
The third time's the charm, they say, and reformed party girl Kate is hoping that's true when she becomes the third wife of a slightly older man, Pete. They fell into each others' arms (literally) at a karaoke bar, and flash forward a year later, Kate finds herself with an instafamily complete with three stepchildren and two ex-wives. But Kate is determined to make this work and become a part of the family no matter what.
30m Comedy
Good Times is an American sitcom that originally aired from February 8, 1974, until August 1, 1979, on the CBS television network. It was created by Eric Monte and Mike Evans, and developed by Norman Lear, the series' primary executive producer. Good Times is a spin-off of Maude, which is itself a spin-off of All in the Family along with The Jeffersons.The series is set in Chicago. The first two seasons were taped at CBS Television City in Hollywood. In the fall of 1975, the show moved to Metromedia Square, where Norman Lear's own production company was housed.
explore
Check out more list from our community