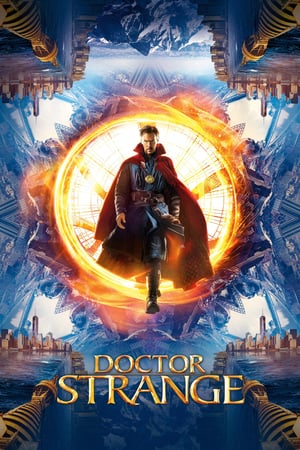 31 Best Movies Like Doctor Strange ...
If you liked this movie , you will probably love these too! In this list we highlight some of the best films that share a very similar mood to '', and are worth checking out.
1.
Avengers: Infinity War (2018)
2h 29m Adventure Action Science Fiction
As the Avengers and their allies have continued to protect the world from threats too large for any one hero to handle, a new danger has emerged from the cosmic shadows: Thanos. A despot of intergalactic infamy, his goal is to collect all six Infinity Stones, artifacts of unimaginable power, and use them to inflict his twisted will on all of reality. Everything the Avengers have fought for has led up to this moment - the fate of Earth and existence itself has never been more uncertain.
1h 55m Adventure Fantasy Action
Against his father Odin's will, The Mighty Thor - a powerful but arrogant warrior god - recklessly reignites an ancient war. Thor is cast down to Earth and forced to live among humans as punishment. Once here, Thor learns what it takes to be a true hero when the most dangerous villain of his world sends the darkest forces of Asgard to invade Earth.
2h 23m Action Adventure Fantasy
Once home to the most advanced civilization on Earth, Atlantis is now an underwater kingdom ruled by the power-hungry King Orm. With a vast army at his disposal, Orm plans to conquer the remaining oceanic people and then the surface world. Standing in his way is Arthur Curry, Orm's half-human, half-Atlantean brother and true heir to the throne.
2h 11m Action Adventure Comedy Fantasy Science Fiction
Thor is imprisoned on the other side of the universe and finds himself in a race against time to get back to Asgard to stop Ragnarok, the destruction of his home-world and the end of Asgardian civilization, at the hands of a powerful new threat, the ruthless Hela.
2h 23m Science Fiction Action Adventure
When an unexpected enemy emerges and threatens global safety and security, Nick Fury, director of the international peacekeeping agency known as S.H.I.E.L.D., finds himself in need of a team to pull the world back from the brink of disaster. Spanning the globe, a daring recruitment effort begins!
1h 57m Science Fiction Action Adventure
Armed with the astonishing ability to shrink in scale but increase in strength, master thief Scott Lang must embrace his inner-hero and help his mentor, Doctor Hank Pym, protect the secret behind his spectacular Ant-Man suit from a new generation of towering threats. Against seemingly insurmountable obstacles, Pym and Lang must plan and pull off a heist that will save the world.
2h 12m Action Comedy Fantasy
A boy is given the ability to become an adult superhero in times of need with a single magic word.
8.
Guardians of the Galaxy (2014)
2h 1m Action Science Fiction Adventure
Light years from Earth, 26 years after being abducted, Peter Quill finds himself the prime target of a manhunt after discovering an orb wanted by Ronan the Accuser.
2h 21m Action Adventure Fantasy
An Amazon princess comes to the world of Man in the grips of the First World War to confront the forces of evil and bring an end to human conflict.
10.
Fantastic Beasts and Where to Find Them (2016)
2h 12m Adventure Fantasy
In 1926, Newt Scamander arrives at the Magical Congress of the United States of America with a magically expanded briefcase, which houses a number of dangerous creatures and their habitats. When the creatures escape from the briefcase, it sends the American wizarding authorities after Newt, and threatens to strain even further the state of magical and non-magical relations.
11.
Warcraft: The Beginning (2016)
2h 3m Action Adventure Fantasy
The peaceful realm of Azeroth stands on the brink of war as its civilization faces a fearsome race of invaders: orc warriors fleeing their dying home to colonize another. As a portal opens to connect the two worlds, one army faces destruction and the other faces extinction. From opposing sides, two heroes are set on a collision course that will decide the fate of their family, their people, and their home.
1h 54m Adventure Action Thriller Science Fiction
For centuries, a small but powerful force of warriors called the Green Lantern Corps has sworn to keep intergalactic order. Each Green Lantern wears a ring that grants him superpowers. But when a new enemy called Parallax threatens to destroy the balance of power in the Universe, their fate and the fate of Earth lie in the hands of the first human ever recruited.
1h 32m Action Adventure Science Fiction
The adventures of teenager Max McGrath and alien companion Steel, who must harness and combine their tremendous new powers to evolve into the turbo-charged superhero Max Steel.
14.
X-Men: Apocalypse (2016)
2h 24m Action Adventure Science Fiction Fantasy
After the re-emergence of the world's first mutant, world-destroyer Apocalypse, the X-Men must unite to defeat his extinction level plan.
15.
Spider-Man: Homecoming (2017)
2h 13m Action Adventure Science Fiction Drama
Following the events of Captain America: Civil War, Peter Parker, with the help of his mentor Tony Stark, tries to balance his life as an ordinary high school student in Queens, New York City, with fighting crime as his superhero alter ego Spider-Man as a new threat, the Vulture, emerges.
16.
Avengers: Age of Ultron (2015)
2h 21m Action Adventure Science Fiction
When Tony Stark tries to jumpstart a dormant peacekeeping program, things go awry and Earth's Mightiest Heroes are put to the ultimate test as the fate of the planet hangs in the balance. As the villainous Ultron emerges, it is up to The Avengers to stop him from enacting his terrible plans, and soon uneasy alliances and unexpected action pave the way for an epic and unique global adventure.
2h 3m Action Adventure Crime Fantasy Science Fiction
From DC Comics comes the Suicide Squad, an antihero team of incarcerated supervillains who act as deniable assets for the United States government, undertaking high-risk black ops missions in exchange for commuted prison sentences.
18.
Fantastic Four (2015)
1h 40m Action Adventure Science Fiction
Four young outsiders teleport to a dangerous universe, which alters their physical form in shocking ways. Their lives irrevocably upended, the team must learn to harness their daunting new abilities and work together to save Earth from a former friend turned enemy.
1h 48m Action Adventure Comedy
Deadpool tells the origin story of former Special Forces operative turned mercenary Wade Wilson, who after being subjected to a rogue experiment that leaves him with accelerated healing powers, adopts the alter ego Deadpool. Armed with his new abilities and a dark, twisted sense of humor, Deadpool hunts down the man who nearly destroyed his life.
2h 10m Action Adventure Science Fiction
When Tony Stark's world is torn apart by a formidable terrorist called the Mandarin, he starts an odyssey of rebuilding and retribution.
21.
Captain America: The First Avenger (2011)
2h 4m Action Adventure Science Fiction
During World War II, Steve Rogers is a sickly man from Brooklyn who's transformed into super-soldier Captain America to aid in the war effort. Rogers must stop the Red Skull – Adolf Hitler's ruthless head of weaponry, and the leader of an organization that intends to use a mysterious device of untold powers for world domination.
22.
X-Men Origins: Wolverine (2009)
1h 47m Adventure Action Thriller Science Fiction
After seeking to live a normal life, Logan sets out to avenge the death of his girlfriend by undergoing the mutant Weapon X program and becoming Wolverine.
23.
Assassin's Creed (2016)
1h 55m Action Adventure Science Fiction
Through unlocked genetic memories that allow him to relive the adventures of his ancestor in 15th century Spain, Callum Lynch discovers he's a descendant of the secret 'Assassins' society. After gaining incredible knowledge and skills, he is now poised to take on the oppressive Knights Templar in the present day.
24.
X-Men: Dark Phoenix (2019)
1h 54m Science Fiction Action Adventure
The X-Men face their most formidable and powerful foe when one of their own, Jean Grey, starts to spiral out of control. During a rescue mission in outer space, Jean is nearly killed when she's hit by a mysterious cosmic force. Once she returns home, this force not only makes her infinitely more powerful, but far more unstable. The X-Men must now band together to save her soul and battle aliens that want to use Grey's new abilities to rule the galaxy.
25.
Star Wars: Episode V - The Empire Strikes Back (1980)
2h 4m Adventure Action Science Fiction
The epic saga continues as Luke Skywalker, in hopes of defeating the evil Galactic Empire, learns the ways of the Jedi from aging master Yoda. But Darth Vader is more determined than ever to capture Luke. Meanwhile, rebel leader Princess Leia, cocky Han Solo, Chewbacca, and droids C-3PO and R2-D2 are thrown into various stages of capture, betrayal and despair.
1h 41m Action Fantasy
For nine generations an evil sorcerer has been victorious in hand-to-hand battle against his mortal enemies. If he wins a tenth Mortal Kombat tournament, desolation and evil will reign over the multiverse forever. To save Earth, three warriors must overcome seemingly insurmountable odds, their own inner demons, and superhuman foes in this action/adventure movie based on one of the most popular video games of all time.
27.
Wonder Woman 1984 (2020)
2h 31m Fantasy Action Adventure
A botched store robbery places Wonder Woman in a global battle against a powerful and mysterious ancient force that puts her powers in jeopardy.
1h 42m Adventure Fantasy
John Gregory, who is a seventh son of a seventh son and also the local spook, has protected the country from witches, boggarts, ghouls and all manner of things that go bump in the night. However John is not young anymore, and has been seeking an apprentice to carry on his trade. Most have failed to survive. The last hope is a young farmer's son named Thomas Ward. Will he survive the training to become the spook that so many others couldn't?
2h 7m Action Adventure Fantasy
A common thief joins a mythical god on a quest through Egypt.
30.
The Dark Tower (2017)
1h 35m Fantasy Action Science Fiction Adventure
A boy haunted by visions of a parallel world aids its disillusioned guardian in preventing the destruction of the nexus of universes known as the Dark Tower.
explore
Check out more list from our community