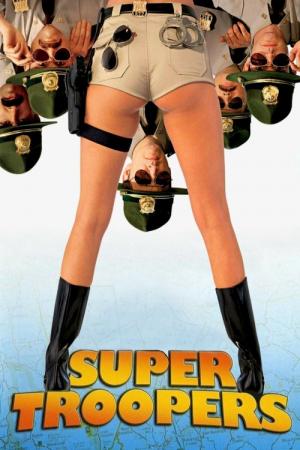 31 Best Movies Like Super Troopers ...
If you liked this film , you will definitely love these too! In this selection we highlight some of the best films that share a very similar premise to '', and are worth checking out.
1.
Super Troopers 2 (2018)
2.
Pineapple Express (2008)
1h 51m Action Comedy Crime
A stoner and his dealer are forced to go on the run from the police after the pothead witnesses a cop commit a murder.
1h 50m Comedy
During a trip to Germany to scatter their grandfather's ashes, German-American brothers Todd and Jan discover Beerfest, the secret Olympics of downing stout, and want to enter the contest to defend their family's beer-guzzling honor. Their Old Country cousins sneer at the Yanks' chances, prompting the siblings to return to America to prepare for a showdown the following year.
4.
Reno 911!: Miami (2007)
1h 24m Action Comedy Crime
A rag-tag team of Reno cops are called in to save the day after a terrorist attack disrupts a national police convention in Miami Beach during spring break. Based on the Comedy Central series.
5.
Horrible Bosses 2 (2014)
1h 48m Comedy
Dale, Kurt and Nick decide to start their own business but things don't go as planned because of a slick investor, prompting the trio to pull off a harebrained and misguided kidnapping scheme.
6.
Trailer Park Boys: The Movie (2006)
1h 35m Comedy
Set in a separate storyline not related to the "Trailer Park Boys" Television show, but with the same lovable characters. The boys get arrested for robbing an ATM machine and spend 18 months in jail. When the get out, they decide to pull off "The Big Dirty" which is to steal a large amount of coins because they are untraceable and quit their life of crime forever
7.
The Naked Gun: From the Files of Police Squad! (1988)
1h 26m Comedy Crime
When the incompetent Lieutenant Frank Drebin seeks the ruthless killer of his partner, he stumbles upon an attempt to assassinate Queen Elizabeth II.
1h 51m Comedy
New Yorkers, Skip Donahue and Harry Monroe have no jobs and no prospects, so they decide to flee the city and find work elsewhere, landing jobs wearing woodpecker costumes to promote the opening of a bank. When their feathery costumes are stolen and used in a bank robbery, they no longer have to worry about employment—they're sent to prison.
1h 44m Comedy Horror
When a serial killer interrupts the fun at the swanky Coconut Pete's Coconut Beach Resort -- a hedonistic island paradise for swingers --- it's up to the club's staff to stop the violence ... or at least hide it!
10.
The Slammin' Salmon (2009)
1h 30m Comedy
The brutal former heavyweight boxing champion Cleon "Slammin'" Salmon (Duncan), now owner of a Miami restaurant, institutes a competition to see which waiter can earn the most money in one night: the winner stands to gain $10,000, while the loser will endure a beating at the hands of the champ.
12.
National Lampoon's Gold Diggers (2003)
1h 36m Comedy
A man decides he needs to help his younger brother lose his virginity and hires a prostitute named Dominique. But hilarious high jinks ensue when a French exchange student with the same name also shows up at his brother's dorm room.
13.
Stealing Harvard (2002)
1h 25m Action Comedy Drama
John and his girlfriend have vowed to marry once they save $30,000 for their dream house. But the minute they achieve their financial goal, John finds out his niece has been accepted at Harvard, and he's reminded of his promise to pay for her tuition (nearly $30,000). John's friend Duff convinces him to turn to petty crime to make the payment … but Duff's hare-brained schemes spin quickly out of control.
1h 38m Comedy Crime Mystery
When investigative reporter Irwin "Fletch" Fletcher goes undercover to write a piece on the drug trade at a local beach, he's approached by wealthy businessman Alan Stanwyk, who offers him $50,000 to murder him. With sarcastic wit and a knack for disguises, Fletch sets out to uncover Stanwyk's story.
15.
Let's Go to Prison (2006)
1h 15m Reality
German version of Dancing with the Stars, the reality competition in which celebrities perform choreographed dance routines which are judged by a panel of renowned ballroom experts and voted on by viewers.
16.
See No Evil, Hear No Evil (1989)
1h 43m Crime Comedy
A murder takes place in the shop of David Lyons, a deaf man who fails to hear the gunshot being fired. Outside, blind man Wally Karue hears the shot but cannot see the perpetrator. Both are arrested, but escape to form an unlikely partnership. Being chased by both the law AND the original killers, can the pair work together to outwit them all?
17.
Amos & Andrew (1993)
1h 36m Action Comedy
When Andrew Sterling, a successful black urbanite writer, buys a vacation home on a resort in New England the police mistake him for a burglar. After surrounding his home with armed men, Chief Tolliver realizes his mistake and to avoid the bad publicity offers a thief in his jail, Amos Odell a deal.
18.
Assassination of a High School President (2008)
1h 33m Comedy Crime
After the theft of copies of SAT exams from a principal's office, teenage reporter Bobby Funke sets out to unmask the thief. Bobby prints an article fingering Class President Paul Moore as the thief, shredding the youth's reputation. But as Bobby gets to know Paul's girlfriend, Francesca, he comes to realize he was wrong about Paul, so he sets out to unmask the true culprit.
1h 32m Comedy
Three manic idiots—a lawyer, cab driver and a handyman—team up to run a ballet company to fulfil the will of a millionaire. Stooge-like antics result as the trio try to outwit the rich widow and her scheming big-shot lawyer, who also wants to run the ballet.
20.
21 Jump Street (2012)
1h 49m Action Comedy Crime
In high school, Schmidt was a dork and Jenko was the popular jock. After graduation, both of them joined the police force and ended up as partners riding bicycles in the city park. Since they are young and look like high school students, they are assigned to an undercover unit to infiltrate a drug ring that is supplying high school students synthetic drugs.
1h 46m Action Comedy Crime
LAPD Sgt. Joe Friday -- the equally straight-laced nephew of the famous police sergeant of the same name -- is paired up with a young, freewheeling detective named Pep Streebeck. After investigating some strange robberies at the local zoo and the theft of a stockpile of pornographic magazines, they uncover cult activity in the heart of the city and are hot on the case to figure out who's behind it all.
22.
22 Jump Street (2014)
1h 52m Crime Comedy Action
After making their way through high school (twice), big changes are in store for officers Schmidt and Jenko when they go deep undercover at a local college. But when Jenko meets a kindred spirit on the football team, and Schmidt infiltrates the bohemian art major scene, they begin to question their partnership. Now they don't have to just crack the case - they have to figure out if they can have a mature relationship. If these two overgrown adolescents can grow from freshmen into real men, college might be the best thing that ever happened to them.
1h 21m Action Comedy
A chauffeur kidnaps his rich boss's dog to hold it for ransom, but when she accidentally gets the dog back, she thinks that it's the chauffeur who's been kidnapped.
1h 37m Comedy Crime Mystery Thriller
A group of former Encyclopedia Brown-style child-detectives struggle to solve an adult mystery.
1h 29m Comedy Crime
With the aid of his girlfriend, Phyllis Potter, and best friend, Loomis, Grimm enters a Manhattan bank dressed as a clown, creates a hostage situation and executes a flawless robbery. The only thing left for the trio to do is make their getaway out of the city and to the airport. It sounds simple enough, but it seems that fate deserts them immediately after the bank heist. One mishap after another conspires to keep these robbers from reaching freedom.
1h 28m Comedy
Cheech and Chong house sit for a marijuana grower and rip off the crop. Stalked by keystone-style cops, Los Guys have a series of encounters with L.A. area characters even weirder than themselves
27.
Psych: The Movie (2017)
1h 20m Comedy Crime Mystery TV Movie
The ambitious friends come together during the holidays after a mystery assailant targets one of their own. A comedic thrill-ride follows, as the wild and unpredictable Psych team pursues the bad guys, justice … and, of course, food!
28.
Horrible Bosses (2011)
1h 38m Comedy Crime
For Nick, Kurt and Dale, the only thing that would make the daily grind more tolerable would be to grind their intolerable bosses into dust. Quitting is not an option, so, with the benefit of a few-too-many drinks and some dubious advice from a hustling ex-con, the three friends devise a convoluted and seemingly foolproof plan to rid themselves of their respective employers... permanently.
1h 23m Action Comedy Crime
A case of mistaken identity forces a Federal agent and a dental supply salesman to team up as they speed through the streets of Detroit to pull off a sting operation and solve the murder of the agent's former partner.
30.
Don't Be a Menace to South Central While Drinking Your Juice in the Hood (1996)
explore
Check out more list from our community