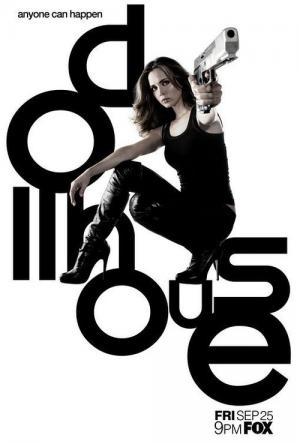 11 Best Shows Like Dollhouse ...
If you liked this movie , you will probably love these too! In this selection we highlight some of the best films that share a very similar mood to 'Dollhouse', and are worth checking out.
1h 27m Thriller Drama Mystery
Bernard Salzmann's thriller Assumed Killer tells the tale of a reporter investigating a serial killer. After she suffers an accident and becomes an amnesiac, she begins to suspect her husband may be the person responsible for the brutal slayings
45m Drama
Follows the mystery of Flight 716 - a passenger plane that vanishes over the Atlantic Ocean. Following the mysterious crash, recently widowed, brilliant aviation investigator Kendra Malley is called in to investigate by her former boss and mentor Howard Lawson.
1h Sci-Fi & Fantasy Comedy Action & Adventure
After saving the life of the President, two secret service agents - Myka Bering and Pete Lattimer - find themselves assigned to the top secret Warehouse 13. The Warehouse is a massive, top secret facility that houses dangerous and fantastical objects. Together, Pete and Myka along with fellow agents Claudia, Steve Jinks and Warehouse caretaker Artie, must recover artifacts from around the globe before they can cause catastrophic damage.
1h 30m Action Drama Mystery Science Fiction Thriller War
Everything is not as it seems for a man who recovers from a plane crash in which his family is killed. After plastic surgery and rehabilitation, he determines that he worked for a secret agency for which he was an assassin. His former boss puts him back to work to assassinate a political leader, but when he proves unable to pull the trigger, it is he who becomes the target for assassins. As he avoids capture, the story unfolds about his true past and the reason why he has a tattoo of "chilly willy" inside his lip.
43m Action & Adventure Drama
Super soldier Max Guevera tries to live a normal life in post-apocalyptic Seattle while eluding capture by government agents from the covert biotech facility she escaped from as a child and searching for her genetically-enhanced brothers and sisters who have dispersed after escape.
7.
This Is Not My Life (2010)
43m Drama
This Is Not My Life is a 2010 New Zealand television mystery thriller which originally aired on Television New Zealand's TV ONE channel on Thursday nights.Set in the 2020s, the show centres on Alec Ross who awakes one morning to find that he doesn't know who or where he is and doesn't recognise his wife or children. The story is set in the fictional town of Waimoana.The series is written by Rachel Lang and Gavin Strawhan and directed by Robert Sarkies and Peter Salmon. Thirteen episodes have been produced.Though the show only lasted one season, it has been announced American network ABC has purchased the series to adapt for an American audience.
44m Crime Drama Mystery
A missing FBI agent reappears six years after being declared dead.
42m Sci-Fi & Fantasy Drama
A re-imagining of the 1980's miniseries about the world's first encounter with an alien race in which the aliens call themselves The Visitors, and have a seemingly friendly agenda that may or may not be a cover for something more malevolent.
45m Drama Sci-Fi & Fantasy
Helix is an intense thriller about a team of scientists from the Centers for Disease Control who travel to a high-tech research facility in the Arctic to investigate a possible disease outbreak, only to find themselves pulled into a terrifying life-and-death struggle that holds the key to mankind's salvation...or total annihilation.
42m Sci-Fi & Fantasy Drama
An astronaut returns home from a year long solo mission in space. She tries to reconnect with her husband and son in their everyday life. Her experiences in space and home lead to events that ultimately will change the course of human history.
explore
Check out more list from our community