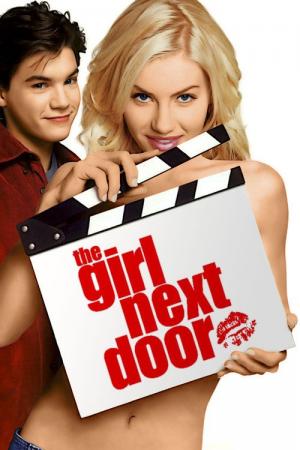 30 Best Movies Like The Girl Next Door ...
If you liked this one , you will for sure love these too! In this list we highlight some of the best films that share a very similar premise to '', and are worth checking out.
1.
I Love You, Beth Cooper (2009)
1h 42m Comedy Romance
A valedictorian's declaration of love for a high-school cheerleader launches a night of revelry, reflection and romance for a group of graduating seniors.
1h 35m Comedy Romance
At a high-school party, four friends find that losing their collective virginity isn't as easy as they had thought. But they still believe that they need to do so before college. To motivate themselves, they enter a pact to all "score" by their senior prom.
1h 35m Drama Comedy Romance
Dave, a high school senior, spends most of his time pining away over a girl he can't have. Aubrey, a junior with artistic aspirations, has a hot boyfriend who doesn't quite understand her or seem to care. Although they go to different schools, Dave and Aubrey find themselves at the same party. When both head outside to get some air, they meet. A casual conversation sparks an instant connection, and, over the course of a weekend, things turn magical, romantic, complicated, and funny as Aubrey and Dave discover what it's like to fall in love for the first time.
4.
Friends with Benefits (2011)
5.
10 Things I Hate About You (1999)
1h 37m Comedy Romance Drama
On the first day at his new school, Cameron instantly falls for Bianca, the gorgeous girl of his dreams. The only problem is that Bianca is forbidden to date until her ill-tempered, completely un-dateable older sister Kat goes out, too. In an attempt to solve his problem, Cameron singles out the only guy who could possibly be a match for Kat: a mysterious bad boy with a nasty reputation of his own.
6.
It's a Boy Girl Thing (2006)
1h 45m Comedy Drama
Haley is a naturally gifted athlete but, with her social behavior, the teen seems intent on squandering her abilities. After a final brush with the law, a judge sentences her to an elite gymnastics academy run by a legendary, hard-nosed coach. Once there, Haley's rebellious attitude wins her both friends and enemies.
7.
No Strings Attached (2011)
1h 47m Comedy Romance
Emma is a busy doctor who sets up a seemingly perfect arrangement when she offers her best friend Adam a relationship with one rule: No strings attached. But when a fling becomes a thing, can sex friends stay best friends?
8.
Zack and Miri Make a Porno (2008)
1h 42m Comedy
Lifelong platonic friends Zack and Miri look to solve their respective cash-flow problems by making an adult film together. As the cameras roll, however, the duo begin to sense that they may have more feelings for each other than they previously thought.
9.
The Breakfast Club (1985)
1h 38m Comedy Drama
Five high school students from different walks of life endure a Saturday detention under a power-hungry principal. The disparate group includes rebel John, princess Claire, outcast Allison, brainy Brian and Andrew, the jock. Each has a chance to tell his or her story, making the others see them a little differently -- and when the day ends, they question whether school will ever be the same.
10.
She's Out of My League (2010)
11.
The Jerk Theory (2009)
1h 33m Comedy
An aspiring recording artist, Adam, is burned by a bad relationship experience and decides that if women won't respond to the "nice guy" then he'll be "the jerk." This is wildly successful with meaningless relationships, but when Adam meets and falls for Molly, who doesn"t fall for his jerk routine, Adam is forced to reconsider his dating philosophy.
1h 33m Comedy
Olive, an average high school student, sees her below-the-radar existence turn around overnight once she decides to use the school's gossip grapevine to advance her social standing. Now her classmates are turning against her and the school board is becoming concerned, including her favorite teacher and the distracted guidance counselor. With the support of her hilariously idiosyncratic parents and a little help from a long-time crush, Olive attempts to take on her notorious new identity and crush the rumor mill once and for all.
13.
Blue Lagoon: The Awakening (2012)
1h 49m Drama
On the day in 1940 that Italy enters the war, two things happen to the 12-year-old Renato: he gets his first bike, and he gets his first look at Malèna. She is a beautiful, silent outsider who's moved to this Sicilian town to be with her husband, Nico. He promptly goes off to war, leaving her to the lustful eyes of the men and the sharp tongues of the women. During the next few years, as Renato grows toward manhood, he watches Malèna suffer and prove her mettle. He sees her loneliness, then grief when Nico is reported dead, the effects of slander on her relationship with her father, her poverty and search for work, and final humiliations. Will Renato learn courage from Malèna and stand up for her?
15.
Van Wilder: Party Liaison (2002)
1h 32m Comedy Romance
Van Wilder has been attending college for far too many years and is scared to graduate, but Van's father eventually realizes what is going on. When he stops paying his son's tuition fees, Van must come up with the money if he wants to stay in college, so he and his friends come up with a great fund-raising idea – throwing parties. However, when the college magazine finds out and reporter, Gwen is sent to do a story on Van Wilder, things get a little complicated.
16.
She's All That (1999)
1h 35m Comedy Romance
High school hotshot Zach Siler is the envy of his peers. But his popularity declines sharply when his cheerleader girlfriend, Taylor, leaves him for sleazy reality-television star Brock Hudson. Desperate to revive his fading reputation, Siler agrees to a seemingly impossible challenge. He has six weeks to gain the trust of nerdy outcast Laney Boggs -- and help her to become the school's next prom queen.
17.
The Last American Virgin (1982)
1h 32m Comedy
The friendship of a group of young friends struggling with teen sex, drugs, and work is jeopardized by a romantic interest which may turn pals into bitter rivals.
30m Documentary Comedy
Keith Lemon's Very Brilliant World Tour is a travel-style comedy series hosted by Keith Lemon, a character portrayed by comedian Leigh Francis. The series was first announced during an appearance by Lemon on the Big Brother companion show Big Brother's Big Mouth in 2007. The series featured Lemon travelling around the world on a shark-shaped flight plan, visiting six different countries, and meeting various celebrity guests, including Spice Girls Mel B and Mel C, along the way.During the series, Paddy McGuinness played the role of Lemon's cousin Gary. The show premiered on 11 March 2008, attracting 565,000 viewers, and concluded on 15 April 2008.In May 2008, Francis announced that he would not be filming a second series in the near future, as he would be busy filming his panel show Celebrity Juice commencing in August 2008. The show was released on DVD on 3 November 2008. Francis announced in May 2011 that he would like to write and record a second series, but said he would struggle to find the time to do so.
19.
Drive Me Crazy (1999)
1h 31m Drama Comedy Romance Family
Nicole and Chase live next door to each other but are worlds apart. However, they plot a scheme to date each other in order to attract the interest and jealousy of their respective romantic prey. But in the mist of planning a gala centennial celebration, Nicole and Chase find that the one they always wanted was closer than they ever thought.
20.
The Spectacular Now (2013)
1h 35m Comedy Drama Romance
Sutter, a popular party animal, unexpectedly meets the introverted Aimee after waking up on a stranger's lawn. As Sutter deals with the problems in his life and Aimee plans for her future beyond school, an unexpected romance blossoms between them.
21.
Boys and Girls (2000)
1h 34m Comedy Drama Romance
Ryan and Jennifer are opposites who definitely do not attract. At least that's what they always believed. When they met as twelve-year-olds, they disliked one another. When they met again as teenagers, they loathed each other. But when they meet in college, the uptight Ryan and the free-spirited Jennifer find that their differences bind them together and a rare friendship develops.
23.
18-Year-Old Virgin (2009)
1h 26m Comedy
In a series of sexual mishaps, a high school senior tries to lose her virginity on the last night before graduation.
1h 28m Comedy
Three high school seniors throw a party to make a name for themselves. As the night progresses, things spiral out of control as word of the party spreads.
1h 37m Comedy Drama Family TV Movie
Dylan Schoenfield is the pink princess of the upscale Los Angeles Woodlands Academy. She has the coolest boyfriend, the most popular friends, and a brand-new it bag that everyone covets. But when she accidentally tosses her Serge Sanchez bag into a fountain, this princess comes face-to-face with her own personal frog, self-professed film geek Josh Rosen. In return for rescuing Dylan's bag, Josh convinces Dylan to let him film her for his documentary on high school popularity. Reluctantly, Dylan lets F-list Josh into her A-list world, and is shocked to realize that sometimes nerds can be pretty cool. But when Dylan's so-called prince charming of a boyfriend dumps her flat, her life and her social status comes to a crashing halt. Can Dylan win the Woodlands Academy Fall Formal Blossom Queen crown? Can Josh win the Woodlands Academy 10th Annual Film Festival? Can Dylan, with Josh's help, pull the pieces together to create her own happily-ever-after?
1h 53m Comedy
Two co-dependent high school seniors are forced to deal with separation anxiety after their plan to stage a booze-soaked party goes awry.
1h 49m Mystery Drama Romance
Quentin Jacobsen has spent a lifetime loving the magnificently adventurous Margo Roth Spiegelman from afar. So when she cracks open a window and climbs back into his life-dressed like a ninja and summoning him for an ingenious campaign of revenge-he follows. After their all-nighter ends and a new day breaks, Q arrives at school to discover that Margo, always an enigma, has now become a mystery. But Q soon learns that there are clues-and they're for him. Urged down a disconnected path, the closer he gets, the less Q sees of the girl he thought he knew.
28.
Date and Switch (2014)
1h 31m Comedy
Two guys who make a pact to lose their virginity before prom find their friendship tested when one of them comes out of the closet.
29.
Not Another Teen Movie (2001)
1h 29m Comedy
On a bet, a gridiron hero at John Hughes High School sets out to turn a bespectacled plain Jane into a beautiful and popular prom queen in this outrageous send-up of the teen movies of the 1980s and '90s.
explore
Check out more list from our community