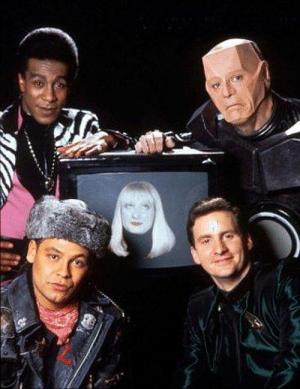 20 Best Shows Like Red Dwarf ...
If you liked this film , you will for sure love these too! In this list we highlight some of the best films that share a very similar premise to '', and are worth checking out.
50m Drama
A group of convicts and outcasts fight a guerrilla war against the totalitarian Terran Federation from a highly advanced alien spaceship.
42m Drama Comedy Sci-Fi & Fantasy
Follows the crew of the not-so-functional exploratory ship in the Earth's interstellar fleet, 400 years in the future.
1h 35m Comedy Science Fiction
Galaxina is a lifelike, voluptuous android who is assigned to oversee the operations of an intergalactic Space Police cruiser captained by incompetent Cornelius Butt. When a mission requires the ship's crew to be placed in suspended animation for decades, Galaxina finds herself alone for many years, developing emotions and falling in love with the ship's pilot, Thor.
1h Action & Adventure Sci-Fi & Fantasy
A freak accident during an experimental space mission catapults Astronaut John Crichton across a thousand galaxies to an alien battlefield.
1h Sci-Fi & Fantasy
The space family Robinson is sent on a five-year mission to find a new planet to colonise. The voyage is sabotaged time and again by an inept stowaway, Dr. Zachary Smith. The family's spaceship, Jupiter II, also carries a friendly robot who endures an endless stream of abuse from Dr. Smith, but is a trusted companion of young Will Robinson
45m Drama Action & Adventure Sci-Fi & Fantasy
In the year 2517, after the arrival of humans in a new star system, follow the adventures of the renegade crew of Serenity, a "Firefly-class" spaceship. The ensemble cast portrays the nine characters who live on Serenity.
7.
The Hitch Hikers Guide to the Galaxy (1981)
33m Comedy Sci-Fi & Fantasy
Don't Panic! The story of Arthur Dent, an average Englishman who life was spared by his friend, who turned out to be an alien, while the planet Earth is destroyed. His friend tells him about the Hitchhiker's Guide to the Galaxy, a guide with anything you ever needed, and wanted to know. They travel across the galaxy, meeting friendly, and not so friendly characters in order to find the great question (the answer being 42).
8.
Space Station 76 (2014)
1h 34m Drama Comedy Science Fiction
A comedic drama about a group of people (and several robots) living on a space station in a 1970's-version of the future. When a new Assistant Captain arrives, she inadvertently ignites tensions among the crew, prompting them to confront their darkest secrets. Barely contained lust, jealousy, and anger all bubble to the surface, becoming just as dangerous as the asteroid that's heading right for them.
43m Action & Adventure Sci-Fi & Fantasy
An action-packed adventure series following a fun-loving, hard living trio of interplanetary bounty hunters (a.k.a. Killjoys) sworn to remain impartial as they chase deadly warrants around the Quad, a system of planets on the brink of revolution.
2h 7m Adventure Comedy Science Fiction
A slick young Turk kidnapped by extraterrestrials shows his great « humanitarian spirit » by outwitting the evil commander-in-chief of the planet of G.O.R.A.
52m Sci-Fi & Fantasy
The crew of Moonbase Alpha must struggle to survive when a massive explosion throws the Moon from orbit into deep space.
12.
Star Trek: Discovery (2017)
1h Sci-Fi & Fantasy Action & Adventure
Follow the voyages of Starfleet on their missions to discover new worlds and new life forms, and one Starfleet officer who must learn that to truly understand all things alien, you must first understand yourself.
13.
Guardians of the Galaxy (2014)
2h 1m Action Science Fiction Adventure
Light years from Earth, 26 years after being abducted, Peter Quill finds himself the prime target of a manhunt after discovering an orb wanted by Ronan the Accuser.
14.
The Hitchhiker's Guide to the Galaxy (2005)
1h 49m Adventure Comedy Family Science Fiction
Mere seconds before the Earth is to be demolished by an alien construction crew, Arthur Dent is swept off the planet by his friend Ford Prefect, a researcher penning a new edition of "The Hitchhiker's Guide to the Galaxy."
1h Sci-Fi & Fantasy Drama
Earth 2 is an American science fiction television series which aired on NBC from November 6, 1994 to June 4, 1995. The show was canceled after one season of 22 episodes. It follows the journey and settlement of a small expeditionary group called the Eden Project, with the intent to journey to an Earth-like planet called G889 in an attempt to find a cure to an illness called "the syndrome". The series was created by Michael Duggan, Carol Flint, Mark Levin, and Billy Ray, produced by Amblin Entertainment and Universal Television, and filmed primarily in northern New Mexico around the Santa Fe area. The series' music was composed by David Bergeaud, and the executive producers were Michael Duggan, Mark Levin, and Carol Flint.Initially, the show's audience was quite large, reaching eighth place; however, by April 23 of the next year, Nielsen ratings share had dropped from 23% to 9%. During its run, it had been nominated for a Primetime Emmy, Saturn, and other awards. In 2005, the entire series was released on DVD in a 4-disc set.
1h 29m Science Fiction Action Adventure
The first installment of this Emmy award-winning series. A movie based at Babylon 5: a new space station built by Humans. The Vorlon ambassador, Kosh, has been poisoned. It is the new commanding officer's, Jeffrey Sinclair, responsibility to find the culprit. Otherwise the space station will fail in its role to bring all the races together.
17.
Star Trek: Voyager (1995)
45m Sci-Fi & Fantasy Drama Action & Adventure
Pulled to the far side of the galaxy, where the Federation is 75 years away at maximum warp speed, a Starfleet ship must cooperate with Maquis rebels to find a way home.
23m Comedy Family
A furry alien wiseguy comes to live with a terran family after crashing into their garage.
19.
Space Truckers (1996)
1h 35m Comedy Science Fiction Thriller Adventure
John Canyon is one of the last independent space transport entrepreneurs. Rough times force him to carry suspicious cargo to Earth without questions being asked. During the flight the cargo turns out to be multitude of unstoppable and deadly killer robots.
explore
Check out more list from our community