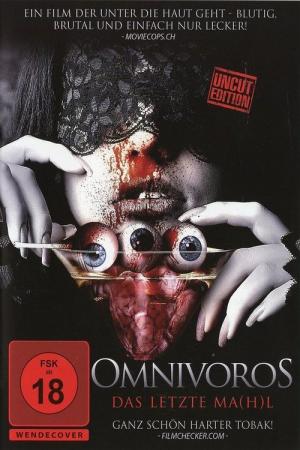 11 Best Shows Like Darknet ...
If you liked this one , you will probably love these too! In this collection we highlight some of the best films that share a very similar premise to 'Omnivores', and are worth checking out.
1h 35m Horror Thriller
A young girl, Johanna, is attacked and seemingly murdered. Her father receives a phone call from the police pronouncing her dead as he sees her walk in the front door of their house. Strange things begin to happen to Johanna; she is disorientated and becomes pale and unresponsive. Similar attacks begin to happen, and Johanna's father takes it on himself to find out the truth. He embarks on a dark thrill ride of lost memories, conspiracy, and zombie-like symptoms. Finding the mysterious darkness within is the source of the bizarre world he has uncovered.
1h 22m Horror Thriller
Brian's mother dies and is surprised when he inherit's The Sanctuary, her controversial experimental treatment center for addictions. When he and his friends are shown around the dilapidated building by a mysterious employee, it is clear that there is a sinister mood. Despite this the group enters a secret underground passage and the terrible reality is revealed. Brian's mother had built a revolutionary machine that cured people of their addiction, but as a side effect to materialize the addictions in a mutated form of children who are addicted to human flesh which have moved into the building.
1h 30m Horror Action
A tragic car accident in the middle of nowhere finds six stranded college students fighting for their lives after making a horrifying discovery in a remote farmhouse in director Edward Gorsuch's rural frightener. With no place to run and no police station for miles, these doomed students are about to discover that down home hospitality is the last thing on the minds of the murderous family who stalks them through the woods.
31m Sci-Fi & Fantasy Mystery Action & Adventure
The doomed passengers aboard a spectral bus head toward a gruesome, unknown destination in this deliciously macabre horror anthology series.
1h 28m Horror Thriller
An American family visiting their Irish roots accidentally stumbles on a horde of bloodthirsty mutant children.
1h 38m Comedy Horror Thriller
Lance Reed is forced by a psychotic stranger to confront his duplicitous past. Seeking retribution for a crime, the man forces Lance to reveal his inner most secrets by systematically removing his limbs.
1h 23m Horror Thriller
Four young women driving across the desert to Las Vegas have their road trip turned upside-down when they pick up a handsome, seemingly-friendly hitchhiker. When their car breaks down near a roadside motel in the middle of nowhere, they find themselves trapped with a woman-hating, masochistic killer.
8.
The Dinner Party (2020)
1h 56m Horror Thriller
A budding playwright and his wife attend a dinner party hosted by wealthy, cultural elites, who have promised to bankroll the writer's latest play to Broadway, but, in fact, have darker designs in mind for the couple.
1h 24m Horror Thriller
An American photographer has an affair with a mysterious woman (Yoshikawa), which leads him into a confrontation with the occult.
10.
Multiple Personality Detective Psycho - Kazuhiko Amamiya Returns (2000)
5h 24m Crime Drama Horror Thriller
Yosuke Kobayashi, a detective assigned on a homicide unit, saw his wife killed by a serial killer, Shinji Nishizono. From a shock he suffered MPD (multiple personality disorder) and became Kazuhiko Amamiya. Soon after he managed to hunt down and killed the murderer of his wife, new series of murders have occurred and the suspects claimed to be Shinji Nishizono himself. Is it really him? Or a copycat? And who is Kazuhiko Amamiya?
1h 33m Horror
SCARCE depicts the gruesome fate of three lost snowboarders trapped at an isolated forest cabin owned by two menacing locals who harvest human flesh. As the day of the slaughter nears, they attempt to escape barefoot through the frozen wilderness.
explore
Check out more list from our community