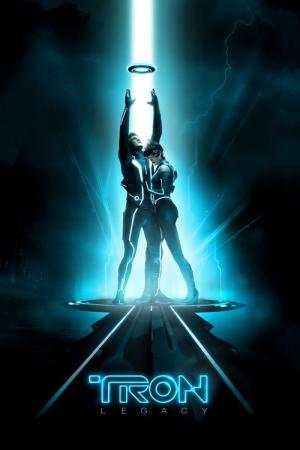 30 Best Movies Like Tron ...
If you liked this film , you will probably love these too! In this selection we highlight some of the best films that share a very similar premise to '', and are worth checking out.
1h 36m Science Fiction Action Adventure
As Kevin Flynn searches for proof that he invented a hit video game, he is 'digitalized' by a laser and finds himself inside 'The Grid', where programs suffer under the tyrannical rule of the Master Control Program (MCP). With the help of a security program called 'TRON', Flynn seeks to free The Grid from the MCP.
2.
Ready Player One (2018)
2h 20m Science Fiction Adventure Action
When the creator of a popular video game system dies, a virtual contest is created to compete for his fortune.
2h 4m Action Science Fiction Adventure Mystery
Jack Harper is one of the last few drone repairmen stationed on Earth. Part of a massive operation to extract vital resources after decades of war with a terrifying threat known as the Scavs, Jack's mission is nearly complete. His existence is brought crashing down when he rescues a beautiful stranger from a downed spacecraft. Her arrival triggers a chain of events that forces him to question everything he knows and puts the fate of humanity in his hands.
4.
The Matrix Revolutions (2003)
2h 9m Adventure Action Thriller Science Fiction
The human city of Zion defends itself against the massive invasion of the machines as Neo fights to end the war at another front while also opposing the rogue Agent Smith.
2h 16m Action Science Fiction
Set in the 22nd century, The Matrix tells the story of a computer hacker who joins a group of underground insurgents fighting the vast and powerful computers who now rule the earth.
11m Family Animation Action & Adventure Sci-Fi & Fantasy
This intergalactic adventure charts the outer space missions of young adventurer Miles Callisto and his family – mom and ship captain, Phoebe; mechanical engineer dad, Leo; tech-savvy big sister, Loretta; and robo-ostrich pet, Merc – as they help connect the universe on behalf of the Tomorrowland Transit Authority.
22m Action & Adventure Animation Sci-Fi & Fantasy
Taking place some time between 'Tron' and 'Tron: Legacy', 'Tron: Uprising' tells the story of Beck, a young program who becomes the skillful leader of a revolution inside the computer world of The Grid.
2h 11m Action Science Fiction Adventure
A ragtag band of humans band together in the year 2025 to fight legions of monstrous creatures rising from the sea. Using massive piloted robots to combat the alien threat, earth's survivors take the fight to the invading alien force lurking in the depths of the Pacific Ocean. Nearly defenseless in the face of the relentless enemy, the forces of mankind have no choice but to turn to two unlikely heroes -- a washed up former pilot and an untested trainee -- who now stand as earth's final hope against the mounting apocalypse.
9.
The Matrix Reloaded (2003)
2h 18m Adventure Action Thriller Science Fiction
Six months after the events depicted in The Matrix, Neo has proved to be a good omen for the free humans, as more and more humans are being freed from the matrix and brought to Zion, the one and only stronghold of the Resistance. Neo himself has discovered his superpowers including super speed, ability to see the codes of the things inside the matrix and a certain degree of pre-cognition. But a nasty piece of news hits the human resistance: 250,000 machine sentinels are digging to Zion and would reach them in 72 hours. As Zion prepares for the ultimate war, Neo, Morpheus and Trinity are advised by the Oracle to find the Keymaker who would help them reach the Source. Meanwhile Neo's recurrent dreams depicting Trinity's death have got him worried and as if it was not enough, Agent Smith has somehow escaped deletion, has become more powerful than before and has fixed Neo as his next target.
2h 1m Action Science Fiction Adventure Thriller
Welcome to Rekall, the company that can turn your dreams into real memories. For a factory worker named Douglas Quaid, even though he's got a beautiful wife who he loves, the mind-trip sounds like the perfect vacation from his frustrating life - real memories of life as a super-spy might be just what he needs. But when the procedure goes horribly wrong, Quaid becomes a hunted man. Finding himself on the run from the police - controlled by Chancellor Cohaagen, the leader of the free world - Quaid teams up with a rebel fighter to find the head of the underground resistance and stop Cohaagen. The line between fantasy and reality gets blurred and the fate of his world hangs in the balance as Quaid discovers his true identity, his true love, and his true fate.
11.
The Fifth Element (1997)
2h 6m Adventure Fantasy Action Thriller Science Fiction
In 2257, a taxi driver is unintentionally given the task of saving a young girl who is part of the key that will ensure the survival of humanity.
1h 59m Thriller Science Fiction Drama Mystery
Two leading computer scientists work toward their goal of Technological Singularity, as a radical anti-technology organization fights to prevent them from creating a world where computers can transcend the abilities of the human brain.
13.
Fantastic Four (2015)
1h 40m Action Adventure Science Fiction
Four young outsiders teleport to a dangerous universe, which alters their physical form in shocking ways. Their lives irrevocably upended, the team must learn to harness their daunting new abilities and work together to save Earth from a former friend turned enemy.
2h 42m Action Adventure Fantasy Science Fiction
In the 22nd century, a paraplegic Marine is dispatched to the moon Pandora on a unique mission, but becomes torn between following orders and protecting an alien civilization.
15.
Jurassic World (2015)
2h 4m Action Adventure Science Fiction Thriller
Twenty-two years after the events of Jurassic Park, Isla Nublar now features a fully functioning dinosaur theme park, Jurassic World, as originally envisioned by John Hammond.
1h 40m Science Fiction Action Adventure
One thousand years after cataclysmic events forced humanity's escape from Earth, Nova Prime has become mankind's new home. Legendary General Cypher Raige returns from an extended tour of duty to his estranged family, ready to be a father to his 13-year-old son, Kitai. When an asteroid storm damages Cypher and Kitai's craft, they crash-land on a now unfamiliar and dangerous Earth. As his father lies dying in the cockpit, Kitai must trek across the hostile terrain to recover their rescue beacon. His whole life, Kitai has wanted nothing more than to be a soldier like his father. Today, he gets his chance.
1h 42m Adventure Fantasy
John Gregory, who is a seventh son of a seventh son and also the local spook, has protected the country from witches, boggarts, ghouls and all manner of things that go bump in the night. However John is not young anymore, and has been seeking an apprentice to carry on his trade. Most have failed to survive. The last hope is a young farmer's son named Thomas Ward. Will he survive the training to become the spook that so many others couldn't?
18.
Independence Day: Resurgence (2016)
2h Action Adventure Science Fiction
We always knew they were coming back. Using recovered alien technology, the nations of Earth have collaborated on an immense defense program to protect the planet. But nothing can prepare us for the aliens' advanced and unprecedented force. Only the ingenuity of a few brave men and women can bring our world back from the brink of extinction.
19.
Lawnmower Man 2: Beyond Cyberspace (1996)
1h 32m Science Fiction
Jobe is resuscitated by Jonathan Walker. He wants Jobe to create a special computer chip that would connect all the computers in the world into one network, which Walker would control and use. But what Walker doesn't realize is a group of teenage hackers are on to him and out to stop his plan.
20.
The Amazing Spider-Man 2 (2014)
2h 22m Action Adventure Fantasy
For Peter Parker, life is busy. Between taking out the bad guys as Spider-Man and spending time with the person he loves, Gwen Stacy, high school graduation cannot come quickly enough. Peter has not forgotten about the promise he made to Gwen's father to protect her by staying away, but that is a promise he cannot keep. Things will change for Peter when a new villain, Electro, emerges, an old friend, Harry Osborn, returns, and Peter uncovers new clues about his past.
21.
Transformers: Age of Extinction (2014)
2h 45m Science Fiction Action Adventure
As humanity picks up the pieces, following the conclusion of "Transformers: Dark of the Moon," Autobots and Decepticons have all but vanished from the face of the planet. However, a group of powerful, ingenious businessman and scientists attempt to learn from past Transformer incursions and push the boundaries of technology beyond what they can control - all while an ancient, powerful Transformer menace sets Earth in his cross-hairs.
22.
Logan's Run (1976)
1h 59m Action Science Fiction
In the 23rd century, inhabitants of a domed city freely experience all of life's pleasures- but no one is allowed to live past 30. Citizens can try for a chance at being 'renewed' in a civic ceremony on their 30th birthday. Escape is the only other option.
2h 8m Action Adventure Science Fiction
Decades after Sarah Connor prevented Judgment Day, a lethal new Terminator is sent to eliminate the future leader of the resistance. In a fight to save mankind, battle-hardened Sarah Connor teams up with an unexpected ally and an enhanced super soldier to stop the deadliest Terminator yet.
1h 49m Thriller Action Science Fiction
A special-ops team is dispatched to fight supernatural beings that have taken over a European city.
1h 51m Science Fiction Action Adventure
A football player and his friends travel to the planet Mongo and find themselves fighting the tyrant—Ming the Merciless—to save Earth.
26.
The Scorch Trials (2015)
2h 11m Science Fiction Action Thriller
Thomas and his fellow Gladers face their greatest challenge yet: searching for clues about the mysterious and powerful organization known as WCKD. Their journey takes them to the Scorch, a desolate landscape filled with unimaginable obstacles. Teaming up with resistance fighters, the Gladers take on WCKD's vastly superior forces and uncover its shocking plans for them all.
27.
The Time Machine (2002)
1h 36m Science Fiction Adventure Action
Hoping to alter the events of the past, a 19th century inventor instead travels 800,000 years into the future, where he finds mankind divided into two warring races.
1h 29m Science Fiction Action Thriller
Set in a futuristic world where humans live in isolation and interact through surrogate robots, a cop is forced to leave his home for the first time in years in order to investigate the murders of others' surrogates.
29.
The Terminator (1984)
1h 48m Action Thriller Science Fiction
In the post-apocalyptic future, reigning tyrannical supercomputers teleport a cyborg assassin known as the "Terminator" back to 1984 to kill Sarah Connor, whose unborn son is destined to lead insurgents against 21st century mechanical hegemony. Meanwhile, the human-resistance movement dispatches a lone warrior to safeguard Sarah. Can he stop the virtually indestructible killing machine?
explore
Check out more list from our community