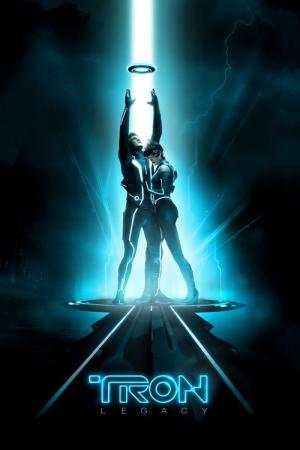 11 Best Movies Like Tron ...
If you liked this film , you will definitely love these too! In this selection we highlight some of the best films that share a very similar mood to 'TRON: Legacy', and are worth checking out.
2h 8m Action Adventure Science Fiction
Decades after Sarah Connor prevented Judgment Day, a lethal new Terminator is sent to eliminate the future leader of the resistance. In a fight to save mankind, battle-hardened Sarah Connor teams up with an unexpected ally and an enhanced super soldier to stop the deadliest Terminator yet.
1h 51m Science Fiction Action Adventure
A football player and his friends travel to the planet Mongo and find themselves fighting the tyrant—Ming the Merciless—to save Earth.
2h 11m Action Science Fiction Adventure
A ragtag band of humans band together in the year 2025 to fight legions of monstrous creatures rising from the sea. Using massive piloted robots to combat the alien threat, earth's survivors take the fight to the invading alien force lurking in the depths of the Pacific Ocean. Nearly defenseless in the face of the relentless enemy, the forces of mankind have no choice but to turn to two unlikely heroes -- a washed up former pilot and an untested trainee -- who now stand as earth's final hope against the mounting apocalypse.
4.
Lawnmower Man 2: Beyond Cyberspace (1996)
1h 32m Science Fiction
Jobe is resuscitated by Jonathan Walker. He wants Jobe to create a special computer chip that would connect all the computers in the world into one network, which Walker would control and use. But what Walker doesn't realize is a group of teenage hackers are on to him and out to stop his plan.
11m Family Animation Action & Adventure Sci-Fi & Fantasy
This intergalactic adventure charts the outer space missions of young adventurer Miles Callisto and his family – mom and ship captain, Phoebe; mechanical engineer dad, Leo; tech-savvy big sister, Loretta; and robo-ostrich pet, Merc – as they help connect the universe on behalf of the Tomorrowland Transit Authority.
1h 59m Thriller Science Fiction Drama Mystery
Two leading computer scientists work toward their goal of Technological Singularity, as a radical anti-technology organization fights to prevent them from creating a world where computers can transcend the abilities of the human brain.
1h 49m Thriller Action Science Fiction
A special-ops team is dispatched to fight supernatural beings that have taken over a European city.
2h 4m Action Science Fiction Adventure Mystery
Jack Harper is one of the last few drone repairmen stationed on Earth. Part of a massive operation to extract vital resources after decades of war with a terrifying threat known as the Scavs, Jack's mission is nearly complete. His existence is brought crashing down when he rescues a beautiful stranger from a downed spacecraft. Her arrival triggers a chain of events that forces him to question everything he knows and puts the fate of humanity in his hands.
9.
Ready Player One (2018)
2h 20m Science Fiction Adventure Action
When the creator of a popular video game system dies, a virtual contest is created to compete for his fortune.
2h 1m Action Science Fiction Adventure Thriller
Welcome to Rekall, the company that can turn your dreams into real memories. For a factory worker named Douglas Quaid, even though he's got a beautiful wife who he loves, the mind-trip sounds like the perfect vacation from his frustrating life - real memories of life as a super-spy might be just what he needs. But when the procedure goes horribly wrong, Quaid becomes a hunted man. Finding himself on the run from the police - controlled by Chancellor Cohaagen, the leader of the free world - Quaid teams up with a rebel fighter to find the head of the underground resistance and stop Cohaagen. The line between fantasy and reality gets blurred and the fate of his world hangs in the balance as Quaid discovers his true identity, his true love, and his true fate.
1h 42m Adventure Fantasy
John Gregory, who is a seventh son of a seventh son and also the local spook, has protected the country from witches, boggarts, ghouls and all manner of things that go bump in the night. However John is not young anymore, and has been seeking an apprentice to carry on his trade. Most have failed to survive. The last hope is a young farmer's son named Thomas Ward. Will he survive the training to become the spook that so many others couldn't?
explore
Check out more list from our community