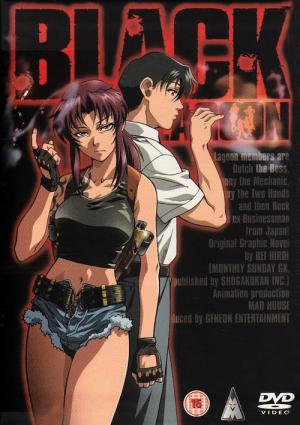 16 Best Shows Like Black Lagoon ...
If you liked this one , you will definitely love these too! In this collection we highlight some of the best films that share a very similar premise to '', and are worth checking out.
1.
Darker Than Black (2007)
25m Action & Adventure Animation Mystery Sci-Fi & Fantasy
Ten years ago, a mysterious spatial anomaly now known as "Heaven's Gate" appeared in South America, shortly followed by the opening of "Hell's Gate" in Tokyo altering the sky and wreaking havoc on the landscape. The real stars disappeared, replaced by false stars. During this time, people possessing various special abilities — called "Contractors" — emerged, each capable of different supernatural feats. Following the disastrous Heaven's War, the United States lost its dominant position as a superpower to a mysterious organization named the Syndicate. The story revolves around a Chinese contractor codenamed "Hei" as he undertakes various espionage and assassination missions in Tokyo.
25m Animation Action & Adventure Mystery Sci-Fi & Fantasy Crime Drama
In a futuristic world almost barren of life, mankind is confined to mechanized domed cities where A.I.'s control all aspects of life. In this world, humans are no longer born, they are manufactured in a production line; and alongside them live androids known as autoreivs. Within one of these domed sanctuaries named Romdeau lives Re-l Mayer, one of a few citizens who aren't entirely prevented from thinking. Her grandfather's prominent position and the affection of the scientist Daedalus have left her more free will than is normally allowed, but Re-l has started to question the sanctity of the city and the citizens' perfect way of life. With mysterious beings known as proxies causing havoc and a man named Vincent causing great influence on her life, Re-l must travel outside of the city to find the answers she seeks and discover the mystery behind "the awakening".
3.
Samurai Champloo (2004)
24m Action & Adventure Animation Comedy Drama
Mugen is a ferocious, animalistic warrior with a fighting style inspired by break-dancing. Jin is a ronin samurai who wanders the countryside alone. They may not be friends, but their paths continually cross. And when ditzy waitress Fuu gets them out of hot water with the local magistrate, they agree to join her search for the "samurai who smells of sunflowers."
23m Action & Adventure Sci-Fi & Fantasy Animation
Guts, a man who calls himself "The Black Swordsman", looks back upon his days serving as a member of a group of mercenaries. Led by an ambitious, ruthless, and intelligent man named Griffith, together they battle their way into the royal court, and are forced into a fate that changes their lives.
5.
Persona 4 The Animation (2011)
25m Animation Sci-Fi & Fantasy Action & Adventure
Persona 4: The Animation is a television anime series produced by AIC ASTA and directed by Seiji Kishi, based on the Shin Megami Tensei: Persona 4 video game by Atlus. The story revolves around the protagonist, Yu Narukami, who acquires a mysterious power called "Persona" and embarks on a journey with his new friends to uncover the truth behind a bizarre series of murders involving a distorted TV World. The series aired in Japan between October 2011 and March 2012, with a film adaptation released in June 2012 and an original video animation episode released in August 2012. The series is licensed in North America by Sentai Filmworks.
25m Animation Action & Adventure
In a futuristic Japan where conflicts are settled by the sword, Afro Samurai must avenge his father's murder by challenging a powerful warrior.
7.
Cowboy Bebop: The Movie (2001)
1h 55m Action Animation Science Fiction
The year is 2071. Following a terrorist bombing, a deadly virus is released on the populace of Mars and the government has issued the largest bounty in history, for the capture of whoever is behind it. The bounty hunter crew of the spaceship Bebop; Spike, Faye, Jet and Ed, take the case with hopes of cashing in the bounty. However, the mystery surrounding the man responsible, Vincent, goes deeper than they ever imagined, and they aren't the only ones hunting him.
25m Animation Comedy Action & Adventure
The story takes place in Japan in the early 21st century, in an alternate reality where the Tokugawa Shogunate has remained in power. In this reality, student councils are tasked with oppressing schools. Yagyuu Muneakira is a high school student who rebels against his student council with the help of girls who've had the names of famous samurai heroes passed on to them.
9.
B: The Beginning (2018)
26m Animation Sci-Fi & Fantasy
In a world powered by advanced technology, crime and action unfold in the archipelagic nation of Cremona. Genius investigator Keith Flick rejoins the royal police force just as serial killer "B" emerges. Mysterious youth Koku may be an ally, or a target.
10.
Bodacious Space Pirates (2012)
25m Animation Action & Adventure
Miniskirt Space Pirates is a Japanese light novel series written by Yūichi Sasamoto and published by Asahi Shimbun Shuppan since October 2008. An anime television series adaptation produced by Satelight, under the title Bodacious Space Pirates aired in Japan between January 8, 2012 and June 30, 2012. A film adaptation will be released in February 2014. A web manga adaptation launched on June 2, 2012.
11.
The Rising of The Shield Hero (2018)
25m Animation Action & Adventure Comedy
Pretty Cure, known in Japan as Futari wa Pretty Cure, is a Japanese magical girl anime series The theme of the series revolves around Yin and Yang, which explains the relationship between Nagisa and Honoka trying to work together as Pretty Cures.
13.
Sword Art Online (2012)
24m Animation Sci-Fi & Fantasy Action & Adventure
In the near future, a Virtual Reality Massive Multiplayer Online Role-Playing Game (VRMMORPG) called Sword Art Online has been released where players control their avatars with their bodies using a piece of technology called Nerve Gear. One day, players discover they cannot log out, as the game creator is holding them captive unless they reach the 100th floor of the game's tower and defeat the final boss. However, if they die in the game, they die in real life. Their struggle for survival starts now...
30m Sci-Fi & Fantasy Animation Comedy Drama
Outlaw Star follows the outlaw Gene Starwind and his eleven year-old business associate, Jim Hawking. Together they run a small jack-of-all-trades business on the backwater planet Sentinel III. After the two take a job as bodyguards for a mysterious outlaw, they find themselves the owners of the XGP15A-II, a highly advanced prototype spacecraft, and the caretakers of a bio-android named Melfina, The series follows the exploits of the slowly growing ragtag crew.
15.
Tekkonkinkreet (2006)
1h 43m Action Adventure Animation
When mysterious foreign entrepreneurs appear with the intention of tearing down Treasure Town and replacing it with an amusement park, Black and White face their greatest adversaries yet. It is up to the destructive Black to save the fate of the city and up to the gentle White to save Black from his own dark nature. On the street of an unnamed city, literally high-flying urchins Black and White look to protect their turf from invasion from other gangs. While he can be tough in a fight or wielding a weapon, White is an 11-year-old who can't even dress himself. Slightly older, Black is more worldly and treats his buddy with paternal love. Both look on their city as "our town." Also prone to seeing the city as his property is world-weary yakuza leader Suzuki, aka the Rat. Feeling the town has become too placid, Suzuki plots his return, much to the consternation of local police.
explore
Check out more list from our community