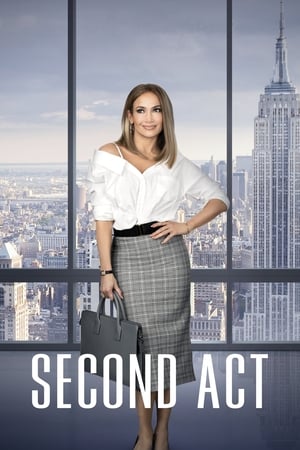 12 Best Movies Like Second Act ...
If you liked this film , you will probably love these too! In this selection we highlight some of the best films that share a very similar premise to 'Second Act', and are worth checking out.
Molly Gunn, the freewheeling daughter of a deceased rock legend, is forced to get a job when her manager steals her money. As nanny for precocious Ray, the oft ignored daughter of a music executive she learns what it means to be an adult while teaching Ray how to be a child.
1h 32m
Director: Boaz Yakin
Screenplay: Lisa Davidowitz
Screenplay: Mo Ogrodnik
Screenplay: Julia Dahl
Story: Allison Jacobs
Comedy Drama Family
2.
Picture Perfect (1997)
A young advertising executive's life becomes increasingly complicated when, in order to impress her boss, she pretends to be engaged to a man she has just met.
1h 45m
Director: Glenn Gordon Caron
Screenplay: Arleen Sorkin
Screenplay: Paul Slansky
Comedy Romance
3.
Bridget Jones's Baby (2016)
After breaking up with Mark Darcy, Bridget Jones's 'happily ever after' hasn't quite gone according to plan. Fortysomething and single again, she decides to focus on her job as top news producer and surround herself with old friends and new. For once, Bridget has everything completely under control. What could possibly go wrong? Then her love life takes a turn and Bridget meets a dashing American named Jack, the suitor who is everything Mr. Darcy is not. In an unlikely twist she finds herself pregnant, but with one hitch she can only be fifty percent sure of the identity of her baby's father.
2h 3m
Director: Sharon Maguire
Screenplay: Emma Thompson
Screenplay: Helen Fielding
Writer: Dan Mazer
Comedy Romance
4.
The Mirror Has Two Faces (1996)
Rose Morgan, who still lives with her mother, is a professor of Romantic Literature who desperately longs for passion in her life. Gregory Larkin, a mathematics professor, has been burned by passionate relationships and longs for a sexless union based on friendship and respect.
2h 6m
Director: Barbra Streisand
Screenplay: Richard LaGravenese
Comedy Drama Romance
5.
Maid in Manhattan (2002)
Marisa Ventura is a struggling single mom who works at a posh Manhattan hotel and dreams of a better life for her and her young son. One fateful day, hotel guest and senatorial candidate Christopher Marshall meets Marisa and mistakes her for a wealthy socialite. After an enchanting evening together, the two fall madly in love. But when Marisa's true identity is revealed, issues of class and social status threaten to separate them. Can two people from very different worlds overcome their differences and live happily ever after?
1h 45m
Director: Wayne Wang
Screenplay: Kevin Wade
Story: John Hughes
Comedy Drama Romance
Eloise, having been relieved of maid of honor duties after being unceremoniously dumped by the best man via text, decides to attend the wedding anyway – only to find herself seated with five fellow-unwanted guests at the dreaded Table 19.
1h 27m
Director: Jeffrey Blitz
Screenplay: Mark Duplass
Screenplay: Jay Duplass
Comedy Drama
Tess McGill is an ambitious secretary with a unique approach for climbing the ladder to success. When her classy, but villainous boss breaks a leg skiing, Tess takes over her office, her apartment and even her wardrobe. She creates a deal with a handsome investment banker that will either take her to the top, or finish her off for good.
1h 54m
Director: Mike Nichols
Screenplay: Kevin Wade
Comedy Romance
8.
Manhattan Romance (2014)
9.
Something Borrowed (2011)
Though Rachel is a successful attorney and a loyal, generous friend, she is still single. After one drink too many at her 30th-birthday celebration, Rachel unexpectedly falls into bed with her longtime crush, Dex -- who happens to be engaged to her best friend, Darcy. Ramifications of the liaison threaten to destroy the women's lifelong friendship, while Ethan, Rachel's confidant, harbors a potentially explosive secret of his own.
1h 52m
Director: Luke Greenfield
Novel: Emily Giffin
Writer: Jennie Snyder Urman
Comedy Drama Romance
10.
Love at the Christmas Table (2012)
Family friends Sam and Kat spend every Christmas Eve at the Children's Table. They grow up together, sharing the highs and lows of young adulthood. And at thirty, Sam realizes that Kat is the one...but he's afraid that the past will get in the way.
1h 31m
Director: Rachel Lee Goldenberg
Screenplay: Patrick J. Hobby
Comedy Romance TV Movie
12.
Nappily Ever After (2018)
explore
Check out more list from our community