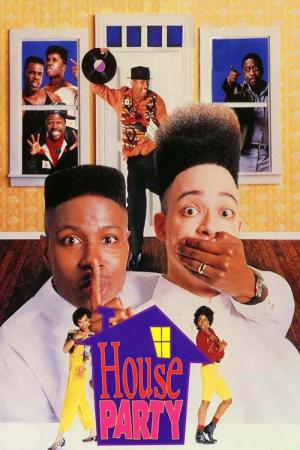 13 Best Movies Like House Party ...
If you liked this film , you will probably love these too! In this list we highlight some of the best films that share a very similar mood to 'House Party', and are worth checking out.
1h 37m Comedy Romance
Andie is an outcast, hanging out either with her older boss, who owns the record store where she works, or her quirky high school classmate Duckie, who has a crush on her. When one of the rich and popular kids at school, Blane, asks Andie out, it seems too good to be true. As Andie starts falling for Blane, she begins to realize that dating someone from a different social sphere is not easy.
2.
Detroit Rock City (1999)
1h 35m Comedy Music
In 1978, a Kiss concert was an epoch-making event. For the three teen fans in Detroit Rock City getting tickets to the sold-out show becomes the focal point of their existence. They'll do anything for tickets -- compete in a strip club's amateur-night contest, take on religious protesters, even rob a convenience store!
3.
Porky's Revenge (1985)
1h 32m Comedy
As graduation nears for the class of 1955 at Angel Beach High, the gang once again faces off against their old enemy, Porky, who wants them to throw the school's championship basketball game since he has bet on the opposing team.
1h 46m Comedy Drama Romance
In the panicky, uncertain hours before his wedding, a groom with prenuptial jitters and his two best friends reminisce about growing up together in the middle-class African-American neighborhood of Inglewood, California. Flashing back to the twenty-something trio's childhood exploits, the memories capture the mood and nostalgia of the '80s era.
1h 45m Drama Comedy Mystery
As four friends prepare for life after high school, different challenges bring about turning points in each of their lives. The dramas unfold and resolve at their local rollerskating rink, Cascade.
6.
The Jerk Theory (2009)
1h 33m Comedy
An aspiring recording artist, Adam, is burned by a bad relationship experience and decides that if women won't respond to the "nice guy" then he'll be "the jerk." This is wildly successful with meaningless relationships, but when Adam meets and falls for Molly, who doesn"t fall for his jerk routine, Adam is forced to reconsider his dating philosophy.
1h 32m Comedy
Bookish and unpopular Mandy finds her luck finally changing when Drew, the school hottie, invites her to the year's biggest party. But with being grounded and Drew's ex-girlfriend bent on thwarting her, Mandy may be destined to remain a geek. Can a little ingenuity and some help from her friends save the day?
8.
High School Musical (2006)
1h 38m Comedy Drama Family Music Romance TV Movie
Troy, the popular captain of the basketball team, and Gabriella, the brainy and beautiful member of the academic club, break all the rules of East High society when they secretly audition for the leads in the school's musical. As they reach for the stars and follow their dreams, everyone learns about acceptance, teamwork, and being yourself.
1h 31m Comedy Fantasy Romance
When a shy teenager's new-found powers help him score at basketball - and with the popular girls - he has some pretty hairy decisions to make.
10.
Kickin' It Old Skool (2007)
1h 48m Comedy
"Kickin' It Old Skool" revolves around a 12-year-old breakdancer, who in 1986 hits his head while performing at a talent show and as a result is comatose for 20 years. He awakens to find he is a grown man. With the mind and experience of a young kid, he attempts to revive his and his dance team's short-lived career with the hopes of helping support his parents' failing yogurt shop.
11.
Senior Skip Day (2008)
1h 32m Comedy
The senior class plans to have a skip-day party at the principal's house until Adam Harris leaks the secret, so he decides to save the celebration by hosting it at his house.
1h 25m Comedy
Brad is about to hook up with the girl of his dreams, but runs into a problem, no condom. So Brad sets out into the night to find one, running into many obstacles along the way, while not knowing his best friend, Leah is in love with him.
13.
Making the Grade (1984)
1h 45m Comedy Romance
Lazy preppie Palmer Woodrow hires street-smart Eddie Keaton to go to school for him while he lives it up in Europe. Eddie falls in love with preppie gal Tracey, upsetting Biff, the Hoover Academy bully. When his bookie from the old neighborhood, Dice, comes to collect on Eddie's gambling debts and Palmer returns early from Europe, the the scheme slowly starts to unravel. Soon, Eddie can't even tell whose side he's really on.
explore
Check out more list from our community