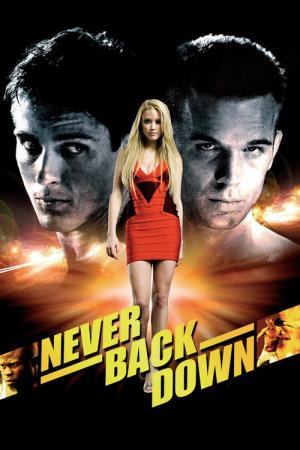 29 Best Movies Like Never Back Down ...
If you liked this one , you will definitely love these too! In this collection we highlight some of the best films that share a very similar mood to '', and are worth checking out.
2h 20m Drama Action
The youngest son of an alcoholic former boxer returns home, where he's trained by his father for competition in a mixed martial arts tournament – a path that puts the fighter on a collision course with his estranged, older brother.
1h 45m Action
Small-town boy Shawn MacArthur has come to New York City with nothing. Barely earning a living selling counterfeit goods on the streets, his luck changes when scam artist Harvey Boarden sees that he has a natural talent for streetfighting. When Harvey offers Shawn help at making the real cash, the two form an uneasy partnership.
1h 37m Action Thriller
If your enemy refuses to be humbled... Destroy him. Accompanied by his brother Kurt (Van Damme), American kickboxing champion Eric Sloane (Dennis Alexio), arrives in Thailand to defeat the Eastern warriors at their own sport. His opponent: ruthless fighter and Thai champion, Tong Po. Tong not only defeats Eric, he paralyzes him for life. Crazed with anger, Kurt vows revenge.
1h 45m Action Drama
A disgruntled teenager, sent to do community service at a rundown Karate school, enters an MMA tournament to face the man who killed his parents.
2h 20m Action Adventure Drama Family
Twelve-year-old Dre Parker could have been the most popular kid in Detroit, but his mother's latest career move has landed him in China. Dre immediately falls for his classmate Mei Ying but the cultural differences make such a friendship impossible. Even worse, Dre's feelings make him an enemy of the class bully, Cheng. With no friends in a strange land, Dre has nowhere to turn but maintenance man Mr. Han, who is a kung fu master. As Han teaches Dre that kung fu is not about punches and parries, but maturity and calm, Dre realizes that facing down the bullies will be the fight of his life.
6.
Never Back Down: No Surrender (2016)
1h 41m Drama Action
Picking up after the events of Never Back Down 2, former MMA champion Case Walker is on the comeback trail to become champion once again.
2h 3m Action Drama
Billy "The Great" Hope, the reigning junior middleweight boxing champion, has an impressive career, a loving wife and daughter, and a lavish lifestyle. However, when tragedy strikes, Billy hits rock bottom, losing his family, his house and his manager. He soon finds an unlikely savior in Tick Willis, a former fighter who trains the city's toughest amateur boxers. With his future on the line, Hope fights to reclaim the trust of those he loves the most.
8.
Undisputed 2: Last Man Standing (2006)
1h 33m Action Crime Thriller
Sequel to the 2002 film. This time, Heavyweight Champ George "Iceman" Chambers (White) is sent to a Russian jail on trumped-up drug charges. In order to win his freedom he must fight against the jailhouse fighting champ Uri Boyka (Adkins) in a battle to the death. This time he is not fighting for a title, he is fighting for his life!
9.
Undisputed 3: Redemption (2010)
1h 36m Action Thriller
Russian inmate Boyka, now severely hobbled by the knee injury suffered at the end of Undisputed 2. No longer the feared prison fighter he was, he has declined so far that he is now good only for cleaning toilets. But when a new prison fight tournament begins - an international affair, matching the best fighters from prisons around the globe, enticing them with the promise of freedom for the winner - Boyka must reclaim his dignity and fight for his position in the tournament.
11.
Best of the Best (1989)
1h 37m Action
A team from the United States is going to compete against Korea in a Tae Kwon Do tournament. The team consists of fighters from all over the country--can they overcome their rivalry and work together to win?
12.
Boyka: Undisputed (2016)
1h 27m Action Drama
In the fourth installment of the fighting franchise, Boyka is shooting for the big leagues when an accidental death in the ring makes him question everything he stands for. When he finds out the wife of the man he accidentally killed is in trouble, Boyka offers to fight in a series of impossible battles to free her from a life of servitude
2h 13m Drama
The former World Heavyweight Champion Rocky Balboa serves as a trainer and mentor to Adonis Johnson, the son of his late friend and former rival Apollo Creed.
1h 36m Action Adventure Drama Thriller
Monroe Hutchens is the heavyweight champion of Sweetwater, a maximum security prison. He was convicted to a life sentence due to a passionate crime. Iceman Chambers is the heavyweight champion, who lost his title due to a rape conviction to ten years in Sweetwater. WHen these two giants collide in the same prison, they fight against each other disputing who is the real champion.
1h 45m Action
Lyon Gaultier is a deserter in the Foreign Legion arriving in the USA entirely hard up. He finds his brother between life and death and his sister-in-law without the money needed to heal her husband and to maintain her child. To earn the money needed, Gaultier decides to take part in some very dangerous clandestine fights.
1h 36m Drama
A teenager overcomes odds to run a 4-minute mile race.
17.
Blood and Bone (2009)
1h 33m Drama Action Thriller
In Los Angeles, an ex-con takes the underground fighting world by storm in his quest to fulfill a promise to a dead friend.
18.
The Philly Kid (2012)
1h 34m Drama Action
A former NCAA champion wrestler is paroled after 10 years in prison. Now, to save a friend's life, in a series of cage fights he must agree to do the impossible - lose.
19.
Kickboxer 2: The Road Back (1991)
1h 29m Action Adventure
In this rousing sequel to Kickboxer, Tong Po broods about his defeat at the hands of Kurt Sloan. Po and his managers resort to drastic measures to goad Kurt into the ring for a rematch.
2h 2m Drama Action
Fai, once a world champion in boxing, escapes to Macau from the loan sharks and unexpectedly encounters Qi, a young chap who is determined to win a boxing match. Fai becomes Qi's mentor and rediscovers his passion to fight not only in the ring but for his life and the cares.
22.
A Warrior's Heart (2011)
2h 5m Drama Action Crime
Teenagers at a juvenile detention center, under the leadership of their counselor, gain self-esteem by playing football together.
24.
No Retreat, No Surrender (1986)
1h 39m Action
Born To Race is the story of Danny Krueger, a rebellious young street racer on a collision course with trouble. After an accident at an illegal street race, he is sent to a small town to live with his estranged father, a washed up NASCAR racer. When Danny decides to enter the NHRA High School Drags, he's forced to seek his father's help in taking down the local hot shot.
1h 32m Action
U.S. soldier Frank Dux has come to Hong Kong to be accepted into the Kumite, a highly secret and extremely violent martial arts competition. While trying to gain access into the underground world of clandestine fighters, he also has to avoid military officers who consider him to be AWOL. After enduring a difficult training and beginning a romance with journalist Janice Kent, Frank is given the opportunity to fight. But can he survive?
1h 24m Drama
Sidelined by an injury incurred while protecting his young brother, underground fighter Charlie Fontaine feels blindsided when he discovers his brother having sex on his couch with his new wife, Kat. Fueled by rage, a determined Charlie makes plans to get back in the ring and take on his brother in a fight to the death.
1h 50m Drama
Diana Guzman begins to train as a boxer and achieves impressive success, blazing new trails for female boxers, all while keeping it a secret from her father.
explore
Check out more list from our community