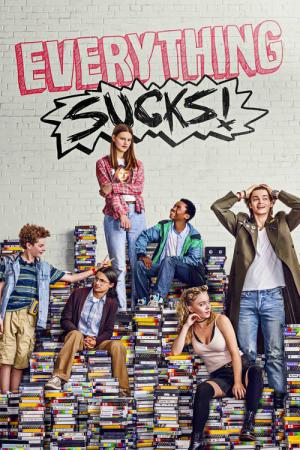 23 Best Shows Like Everything Sucks ...
If you liked this movie , you will for sure love these too! In this collection we highlight some of the best films that share a very similar mood to '', and are worth checking out.
33m Drama Comedy
Sam, an 18-year-old on the autism spectrum, takes a funny, yet painful, journey of self-discovery for love and independence and upends his family.
2.
The Miseducation of Cameron Post (2018)
1h 32m Drama
Pennsylvania, 1993. After getting caught with another girl, teenager Cameron Post is sent to a conversion therapy center run by the strict Dr. Lydia Marsh and her brother, Reverend Rick, whose treatment consists in repenting for feeling "same sex attraction." Cameron befriends fellow sinners Jane and Adam, thus creating a new family to deal with the surrounding intolerance.
23m Comedy
Amidst the political conflict of Northern Ireland in the 1990s, five high school students square off with the universal challenges of being a teenager.
1h 19m Comedy Drama Romance
A coming-of-age movie that tells a story unfolding in every high school around the country -- a story of kids hiding their true identities in plain sight, even as they feverishly pursue their hearts' desires.
22m Comedy
A romantic comedy about two best friends who love each other -- in slightly different ways. After numerous failed attempts to become popular, the girls are mistakenly outed as lesbians, which launches them to instant celebrity status. Seduced by their newfound fame, Karma and Amy decide to keep up their romantic ruse.
6.
High School Musical: The Musical: The Series (2019)
30m Family Comedy Drama
A group of East High students countdown to the opening night of their school's first-ever production of "High School Musical." Showmances blossom; friendships are tested while new ones are made; rivalries flare and lives are changed forever as these young people discover the transformative power that only a high school drama club can provide.
30m Comedy Drama
Victor is a new student at Creekwood High School on his own journey of self-discovery, facing challenges at home, adjusting to a new city, and struggling with his sexual orientation. When it all seems too much, he reaches out to Simon to help him navigate the ups and downs of high school.
8.
Greenhouse Academy (2017)
30m Drama
When teen siblings Hayley and Alex enter an elite boarding school, they find rivalry, romance and a mystery related to the recent loss of their mom.
45m Comedy Drama
Inexperienced Otis channels his sex therapist mom when he teams up with rebellious Maeve to set up an underground sex therapy clinic at school.
1h 30m Comedy Drama Family Romance
Angus is a large, pathetic 14 year old whose thoughts are most often filled with the image of one Melissa Lefevre. Angus is shy and thinks that he has no chance of ever 'getting' her. Being especially uncool, he is incredibly surprised (along with the rest of the school) that he is chosen to dance with her at the Winter Ball. The only one not surprised is the cool-kid who set him up to fail, but Angus' best friend is going to help him win the heart of Melissa by developing a new look for him
1h 44m Drama Comedy
A 17-year old Missouri teen named Veronica discovers she has gotten pregnant, a development that threatens to end her dreams of matriculating at an Ivy League college, and the career that could follow.
12.
We Are Who We Are (2020)
59m Drama
Two American kids who live on a U.S. military base in Italy explore friendship, first love, identity, and all the messy exhilaration and anguish of being a teenager.
13.
Boy Meets World (1993)
24m Drama Comedy
The coming of age events and everyday life-lessons of Cory Matthews, a Philadelphian who grows up from a young boy to a married man.
14.
Freaks and Geeks (1999)
1h Comedy Drama
High school mathlete Lindsay Weir rebels and begins hanging out with a crowd of burnouts (the "freaks"), while her brother Sam Weir navigates a different part of the social universe with his nerdy friends (the "geeks").
1h 28m Drama
Filipino-American high school student Ben (Dante Mercado) works in a comic book shop to earn money to pay his way into Cal Arts. His father, a postman, is determined that his son--who has won a pre-med scholarship to UCLA--will become a doctor. The eighteenth birthday party of Ben's sister, Rose, sets off a comedic and touching series of events and family struggles that will in turn determine young Ben's future. This fresh independent production from Gene Cajayon presents a lighthearted and warm coming-of-age tale filtered through the eyes of an American subculture rarely seen on film.
16.
The Politician (2019)
1h Comedy
Payton has known since childhood that he's going to be president. First he'll have to navigate the most treacherous political landscape: high school.
17.
The Adventures of Pete & Pete (1992)
18.
Archie's Final Project (2009)
22m Comedy
It's 1990-something, and since Lainey still hasn't achieved rock 'n' roll greatness, she returns to William Penn Academy as the new music teacher.
20.
The Breakfast Club (1985)
1h 38m Comedy Drama
Five high school students from different walks of life endure a Saturday detention under a power-hungry principal. The disparate group includes rebel John, princess Claire, outcast Allison, brainy Brian and Andrew, the jock. Each has a chance to tell his or her story, making the others see them a little differently -- and when the day ends, they question whether school will ever be the same.
30m Drama Comedy
Having grown up in a world of manufactured happiness, Lucy, the cynical teenage daughter of a idealistic theme park princess mom, wants to get out and experience something real. When Ian, the new park owner's son, arrives and sweeps her off her feet, Lucy is left wondering if fairy tale endings do exist after all. But when a scandalous secret turns her life upside down, she learns Happyland is far from a walk in the park.
22.
Remember the Daze (2007)
explore
Check out more list from our community