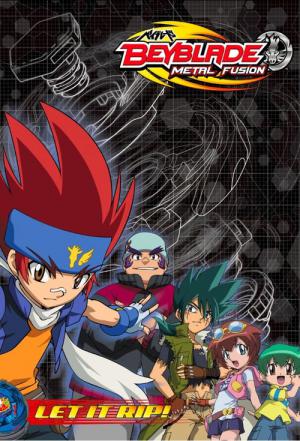 16 Best Shows Like Bakugan ...
If you liked this one , you will probably love these too! In this selection we highlight some of the best films that share a very similar premise to '', and are worth checking out.
23m Animation Action & Adventure Sci-Fi & Fantasy
Join Satoshi accompanied by his partner Pikachu, as he travels through many regions, meets new friends and faces new challenges on his quest to become a Pokémon Master.
2.
Digimon Adventure Tri. - Chapter 1: Reunion (2015)
1h 36m Animation Adventure Science Fiction
After years of inactivity, the DigiDestined regroup with their Digimon to save their world, but have the years changed their characters too much?
3.
Digimon: Digital Monsters (1999)
20m Animation Action & Adventure Sci-Fi & Fantasy
While at summer camp, seven kids are transported to a strange digital world. In this new world they make friends with creatures that call themselves Digimon who were born to defend their world from various evil forces.
4.
Ben 10: Omniverse (2012)
22m Action & Adventure Animation
A year after the events that took place during the "Final Battle" and after the destruction of Omnitrix, 16-year-old Ben Tennyson has to face new enemies.
5.
LEGO Ninjago: Masters of Spinjitzu (2011)
6.
Pokemon the Movie: Destiny Deoxys (2004)
1h 38m Adventure Animation Family Fantasy
A comet bearing a deadly Pokemon creature crash-lands onto Earth, terrorising a nearby high-tech city, where Ash, Pikachu and friends are currently visiting...
25m Animation Action & Adventure Comedy
Pretty Cure, known in Japan as Futari wa Pretty Cure, is a Japanese magical girl anime series The theme of the series revolves around Yin and Yang, which explains the relationship between Nagisa and Honoka trying to work together as Pretty Cures.
23m Animation Action & Adventure
In a magical universe, witches, warriors begin fighting in the name of good .vs. evil! At a magic school, five teenage girls are selected to defend the universe with their magic.
9.
Jake and the Never Land Pirates (2011)
22m Family Animation Action & Adventure
A crew of kid pirates - leader Jake and pals Izzy and Cubby - and their Never Land adventures as they work to outwit two infamous characters, the one and only Captain Hook and Smee.
24m Animation Action & Adventure Sci-Fi & Fantasy
In another world, ninja are the ultimate power, and in the Village Hidden in the Leaves live the stealthiest ninja in the land. Twelve years earlier, the fearsome Nine-Tailed Fox terrorized the village and claimed many lives before it was subdued and its spirit sealed within the body of a baby boy. That boy, Naruto Uzumaki, has grown up to become a ninja-in-training who's more interested in pranks than in studying ninjutsu.. but Naruto is determined to become the greatest ninja ever!
30m Kids Sci-Fi & Fantasy Action & Adventure Animation
The ThunderCats are on the move! After the kingdom of Thundera is attacked by the lizard people, Lion-O leads Tygra, Cheetara and the other heroes on a quest for the Book of Omens and the magic stones of legend. But he'll have to face villains like Mumm-Ra, the ancient evil sorceror, and Slithe, the dangerous lizard general. Luckily, he has the Sword of Omens and its amazing powers at his disposal.
12.
No Game, No Life (2014)
23m Action & Adventure Animation Comedy Sci-Fi & Fantasy
This is a surreal comedy that follows Sora and Shiro, shut-in NEET siblings and the online gamer duo behind the legendary username "Kuuhaku." They view the real world as just another lousy game; however, a strange e-mail challenging them to a chess match changes everything—the brother and sister are plunged into an otherworldly realm where they meet Tet, the God of Games.The mysterious god welcomes the two to Disboard, a world where all forms of conflict are settled through high-stake games. This system works thanks to a fundamental rule wherein each party must wager something they deem to be of equal value to the other party's wager. In this strange land where the very idea of humanity is reduced to child's play, the indifferent genius gamer duo of Sora and Shiro have finally found a real reason to keep playing games: to unite the sixteen races of Disboard, defeat Tet, and become the gods of this new, gaming-is-everything world.
22m Kids Animation Action & Adventure Comedy
When 10-year-old Ben Tennyson discovers a mysterious device, he gains the power to change into ten different alien heroes, each with uniquely awesome powers. With such abilities at his disposal, Ben realizes a greater responsibility to help others and stop evildoers, but that doesn't mean he's above a little superpowered mischief now and then.
14.
Pokemon: Jirachi - Wish Maker (2003)
1h 21m Action Animation Adventure Family Fantasy Science Fiction
Ash, May, Brock, and Max come upon the festival of the Wishing Star of Seven Nights. During their enjoyment, the legendary Pokemon--Jirachi, descends from the heavens and befriends Max. Jirachi, with the power to grant any wish, is sought after by many people wanting to claim its power. One man seeks to use its legendary power to revive an ancient Pokemon known as Groudon, unaware of the dangers hidden within Jirachi's powers
15.
Pokemon Heroes (2002)
1h 11m Animation Adventure Action Fantasy
Ash, Pikachu and his friends try and stop a pair of thieves hiding out in the canals and alleyways of Altomare, the age-old water capital. Joining the adventure are two new legendary Pokémon, a pair of siblings named Latias and Latios, who serve as peacekeepers and protectors of the Soul Dew - a priceless treasure with a mysterious power.
explore
Check out more list from our community