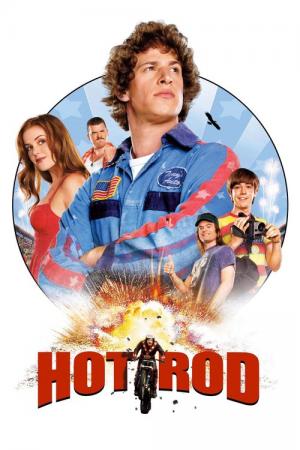 13 Best Movies Like Hot Rod ...
If you liked this film , you will for sure love these too! In this list we highlight some of the best films that share a very similar premise to 'Hot Rod', and are worth checking out.
1.
Dumb and Dumberer: When Harry Met Lloyd (2003)
1h 25m Comedy
This wacky prequel to the 1994 blockbuster goes back to the lame-brained Harry and Lloyd's days as classmates at a Rhode Island high school, where the unprincipled principal puts the pair in remedial courses as part of a scheme to fleece the school.
1h 34m Comedy
Pressured by a greedy uncle and a pile of debt, lovable loser Steve Barker resorts to an unthinkable, contemptible, just-crazy-enough-to-work scheme. He pretends to be mentally challenged to rig the upcoming Special Olympics and bring home the gold. But when Steve's fellow competitors get wise to the con, they inspire him to rise to the greatest challenge of all: becoming a better person.
3.
Dumb and Dumber To (2014)
1h 50m Comedy
20 years since their first adventure, Lloyd and Harry go on a road trip to find Harry's newly discovered daughter, who was given up for adoption.
43m TV Movie Comedy
A fictional documentary-style expose on the rivalry between two tennis stars who battled it out in a 1999 match that lasted seven days.
1h 26m Comedy
An unemployed slacker (Lange) inspires his softball teammates to improve their game so they won't get kicked out of the local league.
1h 54m Comedy
After bowler Roy Munson swindles the wrong crowd and is left with a hook for a hand, he settles into impoverished obscurity. That is, until he uncovers the next big thing: an Amish kid named Ishmael. So, the corrupt and the hopelessly naïve hit the circuit intent on settling an old score with Big Ern.
1h 31m Comedy
The National Basketball Association play-offs are taking place, and the Boston Celtics are facing the Utah Jazz in a crucial series. This is also the last year that any games will be played in the Boston Garden, which is going to be torn down after the end of the season. Mike and Jimmy, two die-hard sports fans who will risk anything for the Celtics to win, are really getting into the games...
8.
Balls Out: Gary the Tennis Coach (2009)
1h 27m Comedy
An overenthusiastic high-school maintenance man attempts to lead an unlikely group of misfits to the Nebraska state tennis championship in Balls Out: The Gary Houseman Story? director Danny Leiner's underdog sports comedy. American Pie star Seann William Scott stars as the ambitious janitor who believes he has what it takes to coach the winning team.
1h 43m Comedy
Two losers from Milwaukee, Coop & Remer, invent a new game playing basketball, using baseball rules. When the game becomes a huge success, they, along with a billionaire's help, form the Professional Baseketball League where everyone gets the same pay and no team can change cities. Theirs is the only team standing in the way of major rule changes that the owner of a rival team wants to institute.
1h 38m Comedy
When a crass new-money tycoon's membership application is turned down at a snooty country club, he retaliates by buying the club and turning it into a tacky amusement park.
11.
Ready to Rumble (2000)
1h 47m Action Comedy
Two slacker wrestling fans are devastated by the ousting of their favorite character by an unscrupulous promoter.
1h 30m Comedy
Bobby Boucher is a water boy for a struggling college football team. The coach discovers Boucher's hidden rage makes him a tackling machine whose bone-crushing power might vault his team into the playoffs.
13.
Shooting Stars (2002)
1h
Sung-Tae is an orphan. He made up his mind to become a movie star and find his foster parents and brother who made him feel like he was a part of a family. It is a long, hard road to become an actor. Adding to these problems, he has a hard time reading scripts because he has dyslexia. Although frustrated at times, he has a warm-hearted manager Han So-Ra. She helps him become a great star. Her ceaseless efforts pave the way for his success as a promising actor.
explore
Check out more list from our community