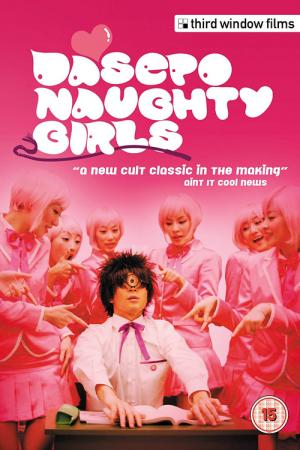 26 Best Naughty Teens Movies ...
If you liked this movie , you will probably love these too! In this selection we highlight some of the best films that share a very similar mood to '', and are worth checking out.
1h 33m Comedy Romance
Teenager Leslie Hindenberg, mistakenly believing she has just weeks to live, decides she will lose her virginity before she dies.
1h 39m Comedy Romance
Koizumi Risa an unusually tall high school girl, meets the "vertically challenged" young man Otani Atsushi. They find common ground in height anxieties and interests. Risa (Ema Fujisawa), a tall Japanese girl, gets rejected by a boy because she is taller than him. Otani (Teppei Koike), a short Japanese guy, gets rejected by a girl because he is shorter than her. Obviously these two would make the oddest of couples and would never be a good match for each other right? Well love doesn't always follow such logic as Love Complex shows.
1h 25m Comedy
Felix (Cameron Dallas) is a legendary prankster who gets expelled from his high school and, with his friend's help, stops at nothing to hide it from his parents.
5.
18-Year-Old Virgin (2009)
1h 26m Comedy
In a series of sexual mishaps, a high school senior tries to lose her virginity on the last night before graduation.
1h 33m Comedy
A few days before the baccalaureate, a high school student decides to settle accounts with the most cowardly teacher in the school.
1h 40m Romance Comedy
Bianca's universe turns upside down when she learns that her high school refers to her as a 'DUFF' (Designated Ugly Fat Friend). Hoping to erase that label, she enlists the help of a charming jock and her favorite teacher. Together they'll face the school's mean girl and remind everyone that we are all someone's DUFF… and that's totally fine.
1h 45m Comedy
Emilio, a shy, not too brilliant pupil at a humble local secondary school, has always harboured a secret love for Natalia, the cutest, brightest girl in the class. On the last day of the school year, when he finally decides to declare his love, Natalia is awarded a scholarship to study Medicine at Oxford. It would seem that all is lost for Emilio, but his drop-out school-pals are not ready to throw in the towel. After faking qualifications and scholarships, this band of brainless nuts land in Oxford, causing havoc in the normally peaceful campus existence. —The Film Catalogue
9.
Bart Got a Room (2008)
1h 20m Comedy Drama Romance
Danny Stein, a high school senior at the bottom of the social food chain, needs a prom date. As a cause of anxiety for Danny, Bart Beeber, the nerdiest guy in school, has already found a date. At the same time, Danny's divorced parents are both looking for relationships again.
8m Drama
LOL is a web series exploring teen relationships, drug use and social networks. It premiered on Blip on 29 November 2008. There are 20 webisodes in total, ranging between 2 to 5 minutes in length with the last webisode being 10 minutes long. The series was self-funded, with initial help in kind from a local production company. It was shot on a Red One digital cinema camera in 4K.
1h 36m Comedy
The Plastics are back in the long awaited follow-up to the smash-hit Mean Girls and now the clique is more fashionable, funny and ferocious than ever! Confident senior Jo (Meaghan Martin) begins the new school year by breaking her own cardinal rule: don't get involved in girl drama. But when she sees timid Abby (Jennifer Stone) preyed upon by Queen Bee Mandi (Maiara Walsh) and her minions, she takes sides in a viciously funny girl-world-war that turns the whole school upside down.
12.
Foreign Exchange (2008)
1h 25m Comedy
Four high school friends plan to ride out their senior year taking easy classes, including a program for housing foreign exchange students and eventually all attending Ohio State. Hurdles befall each of the four: grades, higher aspirations, love. Is it the Foreign Exchange students that learn from their host or the hosts that do more of the learning?
13.
Another Gay Movie (2006)
1h 32m Comedy Romance
In the dirtiest, funniest, most scandalous gay-teen-sex-comedy-parody ever, four young gay friends make a pact to lose their virginity by the end of the summer. The boys soon face giant sex toys, naked celebrities, masochistic teachers and an uncontrollable romance with a quiche.
14.
High School Musical (2006)
1h 38m Comedy Drama Family Music Romance TV Movie
Troy, the popular captain of the basketball team, and Gabriella, the brainy and beautiful member of the academic club, break all the rules of East High society when they secretly audition for the leads in the school's musical. As they reach for the stars and follow their dreams, everyone learns about acceptance, teamwork, and being yourself.
15.
The Jerk Theory (2009)
1h 33m Comedy
An aspiring recording artist, Adam, is burned by a bad relationship experience and decides that if women won't respond to the "nice guy" then he'll be "the jerk." This is wildly successful with meaningless relationships, but when Adam meets and falls for Molly, who doesn"t fall for his jerk routine, Adam is forced to reconsider his dating philosophy.
1h 29m Comedy Romance
When Troy "Slam" Slamsky loses his girl, love makes a wake-up call and he finds success in the world of online advertising with some hysterical twists on an old theme. Finding a new love who understands his vision sets Slam free to do what he loves, love who he does and make crazy videos.
17.
Private School (1983)
1h 29m Comedy Romance
Private-school student Christine loves Jim. But her classmate, Jordan, is also vying for Jim's attention and trying to end his relationship with Christine. Meanwhile, Jim's friend Bubba embarks on a series of sexual escapades, including dressing up as a woman to access the girls' locker room. Despite Jim and Christine's efforts to spend some time alone, various shenanigans and schemes interfere.
18.
Bickford Shmeckler's Cool Ideas (2006)
1h 19m Comedy Romance
When his journal of bright ideas is stolen, college freshman Bickford Schmeckler has to blanket the campus in order to locate it.
1h 29m Comedy Family
As their first year of high school looms ahead, best friends Julie, Hannah, Yancy and Farrah have one last summer sleepover. Little do they know they're about to embark on the adventure of a lifetime. Desperate to shed their nerdy status, they take part in a night-long scavenger hunt that pits them against their popular archrivals. Everything under the sun goes on -- from taking Yancy's father's car to sneaking into nightclubs!
20.
Kiss the Bride (2007)
1h 40m Drama Comedy Romance
In high school, Matt and Ryan were best friends. More than friends, actually. But in the ensuing ten years, they've lost contact. So when Matt receives an invitation to Ryan's wedding he's surprised - especially that Ryan is marrying a woman!
1h 32m Comedy
Bookish and unpopular Mandy finds her luck finally changing when Drew, the school hottie, invites her to the year's biggest party. But with being grounded and Drew's ex-girlfriend bent on thwarting her, Mandy may be destined to remain a geek. Can a little ingenuity and some help from her friends save the day?
23.
Angus, Thongs and Perfect Snogging (2008)
1h 40m Comedy Drama Family Romance
Georgia Nicolson is fourteen, lives with nosey parents who don't understand her, an annoying three year old sister and has to wear a beret to school. She would, however, rather be blonde, have a smaller nose and a boyfriend. Revolving around her hilarious journal entries, prepare to be engulfed in the world of the soaring joys and bottomless angst of being a teenager.
24.
Van Wilder 2: The Rise of Taj (2006)
1h 37m Comedy
Taj Mahal Badalandabad leaves Coolidge College behind for the halls of Camford University in England, where he looks to continue his education, and teach an uptight student how to make the most out of her academic career.
25.
I Love You, Beth Cooper (2009)
1h 42m Comedy Romance
A valedictorian's declaration of love for a high-school cheerleader launches a night of revelry, reflection and romance for a group of graduating seniors.
explore
Check out more list from our community