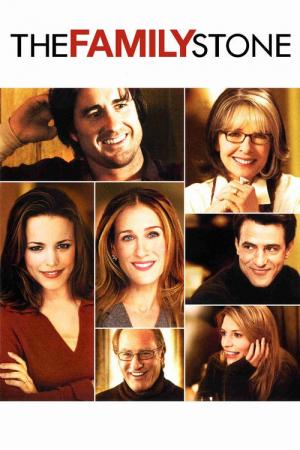 10 Best Movies Similar To The Family Stone ...
If you liked this one , you will for sure love these too! In this selection we highlight some of the best films that share a very similar mood to 'The Family Stone', and are worth checking out.
1.
Nothing Like the Holidays (2008)
1h 38m Comedy Drama Romance
It's Christmastime and the far-flung members of the Rodriguez family are converging at their parents' home in Chicago to celebrate the season and rejoice in their youngest brother's safe return from combat overseas.
1h 45m Comedy Drama
The film centers on a big Polish family. Jadzia is the mother and the ruler of the Pzoniak family (she has five children). Though she's happily married to Bolek, she is also having a long-time affair with Roman. Her young daughter Hala is having an affair with neighbour cop Russell and becomes pregnant by him. Russell is pressed hard to marry Hala.
3.
The Big Wedding (2013)
1h 30m Comedy
To the amusement of their adult children and friends, long divorced couple Don and Ellie Griffin are once again forced to play the happy couple for the sake of their adopted son's wedding after his ultra conservative biological mother unexpectedly decides to fly halfway across the world to attend. With all of the wedding guests looking on, the Griffins are hilariously forced to confront their past, present and future - and hopefully avoid killing each other in the process.
4.
Dan in Real Life (2007)
1h 38m Comedy Romance Drama
Advice columnist, Dan Burns is an expert on relationships, but somehow struggles to succeed as a brother, a son and a single parent to three precocious daughters. Things get even more complicated when Dan finds out that the woman he falls in love with is actually his brother's new girlfriend.
5.
Four Christmases (2008)
1h 28m Comedy Romance Drama
Brad and Kate have made something of an art form out of avoiding their families during the holidays, but this year their foolproof plan is about go bust -- big time. Stuck at the city airport after all departing flights are canceled, the couple is embarrassed to see their ruse exposed to the world by an overzealous television reporter. Now, Brad and Kate are left with precious little choice other than to swallow their pride and suffer the rounds.
1h 57m Drama Romance
Henry Hart is a young gay artist living in New York City. When his grandfather has a stroke, Henry puts his career on hold and returns home to the small town of Big Eden, Montana, to care for him. While there, Henry hopes to strike up a romance with Dean Stewart, his high-school best friend for whom he still has feelings. But he's surprised when he finds that Pike, a quiet Native American who owns the local general store, may have a crush on him.
7.
The Jane Austen Book Club (2007)
1h 46m Comedy Romance
Six Californians start a club to discuss the works of Jane Austen. As they delve into Austen's literature, the club members find themselves dealing with life experiences that parallel the themes of the books they are reading.
8.
What's Cooking? (2000)
2h 10m Drama Horror Mystery Thriller
When Claire Spencer starts hearing ghostly voices and seeing spooky images, she wonders if an otherworldly spirit is trying to contact her. All the while, her husband tries to reassure her by telling her it's all in her head. But as Claire investigates, she discovers that the man she loves might know more than he's letting on.
1h 55m Comedy Drama Romance
Renata Bella feels like a failure at life and career. But when Renata attends a seminar on selling real estate, she finally finds True Love. Sam Sharpe, while a top-notch, successful salesman, is much older than Renata. She is swept away by his excessively flamboyant style and irrepressible nature. The very traits she finds romantic, however, lead to repeated conflict with her family, especially her beloved father Joe, leaving Renata trapped in the middle.
10.
This Christmas (2007)
1h 57m Comedy Drama Romance
This year Christmas with the Whitfields promises to be one they will never forget. All the siblings have come home for the first time in years and they've brought plenty of baggage with them. As the Christmas tree is trimmed and the lights are hung, secrets are revealed and family bonds are tested. As their lives converge, they join together and help each other discover the true meaning of family.
explore
Check out more list from our community