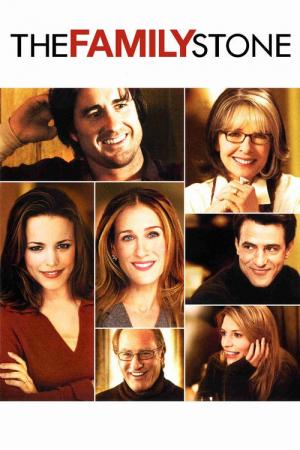 26 Best Movies Similar To The Family Stone ...
If you liked this movie , you will definitely love these too! In this list we highlight some of the best films that share a very similar mood to '', and are worth checking out.
1.
The Big Wedding (2013)
1h 30m Comedy
To the amusement of their adult children and friends, long divorced couple Don and Ellie Griffin are once again forced to play the happy couple for the sake of their adopted son's wedding after his ultra conservative biological mother unexpectedly decides to fly halfway across the world to attend. With all of the wedding guests looking on, the Griffins are hilariously forced to confront their past, present and future - and hopefully avoid killing each other in the process.
2.
Dan in Real Life (2007)
1h 38m Comedy Romance Drama
Advice columnist, Dan Burns is an expert on relationships, but somehow struggles to succeed as a brother, a son and a single parent to three precocious daughters. Things get even more complicated when Dan finds out that the woman he falls in love with is actually his brother's new girlfriend.
3.
While You Were Sleeping (1995)
1h 43m Comedy Romance
A transit worker pulls commuter Peter off railway tracks after he's mugged, but—while he's in a coma—his family mistakenly thinks she's Peter's fiancée, and she doesn't correct them. Things get more complicated when she falls for his brother, who's not quite sure that she's who she claims to be.
2h 16m Comedy Romance
Two women, one from the United States and one from the United Kingdom, swap homes at Christmastime after bad breakups with their boyfriends. Each woman finds romance with a local man but realizes that the imminent return home may end the relationship.
5.
My Big Fat Greek Wedding (2002)
1h 35m Comedy Drama Romance
A young Greek woman falls in love with a non-Greek and struggles to get her family to accept him while she comes to terms with her heritage and cultural identity.
2h 15m Comedy Romance Drama
'Love Actually' follows the lives of eight very different couples dealing with their love lives, in various loosely and interrelated tales, all set during a frantic month before Christmas in London, England.
7.
Nothing Like the Holidays (2008)
1h 38m Comedy Drama Romance
It's Christmastime and the far-flung members of the Rodriguez family are converging at their parents' home in Chicago to celebrate the season and rejoice in their youngest brother's safe return from combat overseas.
8.
My Best Friend's Wedding (1997)
1h 45m Comedy Romance
When she receives word that her longtime platonic pal Michael O'Neal is getting married to debutante Kimberly Wallace, food critic Julianne Potter realizes her true feelings for Michael -- and sets out to sabotage the wedding.
1h 48m Comedy Romance Drama
When she learns she's in danger of losing her visa status and being deported, overbearing book editor Margaret Tate forces her put-upon assistant, Andrew Paxton, to marry her.
1h 55m Comedy Drama Romance
Renata Bella feels like a failure at life and career. But when Renata attends a seminar on selling real estate, she finally finds True Love. Sam Sharpe, while a top-notch, successful salesman, is much older than Renata. She is swept away by his excessively flamboyant style and irrepressible nature. The very traits she finds romantic, however, lead to repeated conflict with her family, especially her beloved father Joe, leaving Renata trapped in the middle.
11.
Four Christmases (2008)
1h 28m Comedy Romance Drama
Brad and Kate have made something of an art form out of avoiding their families during the holidays, but this year their foolproof plan is about go bust -- big time. Stuck at the city airport after all departing flights are canceled, the couple is embarrassed to see their ruse exposed to the world by an overzealous television reporter. Now, Brad and Kate are left with precious little choice other than to swallow their pride and suffer the rounds.
2h 10m Comedy
Mexican immigrant and single mother Flor Moreno finds housekeeping work with Deborah and John Clasky, a well-off couple with two children of their own. When Flor admits she can't handle the schedule because of her daughter, Cristina, Deborah decides they should move into the Clasky home. Cultures clash and tensions run high as Flor and the Claskys struggle to share space while raising their children on their own, and very different, terms.
13.
What's Cooking? (2000)
2h 10m Drama Horror Mystery Thriller
When Claire Spencer starts hearing ghostly voices and seeing spooky images, she wonders if an otherworldly spirit is trying to contact her. All the while, her husband tries to reassure her by telling her it's all in her head. But as Claire investigates, she discovers that the man she loves might know more than he's letting on.
14.
This Christmas (2007)
1h 57m Comedy Drama Romance
This year Christmas with the Whitfields promises to be one they will never forget. All the siblings have come home for the first time in years and they've brought plenty of baggage with them. As the Christmas tree is trimmed and the lights are hung, secrets are revealed and family bonds are tested. As their lives converge, they join together and help each other discover the true meaning of family.
15.
Polish Wedding (1998)
1h 45m Comedy Drama
The film centers on a big Polish family. Jadzia is the mother and the ruler of the Pzoniak family (she has five children). Though she's happily married to Bolek, she is also having a long-time affair with Roman. Her young daughter Hala is having an affair with neighbour cop Russell and becomes pregnant by him. Russell is pressed hard to marry Hala.
1h 59m Drama Comedy Romance
Helen Harris has a glamorous, big-city life working for one of New York's hottest modeling agencies. But suddenly her free-spirited life gets turned upside down when she must chose between the life she's always loved, and the new loves of her life!
17.
The Jane Austen Book Club (2007)
1h 46m Comedy Romance
Six Californians start a club to discuss the works of Jane Austen. As they delve into Austen's literature, the club members find themselves dealing with life experiences that parallel the themes of the books they are reading.
18.
Griffin & Phoenix (2006)
1h 42m Comedy Drama Romance
A terminally ill man falls in love with a woman who has a secret that threatens their time spent together.
1h 42m Comedy Drama Romance
No sooner does Italian-American widow Loretta accept a marriage proposal from her doltish boyfriend, Johnny, than she finds herself falling for his younger brother, Ronny. She tries to resist, but Ronny lost his hand in an accident he blames on his brother, and has no scruples about aggressively pursuing her while Johnny is out of the country. As Loretta falls deeper in love, she comes to learn that she's not the only one in her family with a secret romance.
1h 50m Comedy Drama Romance
Fifteen-year-old Charlotte Flax is tired of her wacky mom moving their family to a different town any time she feels it is necessary. When they move to a small Massachusetts town and Mrs. Flax begins dating a shopkeeper, Charlotte and her 9-year-old sister, Kate, hope that they can finally settle down. But when Charlotte's attraction to an older man gets in the way, the family must learn to accept each other for who they truly are.
21.
How to Make an American Quilt (1995)
1h 56m Drama Romance
Soon-to-be-wed graduate student Finn Dodd develops cold feet when she suspects her fiancé is cheating on her. In order to clear her head, Finn visits her grandmother, Hy, and great aunt, Glady Joe Cleary, in Grasse, Calif. There, Finn learns that Hy and Glady Joe are members of a group of passionate quilters, and over the course of her visit she is regaled with tales of love and life by women who have collected rich experiences and much wisdom.
22.
Home for the Holidays (1995)
1h 43m Comedy Drama Romance
After losing her job, making out with her soon to be ex-boss, and finding out that her daughter plans to spend Thanksgiving with her boyfriend, Claudia Larson has to face spending the holiday with her family. She wonders if she can survive their crazy antics.
23.
Miami Rhapsody (1995)
1h 35m Comedy Romance
Gwyn Marcus has always wanted a marriage like her parents. She has just accepted the proposal of her boyfriend Matt, but she has misgivings about their future together. Her fear of commitment grows as she learns of the various affairs that her family is having. With her sister getting married and her brother already married, her mother is growing concerned about Gwyn's being the last single person in the family. But the more she thinks about marriage, the more she must search for the balance between career, marriage and family.
1h 57m Drama Romance
Henry Hart is a young gay artist living in New York City. When his grandfather has a stroke, Henry puts his career on hold and returns home to the small town of Big Eden, Montana, to care for him. While there, Henry hopes to strike up a romance with Dean Stewart, his high-school best friend for whom he still has feelings. But he's surprised when he finds that Pike, a quiet Native American who owns the local general store, may have a crush on him.
25.
50 First Dates (2004)
1h 39m Comedy Romance
Henry is a player skilled at seducing women. But when this veterinarian meets Lucy, a girl with a quirky problem when it comes to total recall, he realizes it's possible to fall in love all over again…and again, and again. That's because the delightful Lucy has no short-term memory, so Henry must woo her day after day until he finally sweeps her off her feet.
explore
Check out more list from our community