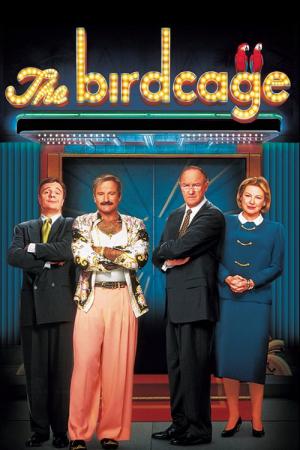 28 Best Movies Like The Birdcage ...
If you liked this film , you will probably love these too! In this collection we highlight some of the best films that share a very similar mood to '', and are worth checking out.
1.
Birds of a Feather (1978)
1h 32m Comedy
Two gay men living in St. Tropez have their lives turned upside down when the son of one of the men announces he is getting married. They try conceal their lifestyle and their ownership of the transvestite club downstairs when the fiancée and her parents come for dinner.
2.
The Adventures of Priscilla, Queen of the Desert (1994)
1h 44m Drama Comedy
Two drag queens and a transgender woman contract to perform a drag show at a resort in Alice Springs, a town in the remote Australian desert. As they head west from Sydney aboard their lavender bus, Priscilla, the three friends come to the forefront of a comedy of errors, encountering a number of strange characters, as well as incidents of homophobia, whilst widening comfort zones and finding new horizons.
1h 40m Horror Drama Crime Mystery
A father suspects his son to be a murderer...or is he just paranoid and trying to cover up his own past which involves his wife being killed in a fire?
4.
Birds of a Feather 2 (1980)
1h 41m Comedy
In a move to make his partner, Renato, jealous, the flamboyant Albin waits in a local cafe - dressed as a woman - hoping to be picked up. But Albin gets more than he bargains for when the fly he catches in his web is actually a spy, who uses him as an unwitting courier of secret microfilm. Now on the run from ruthless agents, Albin and Renato flee to Italy where they attempt to hide out on a farm, with Albin posing as Renato's wife. Can Albin escape the deadly pursuit of these relentless spies or does he have to sustain this charade - as a woman - forever?
5.
Death at a Funeral (2010)
1h 32m Comedy
Aaron's father's funeral is today at the family home, and everything goes wrong: the funeral home delivers the wrong body, his cousin accidentally drugs her fiancé, and Aaron's successful younger brother, Ryan, flies in from New York, broke but arrogant. To top it all off, a mysterious stranger wants a word with Aaron.
6.
Maybe... Maybe Not (1994)
1h 30m Comedy Drama
Der Bewegte Mann is a German comedy about a heterosexual man, Axel, who is thrown out of his girlfriends home for cheating and ends up moving in with a gay man. Axel learns the advantages of living with gay men even though they are attracted to him and when his girlfriend wants him back he must make a tough decision.
7.
Flirting with Disaster (1996)
1h 32m Comedy
Adopted as a child, new father Mel Colpin decides he cannot name his son until he knows his birth parents, and determines to make a cross-country quest to find them. Accompanied by his wife, Nancy, and an inept yet gorgeous adoption agent, Tina, he departs on an epic road trip that quickly devolves into a farce of mistaken identities, wrong turns, and overzealous and love-struck ATF agents.
1h 33m Comedy
After being falsely accused of stealing the budget for their annual cocktail cruise, three very different fraternity brothers are kicked out of their dorm. In order to clear their name and to secure their future careers, the three dress up in drag and pledge the sorority next door where they learn a few valuable - and hilarious - lessons about themselves and the female species.
9.
A Nanny for Christmas (2010)
1h 28m Comedy Family
Ally (Emmanuelle Vaugier) is a smart young career woman who needs a new job. Samantha (Cynthia Gibb) is a busy Beverly Hills advertising executive/mom whose too-well-mannered kids need some fun in their lives. And Danny Donner (Dean Cain) is the tough-guy owner of a chocolate company who wants a major ad campaign immediately. Could it all somehow lead to the Christmas that changes everyone's lives forever? Richard Ruccolo, Sierra McCormick, Jared Gilmore and Sarah Thompson co-star in this surprising comedy about little white lies, big holiday wishes, and a woman who may just find love in the most unexpected places by becoming A NANNY FOR CHRISTMAS.
10.
Torch Song Trilogy (1988)
2h Comedy Drama Romance
A very personal story that is both funny and poignant, TORCH SONG TRILOGY chronicles a New Yorker's search for love, respect and tradition in a world that seems not especially made for him.
11.
Billy's Hollywood Screen Kiss (1998)
12.
Made in America (1993)
1h 51m Comedy
A young black woman discovers that her father was a sperm donor, and if that wasn't bad enough, he's white.
13.
To Wong Foo Thanks for Everything, Julie Newmar (1995)
1h 45m Comedy
Three New York drag queens on their way to Hollywood for a beauty pageant get stranded in a small Midwestern town for the entire weekend when their car breaks down. While waiting for parts for their Cadillac convertible, the flamboyant trio shows the local homophobic rednecks that appearing different doesn't mean they don't have humanity in common.
14.
Leading Ladies (2010)
1h 42m Comedy Romance
The Camparis are a family of women. Sheri is a larger-than-life authoritarian mother, a former ballroom dancing champion who is now fulfilling her passion through her youngest daughter Tasi. Tasi is the darling of the local amateur ballroom circuit, pretty and spoilt, very attached to her older sister, Toni, who is rather plain and insecure. The only man in the Camparis' life is Cedric, Tasis' s gay dance partner and Toni's best friend. When Tasi announces that she is pregnant, her mother Shari decides to groom Toni to take her sister's place and win the coming ballroom competition. But Toni is changing, she has fallen in love with blonde dancer Moana. Maybe a new, and unconventional, girl-girl couple will make her accept the challenge. A totally female family portrait with one character discovering her homosexual identity: a musical comedy (and a successful debut too) somewhere between Dirty Dancing and Little Miss Sunshine, with a hint of Baz Luhrmann.
1h 49m Comedy
Angelo "Snaps" Provolone made his dying father a promise on his deathbed: he would leave the world of crime and become an honest businessman. Despite having no experience in making money in a legal fashion, Snaps sets about to keep his promise.
16.
Down and Out in Beverly Hills (1986)
1h 43m Comedy
Beverly Hills couple Barbara and Dave Whiteman find their lives altered by the arrival of a vagrant who tries to drown himself in their swimming pool.
17.
Relax... It's Just Sex (1998)
1h 50m Comedy Drama Romance
A tight-knit group of thirty-somethings -- gay, lesbian and straight -- struggle to live, love and stay friends in modern-day Los Angeles as circumstances conspire to tear them apart.
18.
Kissing Cousins (2008)
19.
License to Wed (2007)
1h 31m Comedy
Newly engaged, Ben and Sadie can't wait to start their life together and live happily ever after. However Sadie's family church's Reverend Frank won't bless their union until they pass his patented, "foolproof" marriage prep course consisting of outrageous classes, outlandish homework assignments and some outright invasion of privacy.
1h 42m Comedy Family
On one of his bratty son Eric's annual visits, the plutocrat U.S. Bates takes him to his department store and offers him anything in it as a gift. Eric chooses a black janitor who has made him laugh with his antics. At first the man suffers many indignities as Eric's "toy", but gradually teaches the lonely boy what it is like to have and to be a friend.
21.
Just One of the Girls (1993)
1h 31m Comedy
Chris has to change school to attend a music program, but a bully named Kurt is going to make his life impossible so he decided to dress as a girl to avoid this. Taking advantage of his condition he became (girl-)friend with Marie, and fell in love with her.
22.
If Dad Only Knew (2004)
1h 26m Comedy
Bobby Riley is an affable Irish-American guy-next-door, gay and still in the closet. Bobby's discomfort with being openly gay is a source of friction in his relationship with his partner, Andy. His sister, straight-talking lawyer Maggie, knows Bobby's secret, and when their father dies, she persuades him to come out to his three brothers. The revelation doesn't just surprise his brothers, it forces some other family secrets to be revealed.
22m Action & Adventure Sci-Fi & Fantasy Animation
Follows the exploits of the young sorceress Lina Inverse, whose life revolves around food, treasure, and fighting. After stealing treasure from a group of bandits, Lina is accosted by stragglers during her journey to the next town. She's not in any real danger, but a dim-witted but good-natured swordsman named Gourry Gabriev springs to her rescue anyways. The two team up, and head to Atlas City, fighting foes they encounter on the way. Unbeknownst to them, two mysterious figures are hot on their tail, and they are especially interested in the "treasure" Lina and Gourry have stolen.
24.
Who's Minding the Store? (1963)
25m Action & Adventure Drama Sci-Fi & Fantasy
The adventures of a Time Lord—a time-travelling humanoid alien known as the Doctor—who explores the universe in his TARDIS, a sentient time-travelling space ship. Its exterior appears as a blue British police box, which was a common sight in Britain in 1963 when the series first aired. Along with a succession of companions, the Doctor faces a variety of foes while working to save civilisations, help ordinary people, and right wrongs.
25.
Father of the Bride (1991)
1h 45m Comedy Romance
George Banks is an ordinary, middle-class man whose 22 year-old daughter Annie has decided to marry a man from an upper-class family, but George can't think of what life would be like without his daughter. His wife tries to make him happy for Annie, but when the wedding takes place at their home and a foreign wedding planner takes over the ceremony, he becomes slightly insane.
26.
The Dinner Game (1998)
1h 20m Comedy
For Pierre Brochant and his friends, Wednesday is "Idiots' Day". The idea is simple: each person has to bring along an idiot. The one who brings the most spectacular idiot wins the prize. Tonight, Brochant is ecstatic. He has found a gem. The ultimate idiot, "A world champion idiot!". What Brochant doesn't know is that Pignon is a real jinx, a past master in the art of bringing on catastrophes...
27.
Miss Firecracker (1989)
1h 42m Comedy
A girl from Yazoo City, Mississippi pins all her hopes on winning the local beauty pageant.
explore
Check out more list from our community