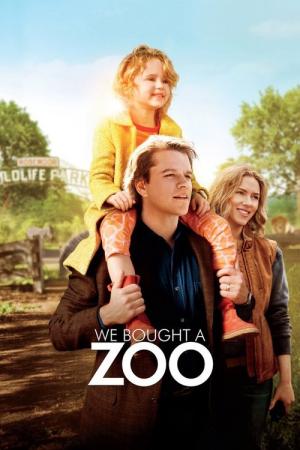 11 Best Movies Like We Bought A Zoo ...
If you liked this movie , you will for sure love these too! In this list we highlight some of the best films that share a very similar mood to 'We Bought a Zoo', and are worth checking out.
1h 43m Comedy Drama
Vada Sultenfuss is obsessed with death. Her mother is dead, and her father runs a funeral parlor. She is also in love with her English teacher, and joins a poetry class over the summer just to impress him. Thomas J., her best friend, is "allergic to everything", and sticks with Vada despite her hangups. When Vada's father hires Shelly, and begins to fall for her, things take a turn to the worse...
2.
Wish I Was Here (2014)
1h 47m Drama Comedy
Aidan Bloom, a struggling actor, father and husband, is 35 years old and still trying to find a purpose for his life. He and his wife are barely getting by financially and Aidan passes his time by fantasizing about being the great futuristic Space-Knight he'd always dreamed he'd be as a little kid. When his ailing father can no longer afford to pay for private school for his two kids and the only available public school is on its last legs, Aidan reluctantly agrees to attempt to home-school them. Through teaching them about life his way, Aidan gradually discovers some of the parts of himself he couldn't find.
3.
Marley & Me (2008)
1h 55m Comedy Family
A newly married couple who, in the process of starting a family, learn many of life's important lessons from their trouble-loving retriever, Marley. Packed with plenty of laughs to lighten the load, the film explores the highs and lows of marriage, maturity and confronting one's own mortality, as seen through the lens of family life with a dog.
1h 34m Comedy Drama
When her husband keels over from a stroke, Raynelle Slocumb calls the entire clan together to remember their dearly departed. Family tensions reach a comedic boil as the wildly dysfunctional Slocumbs squabble and fight their way to the funeral.
30m Comedy
Major Dad is an American sitcom created by Richard C. Okie and John G. Stephens, developed by Earl Pomerantz, that originally ran from 1989 to 1993 on CBS, starring Gerald McRaney as Major John D. MacGillis and Shanna Reed as his wife Polly. The cast also includes Beverly Archer, Matt Mulhern, Jon Cypher, Marisa Ryan, Nicole Dubuc and Chelsea Hertford.
6.
Secondhand Lions (2003)
1h 51m Family Comedy
"Secondhand Lions" follows the comedic adventures of an introverted boy left on the doorstep of a pair of reluctant, eccentric great-uncles, whose exotic remembrances stir the boy's spirit and re-ignite the men's lives.
1h 36m Drama Adventure Family
Workaholic Thomas Johnson dies in an auto accident and comes back to life as a dog. Remembering some of who he was, he returns to his wife and son to protect them from the man who caused his accident. But, as time goes by, he remembers more of his life, and realizes he wasn't such a good husband and father.
2h 5m Comedy Drama Family
Loving but irresponsible dad Daniel Hillard, estranged from his exasperated spouse, is crushed by a court order allowing only weekly visits with his kids. When Daniel learns his ex needs a housekeeper, he gets the job -- disguised as an English nanny. Soon he becomes not only his children's best pal but the kind of parent he should have been from the start.
9.
Mr. Popper's Penguins (2011)
1h 34m Comedy Family
Jim Carrey stars as Tom Popper, a successful businessman who's clueless when it comes to the really important things in life...until he inherits six "adorable" penguins, each with its own unique personality. Soon Tom's rambunctious roommates turn his swank New York apartment into a snowy winter wonderland — and the rest of his world upside-down.
1h 27m Comedy Family
The Newton family live in their comfortable home, but there seems to something missing. This "hole" is filled by a small puppy, who walks into their home and their lives. Beethoven, as he is named, grows into a giant of a dog... a St Bernard. Doctor Varnick, the local vet has a secret and horrible sideline, which requires lots of dogs for experiments. Beethoven is on the bad doctor's list.
11.
An Unfinished Life (2005)
1h 48m Drama
Stoic and heartbroken, Einar Gilkyson quietly lives in the rugged Wyoming ranchlands alongside his only trusted friend, Mitch Bradley. One day, the woman he blames for the death of his only son arrives at his door broke, desperate and with a granddaughter he's never known. But even as buried anger and accusations resurface, the way is opened for unexpected connection, adventure and forgiveness.
explore
Check out more list from our community