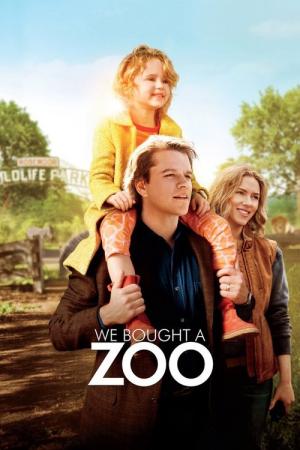 27 Best Movies Like We Bought A Zoo ...
If you liked this movie , you will definitely love these too! In this list we highlight some of the best films that share a very similar premise to '', and are worth checking out.
1.
Marley & Me (2008)
1h 55m Comedy Family
A newly married couple who, in the process of starting a family, learn many of life's important lessons from their trouble-loving retriever, Marley. Packed with plenty of laughs to lighten the load, the film explores the highs and lows of marriage, maturity and confronting one's own mortality, as seen through the lens of family life with a dog.
2.
Secondhand Lions (2003)
1h 51m Family Comedy
"Secondhand Lions" follows the comedic adventures of an introverted boy left on the doorstep of a pair of reluctant, eccentric great-uncles, whose exotic remembrances stir the boy's spirit and re-ignite the men's lives.
4.
P.S. I Love You (2007)
2h 6m Drama Romance
A young widow discovers that her late husband has left her 10 messages intended to help ease her pain and start a new life.
5.
The Courtship of Eddie's Father (1963)
1h 58m Drama Comedy Romance Family
The film that started the classic TV series. Although he's only seven, Eddie's got it all figured out. He wants his father, a widower, to get remarried - to the girl next door. Unfortunately, she's not one of the women that his dad's been dating. Sweet family comedy.
6.
The Odd Life of Timothy Green (2012)
1h 45m Fantasy Drama Comedy Family
A childless couple bury a box in their backyard, containing all of their wishes for an infant. Soon, a child is born, though Timothy Green is not all that he appears.
7.
Dreamer: Inspired by a True Story (2005)
1h 46m Drama Family
Ben Crane believes that a severely injured racehorse deserves another chance. He and his daughter Cale adopt the mare and save it from being sacrificed by the owner.
1h 43m Comedy Drama
Vada Sultenfuss is obsessed with death. Her mother is dead, and her father runs a funeral parlor. She is also in love with her English teacher, and joins a poetry class over the summer just to impress him. Thomas J., her best friend, is "allergic to everything", and sticks with Vada despite her hangups. When Vada's father hires Shelly, and begins to fall for her, things take a turn to the worse...
1h 46m Drama Comedy
A recently-widowed science fiction writer considers whether to adopt a hyper-imaginative 6-year-old abandoned and socially-rejected boy who says he's really from Mars.
30m Comedy
Major Dad is an American sitcom created by Richard C. Okie and John G. Stephens, developed by Earl Pomerantz, that originally ran from 1989 to 1993 on CBS, starring Gerald McRaney as Major John D. MacGillis and Shanna Reed as his wife Polly. The cast also includes Beverly Archer, Matt Mulhern, Jon Cypher, Marisa Ryan, Nicole Dubuc and Chelsea Hertford.
11.
Mr. Popper's Penguins (2011)
1h 34m Comedy Family
Jim Carrey stars as Tom Popper, a successful businessman who's clueless when it comes to the really important things in life...until he inherits six "adorable" penguins, each with its own unique personality. Soon Tom's rambunctious roommates turn his swank New York apartment into a snowy winter wonderland — and the rest of his world upside-down.
1h 42m Comedy Romance Drama
Ollie Trinke is a young, suave music publicist who seems to have it all, with a new wife and a baby on the way. But life deals him a bum hand when he's suddenly faced with single fatherhood, a defunct career and having to move in with his father. To bounce back, it takes a new love and the courage instilled in him by his daughter.
1h 27m Comedy Family
The Newton family live in their comfortable home, but there seems to something missing. This "hole" is filled by a small puppy, who walks into their home and their lives. Beethoven, as he is named, grows into a giant of a dog... a St Bernard. Doctor Varnick, the local vet has a secret and horrible sideline, which requires lots of dogs for experiments. Beethoven is on the bad doctor's list.
1h 24m Adventure Comedy Family
An eccentric socialite raises a gorilla as her son.
15.
Kit Kittredge: An American Girl (2008)
1h 41m Family Comedy Drama
The Great Depression hits home for nine year old Kit Kittredge when her dad loses his business and leaves to find work. Oscar nominee Abigail Breslin stars as Kit, leading a splendid cast in the first ever "American Girl" theatrical movie. In order to keep their home, Kit and her mother must take in boarders - paying house - guests who turn out to be full of fascinating stories. When mother's lockbox containing all their money is stolen, Kit's new hobo friend Will is the prime suspect. Kit refuses to believe that Will would steal, and her efforts to sniff out the real story get her and friends into big trouble. The police say the robbery was an inside job, committed by someone they know. So if it wasn't Will, then who did it.
1h 34m Comedy Drama
When her husband keels over from a stroke, Raynelle Slocumb calls the entire clan together to remember their dearly departed. Family tensions reach a comedic boil as the wildly dysfunctional Slocumbs squabble and fight their way to the funeral.
17.
Alexander and the Terrible, Horrible, No Good, Very Bad Day (2014)
1h 21m Family Comedy
Alexander's day begins with gum stuck in his hair, followed by more calamities. Though he finds little sympathy from his family and begins to wonder if bad things only happen to him, his mom, dad, brother, and sister all find themselves living through their own terrible, horrible, no good, very bad day.
1h 41m Comedy Drama Family Romance
Bill Dancer and his young companion Curly Sue are the classic homeless folks with hearts of gold. Their scams are aimed not at turning a profit, but at getting enough to eat. When they scam the rich and beautiful Grey Ellison into believing she backed her Mercedes into Bill, they're only hoping for a free meal. But Grey is touched, and over the objections of her snotty fiancé.
19.
Wish I Was Here (2014)
1h 47m Drama Comedy
Aidan Bloom, a struggling actor, father and husband, is 35 years old and still trying to find a purpose for his life. He and his wife are barely getting by financially and Aidan passes his time by fantasizing about being the great futuristic Space-Knight he'd always dreamed he'd be as a little kid. When his ailing father can no longer afford to pay for private school for his two kids and the only available public school is on its last legs, Aidan reluctantly agrees to attempt to home-school them. Through teaching them about life his way, Aidan gradually discovers some of the parts of himself he couldn't find.
20.
Mrs. Doubtfire (1993)
2h 5m Comedy Drama Family
Loving but irresponsible dad Daniel Hillard, estranged from his exasperated spouse, is crushed by a court order allowing only weekly visits with his kids. When Daniel learns his ex needs a housekeeper, he gets the job -- disguised as an English nanny. Soon he becomes not only his children's best pal but the kind of parent he should have been from the start.
21.
Yours, Mine and Ours (1968)
1h 51m Comedy Drama Family
When a widower with ten children marries a widow with eight, can the twenty of them ever come together as one big happy family?
22.
Sleepless in Seattle (1993)
1h 45m Comedy Drama Romance
Desperate to find his dad Sam a date, a young boy calls into a radio show and catches the attention of Annie, a journalist who wants to meet Sam atop the Empire State Building.
1h 54m Comedy Drama Family
Simon Birch and Joe Wenteworth are boys who have a reputation for being oddballs. Joe never knew his father, and his mother, Rebecca, is keeping her lips sealed no matter how much he protests. Simon, meanwhile, is an 11-year-old dwarf whose outsize personality belies his small stature. Indeed, he often assails the local reverend with thorny theological questions and joins Joe on his quest to find his biological father.
1h 59m Comedy Drama Family
Annie is a young, happy foster kid who's also tough enough to make her way on the streets of New York in 2014. Originally left by her parents as a baby with the promise that they'd be back for her someday, it's been a hard knock life ever since with her mean foster mom Miss Hannigan. But everything's about to change when the hard-nosed tycoon and New York mayoral candidate Will Stacks—advised by his brilliant VP and his shrewd and scheming campaign advisor—makes a thinly-veiled campaign move and takes her in. Stacks believes he's her guardian angel, but Annie's self-assured nature and bright, sun-will-come-out-tomorrow outlook on life just might mean it's the other way around.
1h 36m Drama Adventure Family
Workaholic Thomas Johnson dies in an auto accident and comes back to life as a dog. Remembering some of who he was, he returns to his wife and son to protect them from the man who caused his accident. But, as time goes by, he remembers more of his life, and realizes he wasn't such a good husband and father.
26.
An Unfinished Life (2005)
1h 48m Drama
Stoic and heartbroken, Einar Gilkyson quietly lives in the rugged Wyoming ranchlands alongside his only trusted friend, Mitch Bradley. One day, the woman he blames for the death of his only son arrives at his door broke, desperate and with a granddaughter he's never known. But even as buried anger and accusations resurface, the way is opened for unexpected connection, adventure and forgiveness.
explore
Check out more list from our community