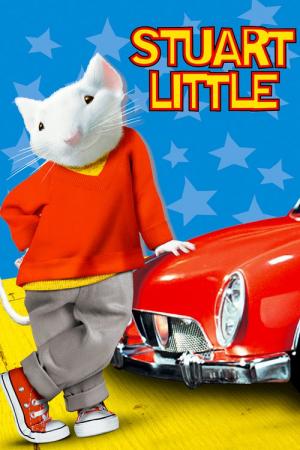 12 Best Movies Like Stuart Little ...
If you liked this film , you will definitely love these too! In this selection we highlight some of the best films that share a very similar premise to 'Stuart Little', and are worth checking out.
1h 40m Fantasy Comedy Family
Furious that her late father only willed her his gloomy-looking mansion rather than his millions, Carrigan Crittenden is ready to burn the place to the ground when she discovers a map to a treasure hidden in the house. But when she enters the rickety mansion to seek her claim, she is frightened away by a wicked wave of ghosts. Determined to get her hands on this hidden fortune, she hires afterlife therapist Dr. James Harvey to exorcise the ghosts from the mansion. Harvey and his daughter Kat move in, and soon Kat meets Casper, the ghost of a young boy who's "the friendliest ghost you know." But not so friendly are Casper's uncles--Stretch, Fatso and Stinkie--who are determined to drive all "fleshies" away.
1h 26m Adventure Fantasy Action Comedy Family
The four-inch-tall Clock family secretly share a house with the normal-sized Lender family, "borrowing" such items as thread, safety pins, batteries and scraps of food. However, their peaceful co-existence is disturbed when evil lawyer Ocious P. Potter steals the will granting title to the house, which he plans to demolish in order to build apartments. The Lenders are forced to move, and the Clocks face the risk of being exposed to the normal-sized world.
1h 36m Comedy Adventure Family
A young Peruvian bear travels to London in search of a new home. Finding himself lost and alone at Paddington Station, he meets the kindly Brown family.
1h 21m Comedy
Ben Healy and his social climbing wife Flo adopt fun-loving seven year old Junior. But they soon discover he's a little monster as he turns a camping trip, a birthday party and even a baseball game into comic nightmares.
1h 39m Comedy Family Adventure
When a Miami dentist inherits a team of sled dogs, he's got to learn the trade or lose his pack to a crusty mountain man.
7.
Little Monsters (1989)
1h 42m Adventure Fantasy Comedy Family
A young boy is scared of the monster under his bed. He asks his 6th grade brother to swap rooms for the night as a bet that the monster really exists. Soon the brother becomes friends with the monster and discovers a whole new world of fun and games under his bed where pulling pranks on kids and other monsters is the main attraction.
8.
Homeward Bound II: Lost in San Francisco (1996)
1h 29m Adventure Comedy Drama Family
When the pets accidentally get separated from their vacationing owners, Chance, Shadow, and Sassy navigate the mean streets of San Francisco, trying to find their home across the Golden Gate Bridge. But the road is blocked by a series of hazards, both man and beast.
9.
Harry and the Hendersons (1987)
1h 50m Comedy Family Fantasy
Returning from a hunting trip in the forest, the Henderson family's car hits an animal in the road. At first they fear it was a man, but when they examine the "body" they find it's a "bigfoot". They think it's dead so they decide to take it home (there could be some money in this). As you guessed, it isn't dead. Far from being the ferocious monster they fear "Harry" to be, he's a friendly giant.
10.
Stuart Little 2 (2002)
1h 18m Family Adventure Animation Comedy
Stuart, an adorable white mouse, still lives happily with his adoptive family, the Littles, on the east side of Manhattan's Central Park. More crazy mouse adventures are in store as Stuart, his human brother, George, and their mischievous cat, Snowbell, set out to rescue a friend.
1h 48m Comedy Family Fantasy
Roberto Benigni adapts the classic children's tale by Carlo Collodi for the big-budget family-oriented comedy Pinocchio.
1h 26m Adventure Comedy Family Fantasy
Murray is a male fairy godmother, and he is trying to help 8-year-old Anabel to fulfil her "simple wish" - that her father Oliver, who is a cab driver, would win the leading role in a Broadway musical. Unfortunately, Murray's magic wand is broken and the fairies convention is threatened by evil witches Claudia and Boots.
explore
Check out more list from our community