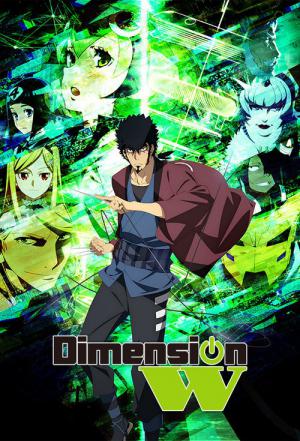 14 Best Anime Like Dimension W ...
If you liked this one , you will probably love these too! In this selection we highlight some of the best films that share a very similar mood to 'Dimension W', and are worth checking out.
24m Animation Comedy Drama Mystery
During the construction of the Kurobe Dam, an ancient artifact was discovered, and so the United Nations Kurobe Research Institute was established. Intellectuals from all over the world gathered to study the object, and the children of those researchers attend Mt. Tate International Senior High School, including the institute head's daughter, Yukina Shirahane. In the summer of 2016, a lone samurai once again awakens.
2.
Ghost in the Shell: Stand Alone Complex (2002)
25m Animation Sci-Fi & Fantasy
In the future when technological enhancements and robotics are a way of life, Major Motoko Kusanagi and Section 9 take care of the jobs that are too difficult for the police. Section 9 employs hackers, sharpshooters, detectives and cyborgs all in an effort to thwart cyber criminals and their plans to attack the innocent.
3.
Blue Submarine No. 6 (1998)
4.
Ghost In The Shell: The New Movie (2015)
1h 40m Science Fiction Animation
When a ghost-infecting virus known as Fire-Starter begins spreading through the system resulting in the assassination of the Japanese Prime Minister, Major Motoko Kusanagi and her elite team of special operatives are called in to track down its source.
5.
Cobra the Animation (2010)
24m Action & Adventure Animation Sci-Fi & Fantasy
Cobra is a well known space pirate, but decides to change his face and to clear all his memories. He becomes a average guy, with a common job, and a very boring life, but suddenly he starts remembering his true identity and new adventures begin.
30m Sci-Fi & Fantasy Animation Comedy Drama
Outlaw Star follows the outlaw Gene Starwind and his eleven year-old business associate, Jim Hawking. Together they run a small jack-of-all-trades business on the backwater planet Sentinel III. After the two take a job as bodyguards for a mysterious outlaw, they find themselves the owners of the XGP15A-II, a highly advanced prototype spacecraft, and the caretakers of a bio-android named Melfina, The series follows the exploits of the slowly growing ragtag crew.
7.
Last Hero Inuyashiki (2017)
23m Animation Drama Sci-Fi & Fantasy Action & Adventure Crime
Inuyashiki Ichirou is down on his luck. While only 58 years old, his geriatric looks often have him written off as a pathetic old man by the world around him and he's constantly ignored and disrespected by his family despite all that he's done to support them. On top of everything else, his doctor has revealed that he has cancer and it appears that he has little time left in this world. But just when it seems things couldn't get any worse, a blinding light in the night sky strikes the earth where Ichirou stands. He later wakes up to find himself unscathed, but he soon starts to notice that there's something… different about himself. However, it turns out that these strange, new changes are just what Ichirou needs to take a new lease on life and now it seems like there's nothing to stop him from being a hero worthy of the respect that he never had before… unless, that is, there was someone else out there with these same changes…
8.
Astra Lost in Space (2019)
24m Animation Action & Adventure Sci-Fi & Fantasy
In the year 2063, eight high school students and a kid are flown out to Planet Camp, tasked with surviving on their own for a few days. But shortly after arriving, an ominous glowing orb warps them to an unknown quadrant of space, nearly 5,012 light years away. Now, the only way back home is a slow, dangerous trek across the universe—a journey that'll test them in ways Planet Camp never could.
46m Action & Adventure Animation Sci-Fi & Fantasy
As the nations of the world begin to merge, world peace is threatened by the private armies of individual corporations. The Kuryu Group has just discovered a weapon that will tip world power in their favor. The Genocyber: a nightmarish combination of cybernetics and psychic potential. Many desire to control this monstrosity, but can its hatred be contained... Battle erupts, and the cyberpunk world of the future is about to explode with violence.
25m Animation Action & Adventure Mystery Sci-Fi & Fantasy Crime Drama
In a futuristic world almost barren of life, mankind is confined to mechanized domed cities where A.I.'s control all aspects of life. In this world, humans are no longer born, they are manufactured in a production line; and alongside them live androids known as autoreivs. Within one of these domed sanctuaries named Romdeau lives Re-l Mayer, one of a few citizens who aren't entirely prevented from thinking. Her grandfather's prominent position and the affection of the scientist Daedalus have left her more free will than is normally allowed, but Re-l has started to question the sanctity of the city and the citizens' perfect way of life. With mysterious beings known as proxies causing havoc and a man named Vincent causing great influence on her life, Re-l must travel outside of the city to find the answers she seeks and discover the mystery behind "the awakening".
24m Animation Sci-Fi & Fantasy Drama
In the early 2050s, unknown life forms called "Oracle cells" begin their uncontrolled consumption of all life on Earth. Their ravenous appetite and remarkable adaptability earn them first dread, then awe, and finally the name "aragami". In the face of an enemy completely immune to conventional weapons, urban civilization collapses, and each day humanity is driven further and further toward extinction. One single ray of hope remains for humanity. Following the development of "God Arcs"—living weapons which incorporate Oracle cells—their wielders are organized into an elite force.
12.
Battle Angel Alita (1993)
54m Animation Action Science Fiction
In his travels as a bounty hunter, Hunter-Warrior and cyborg healer Ido one day discovers and repairs the remnants of a cyborg whom he names Gally. Though possessing the body of a young woman, Gally now embodies Ido's most sophisticated and lethal cybernetic skills. The preternaturally strong, amnesiac Gally begins to forge a life for herself in a world where every day is a struggle for survival.
13.
Knights of Sidonia (2014)
24m Action & Adventure Animation Sci-Fi & Fantasy
An alien race called Gauna has destroyed Earth. leaving humanity struggling to survive aboard the spaceship Sidonia. Even though it's been a century since the last encounter with the Gauna, military service is mandatory. For Nagate Tanikaze, whose grandfather secretly hid him in the forgotten bowels of Sidonia, it's a strange new world as he's forced to come to the surface. Yet his recruitment comes just in time, for the Gauna have suddenly reappeared.
14.
Parasyte: The Maxim (2014)
23m Animation Drama Sci-Fi & Fantasy Action & Adventure
A species of parasitic aliens descends on Earth and quickly infiltrates humanity by entering the brains of vulnerable targets; insatiable beings that gain total control of their host and are capable of transforming themselves to feed on unsuspecting prey. High school student Shinichi Izumi falls victim to one of these parasites, but the creature fails to take over his brain and ends up in his right hand.
explore
Check out more list from our community