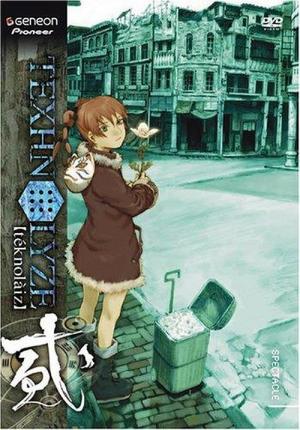 11 Best Anime Like Texhnolyze ...
If you liked this one , you will definitely love these too! In this selection we highlight some of the best films that share a very similar premise to 'Texhnolyze', and are worth checking out.
1.
Last Hero Inuyashiki (2017)
23m Animation Drama Sci-Fi & Fantasy Action & Adventure Crime
Inuyashiki Ichirou is down on his luck. While only 58 years old, his geriatric looks often have him written off as a pathetic old man by the world around him and he's constantly ignored and disrespected by his family despite all that he's done to support them. On top of everything else, his doctor has revealed that he has cancer and it appears that he has little time left in this world. But just when it seems things couldn't get any worse, a blinding light in the night sky strikes the earth where Ichirou stands. He later wakes up to find himself unscathed, but he soon starts to notice that there's something… different about himself. However, it turns out that these strange, new changes are just what Ichirou needs to take a new lease on life and now it seems like there's nothing to stop him from being a hero worthy of the respect that he never had before… unless, that is, there was someone else out there with these same changes…
2.
Brynhildr in the Darkness (2014)
24m Action & Adventure Animation
When he was a child, Murakami was friends with a girl he called Kuroneko. One day, while trying to prove the existence of aliens to Murakami, she is killed in an accident that he barely survives. Guilty of his role in the accident, Murokami decides to dedicate his life to proving that aliens exist. Then, one day, a new student with mysterious powers transfers into his class who not only looks a lot like Kuroneko, but is named Kuroha, Neko.
3.
Spirit Devourer: Zero (2008)
4.
Deadman Wonderland (2011)
24m Action & Adventure Animation Sci-Fi & Fantasy
Ganta is the only survivor after a mysterious man in red slaughters a classroom full of teenagers. He's framed for the carnage, sentenced to die, and locked away in the most twisted prison ever built: Deadman Wonderland. And then it gets worse.
5.
The Lost Village (2016)
25m Mystery Animation Drama
A shady bus tour of young men and women are headed to an elusive village called Nanakimura. A destination where people can partake in an utopian existence, free of the world's obstacles... or so goes the rumor. Heading deep into the mountains, the bus is carrying 30 different individuals, each harboring their own expectations and troubled hearts... What they had arrived to was an uninhabited village with lingering, faint scents of life and it was falling apart. Just what is the secret of Nanakimura?
25m Animation Action & Adventure Sci-Fi & Fantasy
If you are chosen by the bizarre black sphere known as the Gantz, you are already dead—yet you might be able to reclaim your mortality. First, the Gantz demands that you undertake brutal missions of madness, killing aliens hidden among the population. It is your only chance and you have no choice. You must play this disturbing game. And if you die again—and you likely will—it's permanent.
25m Animation Sci-Fi & Fantasy Drama
The Diclonius, a mutated homo sapien that is said to be selected by God and will eventually become the destruction of mankind, possesses two horns in their heads, and has a "sixth sense" which gives it telekinetic abilities. Due to this dangerous power, they have been captured and isolated in laboratories by the government. Lucy, a young and psychotic Diclonius, manages to break free of her confines and brutally murder most of the guards in the laboratory, only to get shot in the head as she makes her escape. She survives and manages to drift along to a beach, where two teenagers named Kouta and Yuka discovers her. Having lost her memories, she was named after the only thing that she can now say, "Nyuu," and the two allow her to stay at Kouta's home. However, it appears that the evil "Lucy" is not dead just yet...
8.
The Count of Monte Cristo (2004)
25m Drama Animation Mystery Sci-Fi & Fantasy
In an elegant future Paris, a Count returns to wreak havoc on those that betrayed him.
1h 20m Animation Action Thriller
The target of hitgirl Mikura is a wealthy baseball team owner, but he turns out to be a powerful underworld boss. Mikura and her team are beset by countless heavily armed bodyguards and the boss' vicious daughter.
10.
Ghost in the Shell 2: Innocence (2004)
1h 40m Animation Drama Science Fiction
Groundbreaking director Mamoru Oshii continues to push the boundaries of art and anime with this universally acclaimed cyber thriller following cyborg detective Batou as he tries to unravel the reasons for a murderous robot revolt in the year 2032. A quest for a killer that becomes a mind bending search for the meaning of life.
11.
Golgo 13: Queen Bee (1998)
57m Action Animation
Based on Takao Saito's graphic novel, Golgo 13 is Japan's most celebrated and notorious assassin, and a man as adept with a rifle as he is with the ladies. He meets his match here in Queen Bee, the leader of a South American liberation army, whom he must kill before she can assassinate a popular presidential candidate. However, once Golgo 13 penetrates the Queen's hive, he realizes that the machinations behind the planned assassination are more complex than he could have imagined.
explore
Check out more list from our community