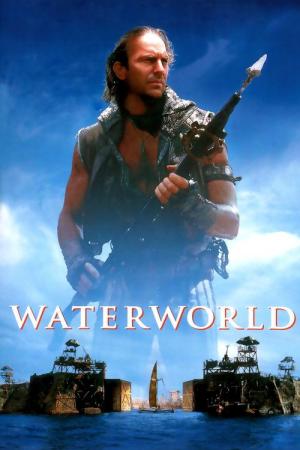 10 Best Movies Like Waterworld ...
If you liked this one , you will definitely love these too! In this selection we highlight some of the best films that share a very similar premise to 'Waterworld', and are worth checking out.
1h 41m Drama Science Fiction Thriller
Robert Neville is a scientist who was unable to stop the spread of the terrible virus that was incurable and man-made. Immune, Neville is now the last human survivor in what is left of New York City and perhaps the world. For three years, Neville has faithfully sent out daily radio messages, desperate to find any other survivors who might be out there. But he is not alone.
2.
The Time Machine (2002)
1h 36m Science Fiction Adventure Action
Hoping to alter the events of the past, a 19th century inventor instead travels 800,000 years into the future, where he finds mankind divided into two warring races.
3.
Mad Max 2: The Road Warrior (1981)
1h 36m Adventure Action Thriller Science Fiction
Max Rockatansky returns as the heroic loner who drives the dusty roads of a postapocalyptic Australian Outback in an unending search for gasoline. Arrayed against him and the other scraggly defendants of a fuel-depot encampment are the bizarre warriors commanded by the charismatic Lord Humungus, a violent leader whose scruples are as barren as the surrounding landscape.
2h 57m Adventure Science Fiction Action War
In 2013 there are no highways, no I-ways, no dreams of a better tomorrow, only scattered survivors across what was once the Unites States. Into this apocalyptic wasteland comes an enigmatic drifter with a mule, a knack for Shakespeare and something yet undiscovered: the power to inspire hope.
1h 48m Action Thriller Science Fiction
The lethal Reaper virus spreads throughout Britain—infecting millions and killing hundreds of thousands. Authorities brutally and successfully quarantine the country but, three decades later, the virus resurfaces in a major city. An elite group of specialists is urgently dispatched into the still-quarantined country to retrieve a cure by any means necessary. Shut off from the rest of the world, the unit must battle through a landscape that has become a waking nightmare.
6.
The Book of Eli (2010)
1h 58m Action Thriller Science Fiction
A post-apocalyptic tale, in which a lone man fights his way across America in order to protect a sacred book that holds the secrets to saving humankind.
7.
The Lost Future (2010)
2h 4m Action Science Fiction Adventure Mystery
Jack Harper is one of the last few drone repairmen stationed on Earth. Part of a massive operation to extract vital resources after decades of war with a terrifying threat known as the Scavs, Jack's mission is nearly complete. His existence is brought crashing down when he rescues a beautiful stranger from a downed spacecraft. Her arrival triggers a chain of events that forces him to question everything he knows and puts the fate of humanity in his hands.
9.
Battle for the Planet of the Apes (1973)
1h 33m Action Science Fiction
The fifth and final episode in the Planet of the Apes series. After the collapse of human civilization, a community of intelligent apes led by Caesar lives in harmony with a group of humans. Gorilla General Aldo tries to cause an ape civil war and a community of human mutants who live beneath a destroyed city try to conquer those whom they perceive as enemies. All leading to the finale.
1h 31m Adventure Action Thriller Science Fiction
Taking place in a dystopian Australia in the near future, Mad Max tells the story of a highway patrolman cruising the squalid back roads that have become the breeding ground of criminals foraging for gasoline and scraps. After some grisly events at the hands of a motorcycle gang, Max sets out across the barren wastelands in search of revenge.
explore
Check out more list from our community