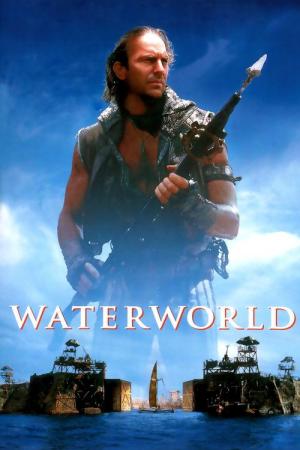 11 Best Movies Like Waterworld ...
If you liked this film , you will for sure love these too! In this list we highlight some of the best films that share a very similar mood to 'Waterworld', and are worth checking out.
1h 48m Action Thriller Science Fiction
The lethal Reaper virus spreads throughout Britain—infecting millions and killing hundreds of thousands. Authorities brutally and successfully quarantine the country but, three decades later, the virus resurfaces in a major city. An elite group of specialists is urgently dispatched into the still-quarantined country to retrieve a cure by any means necessary. Shut off from the rest of the world, the unit must battle through a landscape that has become a waking nightmare.
3.
The Time Machine (2002)
1h 36m Science Fiction Adventure Action
Hoping to alter the events of the past, a 19th century inventor instead travels 800,000 years into the future, where he finds mankind divided into two warring races.
1h 31m Adventure Action Thriller Science Fiction
Taking place in a dystopian Australia in the near future, Mad Max tells the story of a highway patrolman cruising the squalid back roads that have become the breeding ground of criminals foraging for gasoline and scraps. After some grisly events at the hands of a motorcycle gang, Max sets out across the barren wastelands in search of revenge.
5.
Battlefield Earth (2000)
1h 58m Action Adventure Science Fiction War
In the year 3000, man is no match for the Psychlos, a greedy, manipulative race of aliens on a quest for ultimate profit. Led by the powerful Terl, the Psychlos are stripping Earth clean of its natural resources, using the broken remnants of humanity as slaves. What is left of the human race has descended into a near primitive state. After being captured, it is up to Tyler to save mankind.
6.
Mad Max Beyond Thunderdome (1985)
1h 47m Action Adventure Science Fiction
Mad Max becomes a pawn in a decadent oasis of a technological society, and when exiled, becomes the deliverer of a colony of children.
7.
The Fifth Element (1997)
2h 6m Adventure Fantasy Action Thriller Science Fiction
In 2257, a taxi driver is unintentionally given the task of saving a young girl who is part of the key that will ensure the survival of humanity.
8.
Hell Comes to Frogtown (1988)
1h 28m Action Comedy Horror Science Fiction
'Hell' is the name of the hero of the story. He's a prisoner of the women who now run the USA after a nuclear/biological war. Results of the war are that mutants have evolved, and the human race is in danger of extinction due to infertility. Hell is given the task of helping in the rescue of a group of fertile women from the harem of the mutant leader (resembling a frog). Hell cannot escape since he has a bomb attached to his private parts which will detonate if he strays more than a few hundred yards from his guard.
1h 30m Adventure Family Fantasy
For generations, the people of the City of Ember have flourished in an amazing world of glittering lights. But Ember's once powerful generator is failing and the great lamps that illuminate the city are starting to flicker. Now, two teenagers, in a race against time, must search Ember for clues that will unlock the ancient mystery of the city's existence, before the the lights go out forever.
1h 40m Science Fiction Action Adventure
One thousand years after cataclysmic events forced humanity's escape from Earth, Nova Prime has become mankind's new home. Legendary General Cypher Raige returns from an extended tour of duty to his estranged family, ready to be a father to his 13-year-old son, Kitai. When an asteroid storm damages Cypher and Kitai's craft, they crash-land on a now unfamiliar and dangerous Earth. As his father lies dying in the cockpit, Kitai must trek across the hostile terrain to recover their rescue beacon. His whole life, Kitai has wanted nothing more than to be a soldier like his father. Today, he gets his chance.
1h 33m Action Science Fiction Thriller
400 years into the future, disease has wiped out the majority of the world's population, except one walled city, Bregna, ruled by a congress of scientists. When Æon Flux, the top operative in the underground 'Monican' rebellion, is sent on a mission to kill a government leader, she uncovers a world of secrets.
explore
Check out more list from our community