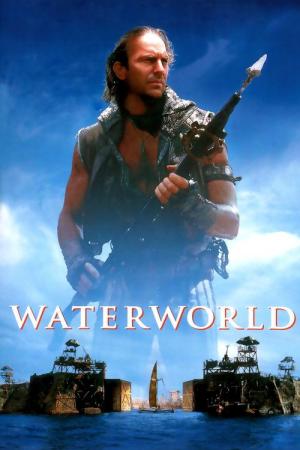 31 Best Movies Like Waterworld ...
If you liked this one , you will definitely love these too! In this list we highlight some of the best films that share a very similar mood to '', and are worth checking out.
2h 57m Adventure Science Fiction Action War
In 2013 there are no highways, no I-ways, no dreams of a better tomorrow, only scattered survivors across what was once the Unites States. Into this apocalyptic wasteland comes an enigmatic drifter with a mule, a knack for Shakespeare and something yet undiscovered: the power to inspire hope.
2.
The Book of Eli (2010)
1h 58m Action Thriller Science Fiction
A post-apocalyptic tale, in which a lone man fights his way across America in order to protect a sacred book that holds the secrets to saving humankind.
3.
Mad Max: Fury Road (2015)
2h 1m Action Adventure Science Fiction
An apocalyptic story set in the furthest reaches of our planet, in a stark desert landscape where humanity is broken, and most everyone is crazed fighting for the necessities of life. Within this world exist two rebels on the run who just might be able to restore order.
4.
Mad Max Beyond Thunderdome (1985)
1h 47m Action Adventure Science Fiction
Mad Max becomes a pawn in a decadent oasis of a technological society, and when exiled, becomes the deliverer of a colony of children.
5.
Battlefield Earth (2000)
1h 58m Action Adventure Science Fiction War
In the year 3000, man is no match for the Psychlos, a greedy, manipulative race of aliens on a quest for ultimate profit. Led by the powerful Terl, the Psychlos are stripping Earth clean of its natural resources, using the broken remnants of humanity as slaves. What is left of the human race has descended into a near primitive state. After being captured, it is up to Tyler to save mankind.
6.
2019: After the Fall of New York (1983)
1h 36m Action Horror Science Fiction
After a nuclear war, society breaks down into two groups, the evil Euraks and the rebel Federation. A mercenary named Parsifal is hired by the Federation to infiltrate New York City, which is controlled by the Euraks, to rescue the only fertile woman left on Earth.
1h 37m Action Adventure Science Fiction
In a post-apocalyptic world, a warrior wandering through the desert comes upon a group of settlers who are being menaced by a murderous gang that is after the water they control.
2h 4m Action Science Fiction Adventure Mystery
Jack Harper is one of the last few drone repairmen stationed on Earth. Part of a massive operation to extract vital resources after decades of war with a terrifying threat known as the Scavs, Jack's mission is nearly complete. His existence is brought crashing down when he rescues a beautiful stranger from a downed spacecraft. Her arrival triggers a chain of events that forces him to question everything he knows and puts the fate of humanity in his hands.
9.
Mad Max 2: The Road Warrior (1981)
1h 36m Adventure Action Thriller Science Fiction
Max Rockatansky returns as the heroic loner who drives the dusty roads of a postapocalyptic Australian Outback in an unending search for gasoline. Arrayed against him and the other scraggly defendants of a fuel-depot encampment are the bizarre warriors commanded by the charismatic Lord Humungus, a violent leader whose scruples are as barren as the surrounding landscape.
1h 48m Action Thriller Science Fiction
The lethal Reaper virus spreads throughout Britain—infecting millions and killing hundreds of thousands. Authorities brutally and successfully quarantine the country but, three decades later, the virus resurfaces in a major city. An elite group of specialists is urgently dispatched into the still-quarantined country to retrieve a cure by any means necessary. Shut off from the rest of the world, the unit must battle through a landscape that has become a waking nightmare.
1h 33m Action Science Fiction Thriller
400 years into the future, disease has wiped out the majority of the world's population, except one walled city, Bregna, ruled by a congress of scientists. When Æon Flux, the top operative in the underground 'Monican' rebellion, is sent on a mission to kill a government leader, she uncovers a world of secrets.
1h 30m Adventure Family Fantasy
For generations, the people of the City of Ember have flourished in an amazing world of glittering lights. But Ember's once powerful generator is failing and the great lamps that illuminate the city are starting to flicker. Now, two teenagers, in a race against time, must search Ember for clues that will unlock the ancient mystery of the city's existence, before the the lights go out forever.
13.
The Chronicles of Riddick (2004)
1h 59m Action Science Fiction
After years of outrunning ruthless bounty hunters, escaped convict Riddick suddenly finds himself caught between opposing forces in a fight for the future of the human race. Now, waging incredible battles on fantastic and deadly worlds, this lone, reluctant hero will emerge as humanity's champion - and the last hope for a universe on the edge of annihilation.
1h 41m Drama Science Fiction Thriller
Robert Neville is a scientist who was unable to stop the spread of the terrible virus that was incurable and man-made. Immune, Neville is now the last human survivor in what is left of New York City and perhaps the world. For three years, Neville has faithfully sent out daily radio messages, desperate to find any other survivors who might be out there. But he is not alone.
15.
The Hunger Games: Mockingjay - Part 1 (2014)
2h 3m Science Fiction Adventure Thriller
Katniss Everdeen reluctantly becomes the symbol of a mass rebellion against the autocratic Capitol.
1h 41m Adventure Action Fantasy
In post-apocalyptic England, an American volunteer and a British survivor team up to fight off a brood of fire-breathing dragons seeking to return to global dominance after centuries of rest underground. The Brit -- leading a clan of survivors to hunt down the King of the Dragons -- has much at stake: His mother was killed by a dragon, but his love is still alive.
1h 40m Science Fiction Action Adventure
One thousand years after cataclysmic events forced humanity's escape from Earth, Nova Prime has become mankind's new home. Legendary General Cypher Raige returns from an extended tour of duty to his estranged family, ready to be a father to his 13-year-old son, Kitai. When an asteroid storm damages Cypher and Kitai's craft, they crash-land on a now unfamiliar and dangerous Earth. As his father lies dying in the cockpit, Kitai must trek across the hostile terrain to recover their rescue beacon. His whole life, Kitai has wanted nothing more than to be a soldier like his father. Today, he gets his chance.
18.
The Day After Tomorrow (2004)
2h 4m Action Adventure Science Fiction Thriller
After years of increases in the greenhouse effect, havoc is wreaked globally in the form of catastrophic hurricanes, tornadoes, tidal waves, floods and the beginning of a new Ice Age. Paleoclimatologist, Jack Hall tries to warn the world while also shepherding to safety his son, trapped in New York after the city is overwhelmed by the start of the new big freeze.
20.
The Fifth Element (1997)
2h 6m Adventure Fantasy Action Thriller Science Fiction
In 2257, a taxi driver is unintentionally given the task of saving a young girl who is part of the key that will ensure the survival of humanity.
21.
The Lost Future (2010)
1h 31m Adventure Action Thriller Science Fiction
Taking place in a dystopian Australia in the near future, Mad Max tells the story of a highway patrolman cruising the squalid back roads that have become the breeding ground of criminals foraging for gasoline and scraps. After some grisly events at the hands of a motorcycle gang, Max sets out across the barren wastelands in search of revenge.
23.
The Time Machine (2002)
1h 36m Science Fiction Adventure Action
Hoping to alter the events of the past, a 19th century inventor instead travels 800,000 years into the future, where he finds mankind divided into two warring races.
1h 39m Action Adventure Comedy Science Fiction
When successful businessman Sam Treadwell finds that his android wife, Cherry model 2000 has blown a fuse, he hires sexy renegade tracker E. Johnson to find her exact duplicate. But as their journey to replace his perfect mate leads them into the treacherous and lawless region of 'The Zone', Treadwell learns the hard way that the perfect woman is made not of computer chips and diodes.
25.
Battle for the Planet of the Apes (1973)
1h 33m Action Science Fiction
The fifth and final episode in the Planet of the Apes series. After the collapse of human civilization, a community of intelligent apes led by Caesar lives in harmony with a group of humans. Gorilla General Aldo tries to cause an ape civil war and a community of human mutants who live beneath a destroyed city try to conquer those whom they perceive as enemies. All leading to the finale.
26.
Hell Comes to Frogtown (1988)
1h 28m Action Comedy Horror Science Fiction
'Hell' is the name of the hero of the story. He's a prisoner of the women who now run the USA after a nuclear/biological war. Results of the war are that mutants have evolved, and the human race is in danger of extinction due to infertility. Hell is given the task of helping in the rescue of a group of fertile women from the harem of the mutant leader (resembling a frog). Hell cannot escape since he has a bomb attached to his private parts which will detonate if he strays more than a few hundred yards from his guard.
42m Sci-Fi & Fantasy Drama
One day, electricity just stopped working and the world was suddenly thrust back into the dark ages. Now, 15 years later, a young woman's life is dramatically changed when a local militia arrives and kills her father, who mysteriously—and unbeknownst to her—had something to do with the blackout. An unlikely group sets out off on a daring journey to find answers about the past in the hopes of reclaiming the future.
1h 34m Drama Action Thriller Science Fiction
In post-apocalyptic Los Angeles, an evil pack of outlaws is systematically turning civilians into prisoners and slaves. Worse yet, the spread of a terrifying deadly flesh-eating virus threatens to destroy all of humanity. As good and evil ferociously battle for power and control, three heroes race against time to find the cure for the virus... before it's too late.
29.
The Hunger Games (2012)
2h 22m Science Fiction Adventure Fantasy
Every year in the ruins of what was once North America, the nation of Panem forces each of its twelve districts to send a teenage boy and girl to compete in the Hunger Games. Part twisted entertainment, part government intimidation tactic, the Hunger Games are a nationally televised event in which "Tributes" must fight with one another until one survivor remains. Pitted against highly-trained Tributes who have prepared for these Games their entire lives, Katniss is forced to rely upon her sharp instincts as well as the mentorship of drunken former victor Haymitch Abernathy. If she's ever to return home to District 12, Katniss must make impossible choices in the arena that weigh survival against humanity and life against love. The world will be watching.
2h 38m Action Adventure Science Fiction
Dr. Adrian Helmsley, part of a worldwide geophysical team investigating the effect on the earth of radiation from unprecedented solar storms, learns that the earth's core is heating up. He warns U.S. President Thomas Wilson that the crust of the earth is becoming unstable and that without proper preparations for saving a fraction of the world's population, the entire race is doomed. Meanwhile, writer Jackson Curtis stumbles on the same information. While the world's leaders race to build "arks" to escape the impending cataclysm, Curtis struggles to find a way to save his family. Meanwhile, volcanic eruptions and earthquakes of unprecedented strength wreak havoc around the world.
explore
Check out more list from our community