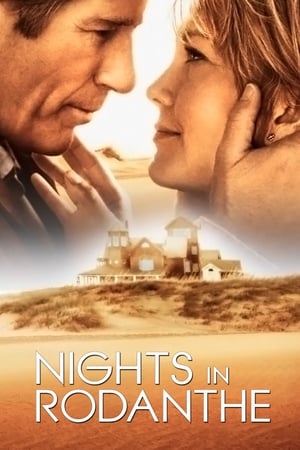 29 Best Movies Like Nights In Rodanthe ...
If you liked this film , you will probably love these too! In this collection we highlight some of the best films that share a very similar mood to '', and are worth checking out.
1.
The Bridges of Madison County (1995)
2h 15m Drama Romance
Photographer Robert Kincaid wanders into the life of housewife Francesca Johnson for four days in the 1960s.
2.
P.S. I Love You (2007)
2h 6m Drama Romance
A young widow discovers that her late husband has left her 10 messages intended to help ease her pain and start a new life.
3.
Autumn in New York (2000)
1h 43m Drama Romance
Autumn in New York follows the sexual exploits of Will Keane - New York restaurateur, infamous verging-on-50 playboy, master of the no-commitment seduction - until he runs into an unexpected dead end when he meets Charlotte Fielding. Charlotte is half Will's age and twice his match, a 21 year-old free spirit yearning to get out and taste the excitement of adult life.
1h 57m Drama Romance
A pair of former high school sweethearts reunite after many years when they return to visit their small hometown.
1h 30m Drama Romance
A British college student falls for an American student, only to be separated from him when she's banned from the U.S. after overstaying her visa.
1h 44m Drama Romance
Happy young married couple Paige and Leo are, well, happy. Then a car accident puts Paige into a life-threatening coma. Upon awakening she has lost the previous five years of memories, including those of her beloved Leo, her wedding, a confusing relationship with her parents, or the ending of her relationship with her ex-fiance. Despite these complications, Leo endeavors to win her heart again and rebuild their marriage.
2h 13m Drama Romance
Liz Gilbert had everything a modern woman is supposed to dream of having – a husband, a house and a successful career – yet like so many others, she found herself lost, confused and searching for what she really wanted in life. Newly divorced and at a crossroads, Gilbert steps out of her comfort zone, risking everything to change her life, embarking on a journey around the world that becomes a quest for self-discovery. In her travels, she discovers the true pleasure of nourishment by eating in Italy, the power of prayer in India and, finally and unexpectedly, the inner peace and balance of true love in Bali.
1h 49m Drama Romance
Dr. Burke Ryan is a successful self-help author and motivational speaker with a secret. While he helps thousands of people cope with tragedy and personal loss, he secretly is unable to overcome the death of his late wife. It's not until Burke meets a fiercely independent florist named Eloise that he is forced to face his past and overcome his demons.
1h 28m Drama Romance
In Cairo on her own as she waits for her husband, Juliette finds herself caught in a whirlwind romance with his friend Tareq, a retired cop. As Tareq escorts Juliette around the city, they find themselves in the middle of a brief affair that catches them both unawares.
1h 50m Drama Romance
A small town girl is caught between dead-end jobs. A high-profile, successful man becomes wheelchair bound following an accident. The man decides his life is not worth living until the girl is hired for six months to be his new caretaker. Worlds apart and trapped together by circumstance, the two get off to a rocky start. But the girl becomes determined to prove to the man that life is worth living and as they embark on a series of adventures together, each finds their world changing in ways neither of them could begin to imagine.
1h 55m Drama Romance War
While Sergeant John Tyree is home on two weeks leave from Germany, he meets Savannah after he dives into the ocean to retrieve Savannah's purse that had fallen off a pier. John eventually falls in love with Savannah, who promises to write to him until he returns from overseas.
12.
Message in a Bottle (1999)
2h 11m Romance Drama
A woman finds a romantic letter in a bottle washed ashore and tracks down the author, a widowed shipbuilder whose wife died tragically early. As a deep and mutual attraction blossoms, the man struggles to make peace with his past so that he can move on and find happiness.
1h 38m Drama Romance
During a car accident, Vincent Eastman watches his whole life flash before his eyes, and he doesn't like what he sees. While maintaining the semblance of a marriage with his wife, Sally, Vincent has been carrying on with a mistress, Olivia. She's everything Sally isn't -- warm, passionate, carefree. So why can't he choose between the two, especially when his indecision is taking its toll on his daughter?
1h 30m Drama Romance
The story follows a married couple, apart for a night while the husband takes a business trip with a colleague to whom he's attracted. While he's resisting temptation, his wife encounters her past love.
1h 51m Drama Romance
After she discovers that her boyfriend has betrayed her, Hilary O'Neil is looking for a new start and a new job. She begins to work as a private nurse for a young man suffering from blood cancer. Slowly, they fall in love, but they always know their love cannot last because he is destined to die.
1h 53m Drama Romance
Still reeling from a heartbreaking family event and his parents' subsequent divorce, Tyler Hawkins discovers a fresh lease on life when he meets Ally Craig, a gregarious beauty who witnessed her mother's death. But as the couple draws closer, the fallout from their separate tragedies jeopardizes their love.
2h 3m Romance Drama
An epic love story centered around an older man who reads aloud to a woman with Alzheimer's. From a faded notebook, the old man's words bring to life the story about a couple who is separated by World War II, and is then passionately reunited, seven years later, after they have taken different paths.
1h 43m Drama Romance
Max Baron is a Jewish advertising executive in his 20s who's still getting over the death of his wife. Nora Baker is a 40-something diner waitress who enjoys the wilder side of life. Mismatched or not, their attraction is instant and smoldering. With time, however, their class and age differences become an obstacle in their relationship, especially since Max can't keep Nora a secret from his Jewish friends and upper-crust associates forever.
19.
Falling in Love (1984)
1h 42m Drama Romance
During shopping for Christmas, Frank and Molly run into each other. This fleeting short moment will start to change their lives, when they recognize each other months later in the train home and have a good time together. Although both are married and Frank has two little kids, they meet more and more often, their friendship becoming the most precious thing in their lives.
20.
Falling in Love Again (1980)
1h 43m Drama Romance
Harry and Sue Lewis met in the 40s as teenagers living in the Bronx. He was an aspiring architect, she was the most beautiful girl in school, and both had a fondness for bran muffins. They fell in love, got married, moved to Los Angeles, and had two kids. While struggling with his midlife crisis, Harry receives an invitation for his high school's reunion back so he takes Sue and their teenage kids on a cross-country car trip back to the Big Apple. Will they see in the Bronx what they expected? Will the good memories from their past help rekindle their fading love? Is it too late to dream?
1h 42m Comedy Drama Romance
Caroline, a young waitress who seems to have bad taste in men, is on her way home one night when thugs attempt to rape her. Adam, the mysterious busboy who works at the same diner, helps fight off the assailants, and she begins a relationship with him -- but not all their fellow Minnesotans are happy for them. Meanwhile, the couple face their own difficulties when Caroline finds about Adam's past, including his unique health condition.
22.
A Walk in the Clouds (1995)
1h 43m Drama Romance
World War II vet Paul Sutton falls for a pregnant and unwed woman who persuades him -- during their first encounter -- to pose as her husband so she can face her family.
1h 39m Drama Romance
Harvard Law student Oliver Barrett IV and music student Jennifer Cavilleri share a chemistry they cannot deny - and a love they cannot ignore. Despite their opposite backgrounds, the young couple put their hearts on the line for each other. When they marry, Oliver's wealthy father threatens to disown him. Jenny tries to reconcile the Barrett men, but to no avail.
25.
Stanley & Iris (1990)
1h 44m Drama Romance
An illiterate cook at a company cafeteria tries for the attention of a newly widowed woman. As they get to know one another, she discovers his inability to read. When he is fired, she takes on trying to teach him to read in her kitchen each night.
26.
Sweet November (2001)
1h 59m Drama Romance
Nelson is a man devoted to his advertising career in San Francisco. One day, while taking a driving test at the DMV, he meets Sara. She is very different from the other women in his life. Nelson causes her to miss out on taking the test and later that day she tracks him down. One thing leads to another and Nelson ends up living with her through a November that will change his life forever.
1h 56m Romance Drama
Two young kids fall in love with each other. But the passion is too consuming for the parents of Jade. The parents try to stop them from seeing each other. But when this doesn't work, David burns down the house and is sent away. This doesn't stop him from seeing her. When he gets out he goes to look for her. But the passion for his first love is too strong and she has to leave.
explore
Check out more list from our community