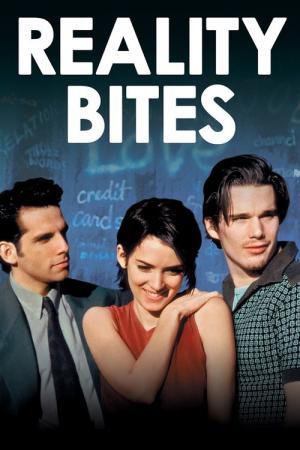 26 Best Movies Like Reality Bites ...
If you liked this movie , you will probably love these too! In this collection we highlight some of the best films that share a very similar mood to '', and are worth checking out.
1h 39m Comedy Drama Romance
Romantic comedy about six of Seattle's young people, most of whom live in the same apartment building and whose lives revolve around the city's ever-expanding music scene. The interrelated stories about each character's progress through the singles scene are intriguing and often very funny, and the soundtrack is a grunge fanatic's dream, with the likes of Soundgarden, Pearl Jam and Mudhoney.
2.
St. Elmo's Fire (1985)
1h 50m Drama Romance Comedy
A group of friends graduate from the halls of Georgetown University into lives that revolve around sex, paychecks, and career aspirations. Kirby waits tables to pay for law school. His roommate Kevin struggles at a D.C. newspaper as he lusts after the stylish Jules. Jules may be an object of adoration and envy, but secretly she has problems of her own. Demure Wendy is in love with Billy—a sax player and an irresponsible drunk. Alex wants it all: a career in politics and the appearance of a traditional home life. Alex's girlfriend, Leslie, is an ambitious architect who doesn't know about his infidelity, but his new allegiance to the Republican Party is already enough to put her off marriage.
1h 41m Comedy Drama Romance
It's New York City in 1981, and various twentysomethings are converging on a New Year's Eve party.
4.
How to Make an American Quilt (1995)
1h 56m Drama Romance
Soon-to-be-wed graduate student Finn Dodd develops cold feet when she suspects her fiancé is cheating on her. In order to clear her head, Finn visits her grandmother, Hy, and great aunt, Glady Joe Cleary, in Grasse, Calif. There, Finn learns that Hy and Glady Joe are members of a group of passionate quilters, and over the course of her visit she is regaled with tales of love and life by women who have collected rich experiences and much wisdom.
5.
About Last Night... (1986)
1h 53m Comedy Drama Romance
A man and woman meet and try to have a romantic affair, despite their personal problems and the interference of their disapproving friends.
6.
She's Having a Baby (1988)
1h 39m Comedy Drama Romance
A radical student is adopted by a group of young New Yorkers, serves as a catalyst to alter his and their lives. Gathering in a Manhattan apartment, the group of friends meet to discuss social mobility, Fourier's socialism and play bridge in their cocoon of upper-class society - until they are joined by a man with a critical view of their way of life.
1h 34m Comedy Drama Romance
Ryan and Jennifer are opposites who definitely do not attract. At least that's what they always believed. When they met as twelve-year-olds, they disliked one another. When they met again as teenagers, they loathed each other. But when they meet in college, the uptight Ryan and the free-spirited Jennifer find that their differences bind them together and a rare friendship develops.
1h 32m Drama Comedy Romance
Two friends travel from town to town taking jobs as dishwashers until they both find love and must choose separate paths.
10.
Friends & Lovers (1999)
4m Animation Comedy
This action and adventure comedy is drawn in simple appearance and combines cute forest animals with extreme graphic violence. Each episode revolves around the characters enduring accidental events of bloodshed, pain, dismemberment and/or death.
11.
How Do You Know (2010)
2h 1m Comedy Drama Romance
After being cut from the USA softball team and feeling a bit past her prime, Lisa finds herself evaluating her life and in the middle of a love triangle, as a corporate guy in crisis competes with her current, baseball-playing beau.
1h 28m Comedy Drama Romance
Paper Heart follows Nick and Charlyne on a cross-country journey to document what exactly "love" is. Interviewing ministers, happily married couples, chemists, romance novelists, divorce lawyers, a group of children and more, the determined young girl attempts to find definition and perhaps even experience the mysterious emotion.
13.
Celeste & Jesse Forever (2012)
1h 31m Comedy Drama Romance
Celeste and Jesse met in high school and got married young. They laugh at the same jokes and finish each other's sentences. They are forever linked in their friends' minds as the perfect couple – she, a high-powered businesswoman and budding novelist; he, a free spirit who keeps things from getting boring. Their only problem is that they have decided to get divorced. Can their perfect relationship withstand this minor setback?
14.
Kicking and Screaming (1995)
1h 36m Comedy Drama Romance
After college graduation, Grover's girlfriend Jane tells him she's moving to Prague to study writing. Grover declines to accompany her, deciding instead to move in with several friends, all of whom can't quite work up the inertia to escape their university's pull. Nobody wants to make any big decisions that would radically alter his life, yet none of them wants to end up like Chet, the professional student who tends bar and is in his tenth year of university studies.
15.
A Night in the Life of Jimmy Reardon (1988)
1h 30m Drama Romance
A recent high school graduate is faced with two options, either go to a business school where his father wants him to go to, or get a full time job. However he decides to defy his father and go to Hawaii. Trouble is he has no money. Along the way he comes to understand his parents and eventually bonds with his father.
1h 35m Romance Comedy
A 29-year-old lawyer and her lesbian best friend experience a dramatic shift in their longtime bond after one enters a serious relationship.
1h 29m Drama Comedy
Unsure of what to do next, 23-year-old Marnie tries her best to navigate life after college. Still partying like there's no tomorrow, Marnie drags herself out of bed for her miserable temp job and can't decide whether she's wasting her time going after best buddy Alex, who doesn't seem to be interested.
18.
The Pallbearer (1996)
1h 37m Comedy Romance
Aspiring architect Tom Thompson is told by mysterious Ruth Abernathy that his best friend, "Bill," has taken his own life. Except that Tom has never met Bill and neither have his incredulous friends. So when Tom foolishly agrees to give the eulogy at Bill's funeral, it sets him on a collision course with Ruth -- who is revealed to be Bill's oversexed mother -- and Julie DeMarco, the longtime crush Tom hasn't seen since they were teens.
1h 33m Comedy Drama
When a beautiful first-grade teacher arrives at a prep school, she soon attracts the attention of an ambitious teenager named Max, who quickly falls in love with her. Max turns to the father of two of his schoolmates for advice on how to woo the teacher. However, the situation soon gets complicated when Max's new friend becomes involved with her, setting the two pals against one another in a war for her attention.
1h 32m Comedy Romance
Joe and Lucy are roommates and best friends. Lucy, whose love life is embarrassingly dull, convinces Joe, who is infatuated with a neighbor he's never met, that if they don't have stable romances within a month, they must jump off the Brooklyn Bridge.
1h 35m Comedy Drama Romance
The story of a college student with an "Annie Hall" addiction trying to make his new relationship work.
1h 50m Comedy Drama
Set in 1959, Diner shows how five young men resist their adulthood and seek refuge in their beloved Diner. The mundane, childish, and titillating details of their lives are shared. But the golden moments pass, and the men shoulder their responsibilities, leaving the Diner behind.
23.
The Truth About Cats & Dogs (1996)
1h 33m Comedy Romance
A successful veterinarian and radio show host with low self-esteem asks her model friend to impersonate her when a handsome man wants to see her.
24.
Hannah Takes the Stairs (2007)
1h 23m Drama Romance
Hannah is a recent college graduate interning at a Chicago production company. She is crushing on two writers at work, Matt and Paul, who share an office and keep her entertained. Will a relationship with one of them disrupt the delicate balance of their friendship?
1h 46m Comedy Drama Romance
In the panicky, uncertain hours before his wedding, a groom with prenuptial jitters and his two best friends reminisce about growing up together in the middle-class African-American neighborhood of Inglewood, California. Flashing back to the twenty-something trio's childhood exploits, the memories capture the mood and nostalgia of the '80s era.
explore
Check out more list from our community