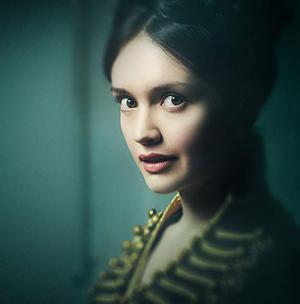 14 Best Movies Like Vanity Fair ...
If you liked this movie , you will probably love these too! In this list we highlight some of the best films that share a very similar mood to 'Vanity Fair', and are worth checking out.
1.
Sense and Sensibility (1995)
2h 16m Drama Romance
Rich Mr. Dashwood dies, leaving his second wife and her daughters poor by the rules of inheritance. Two daughters are the titular opposites.
2.
The Crimson Petal and the White (2011)
1h Drama
Follow Sugar into the underbelly of Victorian London seething with vitality, sexuality, ambition and emotion.
3.
Pride & Prejudice (2005)
2h 7m Drama Romance
A story of love and life among the landed English gentry during the Georgian era. Mr. Bennet is a gentleman living in Hertfordshire with his overbearing wife and five daughters, but if he dies their house will be inherited by a distant cousin whom they have never met, so the family's future happiness and security is dependent on the daughters making good marriages.
2h 14m Romance Drama
Edwardian England. A precocious girl from a poor background with aspirations to being a novelist finds herself swept to fame and fortune when her tasteless romances hit the best seller lists. Her life changes in unexpected ways when she encounters an aristocratic brother and sister, both of whom have cultural ambitions, and both of whom fall in love with her.
1h 52m Drama Romance
When spirited young woman, Fanny Price is sent away to live on the great country estate of her rich cousins, she's meant to learn the ways of proper society. But while Fanny learns 'their' ways, she also enlightens them with a wit and sparkle all her own.
2h 21m Drama Romance
Beautiful, funny, passionate, and calculating, Becky is the orphaned daughter of a starving English artist and a French chorus girl. She yearns for a more glamorous life than her birthright promises and resolves to conquer English society by any means possible. A mere ascension into the heights of society is simply not enough. So Becky finds a patron in the powerful Marquess of Steyne whose whims enable Becky to realise her dreams. But is the ultimate cost too high for her?
1h 48m Comedy Drama Romance
Cousin Bette is a poor and lonely seamstress, who, after the death of her prominent and wealthy sister, tries to ingratiate herself into lives of her brother-in-law, Baron Hulot, and her niece, Hortense Hulot. Failing to do so, she instead finds solace and company in a handsome young sculptor she saves from starvation. But the aspiring artist soon finds love in the arms of another woman, Hortense, leaving Bette a bitter spinster. Bette plots to take revenge on the family who turned her away and stole her only love. With the help of famed courtesan Jenny Cadine she slowly destroys the lives of those who have scorned her.
2h Drama Romance
After a bleak childhood, Jane Eyre goes out into the world to become a governess. As she lives happily in her new position at Thornfield Hall, she meet the dark, cold, and abrupt master of the house, Mr. Rochester. Jane and her employer grow close in friendship and she soon finds herself falling in love with him. Happiness seems to have found Jane at last, but could Mr. Rochester's terrible secret be about to destroy it forever?
9.
Great Expectations (2012)
2h 8m Drama Romance
Miss Havisham, a wealthy spinster who wears an old wedding dress and lives in the dilapidated Satis House, asks Pip's 'Uncle Pumblechook' to find a boy to play with her adopted daughter Estella. Pip begins to visit Miss Havisham and Estella, with whom he falls in love, then Pip—a humble orphan—suddenly becomes a gentleman with the help of an unknown benefactor.
10.
Far from the Madding Crowd (2015)
1h 59m Drama Romance
Based on the literary classic by Thomas Hardy. Bathsheba Everdene, attracts three very different suitors: Gabriel Oak, a sheep farmer, captivated by her fetching willfulness; Frank Troy, a handsome and reckless Sergeant; and William Boldwood, a prosperous and mature bachelor. This timeless story of Bathsheba's choices and passions explores the nature of relationships and love – as well as the human ability to overcome hardships through resilience and perseverance.
1h 55m Drama Romance
When the father of privileged Rosina da Silva violently dies, she decides to pass herself off as a gentile and finds employment with a family in faraway Scotland. Soon she and the family father, Charles, start a passionate secret affair.
1h 52m Drama Romance
Jane Eyre is an orphan cast out as a young girl by her aunt, Mrs. Reed, and sent to be raised in a harsh charity school for girls. There she learns to be come a teacher and eventually seeks employment outside the school. Her advertisement is answered by the housekeeper of Thornfield Hall, Mrs. Fairfax.
1h 6m Drama
A chronicle of the lives of the aristocratic Crawley family and their servants in the post-Edwardian era—with great events in history having an effect on their lives and on the British social hierarchy.
14.
The Portrait of a Lady (1996)
2h 24m Drama Romance
Ms. Isabel Archer isn't afraid to challenge societal norms. Impressed by her free spirit, her kindhearted cousin writes her into his fatally ill father's will. Suddenly rich and independent, Isabelle ventures into the world, along the way befriending a cynical intellectual and romancing an art enthusiast. However, the advantage of her affluence is called into question when she realizes the extent to which her money colors her relationships.
explore
Check out more list from our community