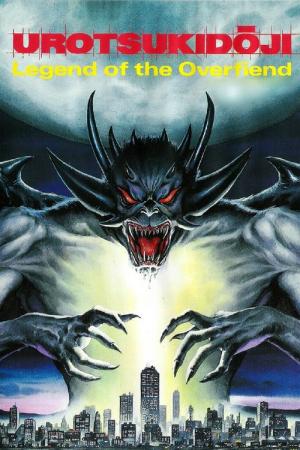 18 Best Urotsukidoji Iii ...
If you liked this film , you will definitely love these too! In this collection we highlight some of the best films that share a very similar mood to '', and are worth checking out.
1.
Berserk: The Golden Age Arc III - The Advent (2013)
1h 50m Action Adventure Drama Fantasy Animation
A year has passed since Guts parted ways with the Band of the Hawks. Meanwhile, his former mercenary group is plotting a rescue mission to save an imprisoned Griffith.
1h 22m Animation Action Fantasy Horror
A peace treaty between the Earth and the Black World, a parallel universe of demons, is coming to an end. Two cops, Taki, a human male, and Maki, a female demon, are assigned to protect a diplomat who will help secure another treaty. A radical group of demons from the Black World are out to assassinate the diplomat and prevent the treaty; only the bond that forms between the two cops can save the Earth from destruction.
3.
Twilight of the Dark Master (1997)
4.
Where The Dead Go to Die (2012)
A strange virus known as the Demon Virus, attacks the human genetic code, transforming people into monsters with demonic powers. One particular monster is terrorizing the streets of Tokyo. ripping open young women to devour their livers. A famed psychic holds the secret to the identity and purpose of this monster. Now it is up to two molecular biologists. self-proclaimed Bio Hunters Komada and Koshigaya, to reach the psychic and his beautiful daughter before its too late! The Demon Virus is out to conquer the world.
6.
Demon City Shinjuku (1988)
1h 20m Action Fantasy Animation Horror TV Movie
Kyoya's father was a great warrior, killed at the hands of the diabolical psychic, Rebi Ra, who has now opened a portal to hell in the city of Shinjuku. It falls to Kyoya to finish what his father started and battle his way through demons, while protecting a young woman from harm. The only problem is that he's not exactly your classic hero type, and his powers are still latent.
7.
Belladonna of Sadness (1973)
9.
Devilman Volume 3: Devilman Apocalyps (2000)
10.
Berserk: The Golden Age Arc II - The Battle for Doldrey (2012)
1h 38m Action Adventure Drama Fantasy Animation
The Band of the Hawk participates in the Midland war campaign. On the bloody battlefield, they conquer decisive victories that lead them to Doldrey, an old fortress that will decide the outcome of the war.
11.
Attack on Titan: The Wings of Freedom (2015)
13.
Attack on Titan: Chronicle (2020)
2h 2m Animation Action Fantasy Adventure
In the fourth recap movie, episodes 1-59 of the anime are retold, compiling the first three seasons of the anime into one two hour event.
1h 35m Science Fiction Action Animation
Somewhere in Tokyo, there is a room. In that room is a black sphere. Periodically, people who should otherwise have died are transferred to the room. There, the sphere gives them special suits and weapons, and sends them out on a mission to kill aliens here on Earth. While these missions take place, the rest of the world is largely oblivious to them. These missions are lethal - few participants survive them. The sphere calls the shots, and it's not the slightest bit nice. Its name... Gantz.
15.
Attack on Titan: The Roar of Awakening (2018)
50m Animation Action Science Fiction
In a futuristic Tokyo, several policewomen fight a monster. One of them, Katsumi Liqueur, remembers where she saw it before... Katsumi Liqueur, an American-born woman of Japanese descent, travels to Tokyo to visit her mother, Fuyuka, who is sick in the hospital. She takes a shortcut through an alley after her taxi gets stuck in traffic, only to encounter a monster and two policewomen fighting it. Later, she meets their chief, Rally Cheyenne, who, it seems, has been expecting her, though Katsumi has never met her before. The policewomen want Katsumi to help them fight the monster, but Katsumi, who does not want to believe in magic, resists.
17.
Vampire Hunter D: Bloodlust (2000)
1h 43m Animation Fantasy Horror Action
D has been hired to track down Meier Link, a notoriously powerful vampire who has abducted a woman, Charlotte Elbourne. D's orders are strict - find Charlotte, at any cost. For the first time, D faces serious competition. The Markus Brothers, a family of Vampire Hunters, were hired for the same bounty. D Must intercept Meier and conquer hostile forces on all sides in a deadly race against time.
explore
Check out more list from our community