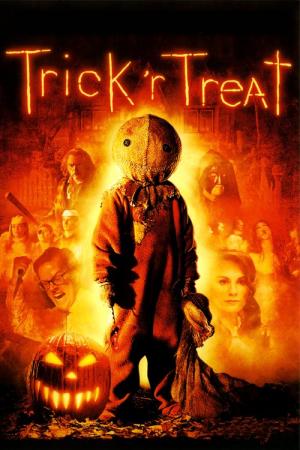 12 Best Movies Like Trick R Treat ...
If you liked 'Trick 'r Treat', you will love these movies! In this selection we highlight some of the best films that share a very similar premise to 'Trick 'r Treat', and are worth checking out.
1.
Urban Legends: Final Cut (2000)
The making of a horror movie takes on a terrifying reality for students at the most prestigious film school in the country. At Alpine University, someone is determined to win the best film award at any cost - even if it means eliminating the competition. No one is safe and everyone is a suspect.
1h 37m
Director: John Ottman
Screenplay: Paul Harris Boardman
Screenplay: Scott Derrickson
Horror Mystery Thriller
2.
The Texas Chainsaw Massacre 2 (1986)
Chainsaw-wielding maniac Leatherface is up to his cannibalistic ways once again, along with the rest of his twisted clan, including the equally disturbed Chop-Top. This time, the masked killer has set his sights on pretty disc jockey Vanita "Stretch" Brock, who teams up with Texas lawman Lefty Enright to battle the psychopath and his family deep within their lair, a macabre abandoned amusement park.
1h 41m
Director, Screenplay: Tobe Hooper
Screenplay: L.M. Kit Carson
Comedy Horror
Having eluded the authorities after a series of grisly murders, the pair find sanctuary at the palatial home of Granny Ruth, an eccentric philanthropist who rallies the cause of "Unique Individuals". But even amongst "friends" the pair soon find themselves having to confront their murderous past.
1h 30m
Director, Writer: Frank Henenlotter
Horror Comedy
A young couple's quest to rent the scariest movie on DVD on Halloween eve results in a real life horror show they may live to regret!
1h 30m
Director, Writer: Carl Morano
Director, Writer: John Carchietta
Horror
While searching for a way out of the woods, a group of lost friends stumble upon Camp Hiawatha and take up with the teens who are bunking there. But the party's over when they discover that this camp is literally stuck in a time warp -- 1981, to be exact -- and that they're living the same horrible day over and over. Can they escape the wrath of a killer who's silently stalking the campers and their terrified counselors?
1h 34m
Director: Alex Pucci
Writer: Draven Gonzalez
Horror Comedy
8.
Behind the Mask: The Rise of Leslie Vernon (2006)
The next great psycho horror slasher has given a documentary crew exclusive access to his life as he plans his reign of terror over the sleepy town of Glen Echo, all the while deconstructing the conventions and archetypes of the horror genre for them.
1h 32m
Director, Screenplay: Scott Glosserman
Screenplay: David J. Stieve
Comedy Horror Thriller
9.
Bride of Chucky (1998)
Chucky hooks up with another murderous doll, the bridal gown-clad Tiffany, for a Route 66 murder spree with their unwitting hosts.
1h 29m
Director: Ronny Yu
Screenplay: Don Mancini
Horror Comedy
A detective tries to track down a masked killer who reappears every Halloween to wreak bloody havoc.
1h 46m
Director, Writer: Patrick Lussier
Writer: Todd Farmer
Thriller Horror
Inspired by the E.C. comics of the 1950s, George A. Romero and Stephen King bring five tales of terror to the screen.
2h
Director: George A. Romero
Screenplay: Stephen King
Horror Comedy
12.
The Pumpkin Karver (2006)
explore
Check out more list from our community