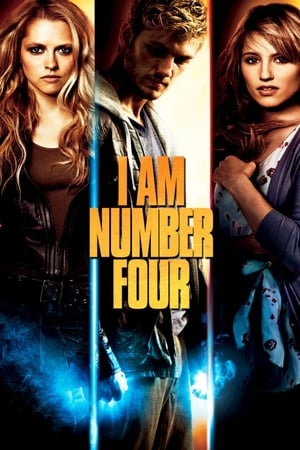 13 Best Movies Like I Am Number Four ...
If you liked this movie , you will for sure love these too! In this list we highlight some of the best films that share a very similar mood to 'I Am Number Four', and are worth checking out.
1h 28m Action Adventure Science Fiction
David Rice is a man who knows no boundaries, a Jumper, born with the uncanny ability to teleport instantly to anywhere on Earth. When he discovers others like himself, David is thrust into a dangerous and bloodthirsty war while being hunted by a sinister and determined group of zealots who have sworn to destroy all Jumpers. Now, David's extraordinary gift may be his only hope for survival!
1h 54m Adventure Action Thriller Science Fiction
For centuries, a small but powerful force of warriors called the Green Lantern Corps has sworn to keep intergalactic order. Each Green Lantern wears a ring that grants him superpowers. But when a new enemy called Parallax threatens to destroy the balance of power in the Universe, their fate and the fate of Earth lie in the hands of the first human ever recruited.
3.
Guardians of the Galaxy (2014)
2h 1m Action Science Fiction Adventure
Light years from Earth, 26 years after being abducted, Peter Quill finds himself the prime target of a manhunt after discovering an orb wanted by Ronan the Accuser.
1h 59m Action Adventure Science Fiction Thriller
Beatrice Prior must confront her inner demons and continue her fight against a powerful alliance which threatens to tear her society apart.
2h 5m Action Adventure Romance Science Fiction Thriller
A parasitic alien soul is injected into the body of Melanie Stryder. Instead of carrying out her race's mission of taking over the Earth, "Wanda" (as she comes to be called) forms a bond with her host and sets out to aid other free humans.
6.
Vampire Academy (2014)
1h 44m Comedy Action Fantasy
Rose, a rebellious half-vampire/half-human guardian-in-training and her best friend, Lissa -- a mortal, royal vampire Princess - have been on the run when they are captured and returned to St. Vladamirs Academy, the very place where they believe their lives may be in most jeopardy. Rose will sacrifice everything to protect Lissa from those who intend to exploit her from within the Academy walls and the Strigoi (immortal, evil vampires) who hunt her kind from outside its sanctuary.
2h 19m Action Adventure Science Fiction
In a world divided into factions based on personality types, Tris learns that she's been classified as Divergent and won't fit in. When she discovers a plot to destroy Divergents, Tris and the mysterious Four must find out what makes Divergents dangerous before it's too late.
8.
The Tomorrow People (2013)
1h Drama Sci-Fi & Fantasy
The story of several young people from around the world who represent the next stage in human evolution, possessing special powers, including the ability to teleport and communicate with each other telepathically. Together they work to defeat the forces of evil.
9.
The Shannara Chronicles (2016)
45m Action & Adventure Sci-Fi & Fantasy
A young Healer armed with an unpredictable magic guides a runaway Elf in her perilous quest to save the peoples of the Four Lands from an age-old Demon scourge.
22m Documentary
While Senator Kelly addresses a senate committee about the supposed mutant menace, we learn about the making of the movie, X-Men.
11.
The Maze Runner (2014)
1h 53m Action Mystery Science Fiction Thriller
Set in a post-apocalyptic world, young Thomas is deposited in a community of boys after his memory is erased, soon learning they're all trapped in a maze that will require him to join forces with fellow "runners" for a shot at escape.
1h 40m Adventure Comedy Family
Set in a world where superheroes are commonly known and accepted, young Will Stronghold, the son of the Commander and Jetstream, tries to find a balance between being a normal teenager and an extraordinary being.
13.
Jupiter Ascending (2015)
2h 7m Science Fiction Fantasy Action Adventure
In a universe where human genetic material is the most precious commodity, an impoverished young Earth woman becomes the key to strategic maneuvers and internal strife within a powerful dynasty…
explore
Check out more list from our community