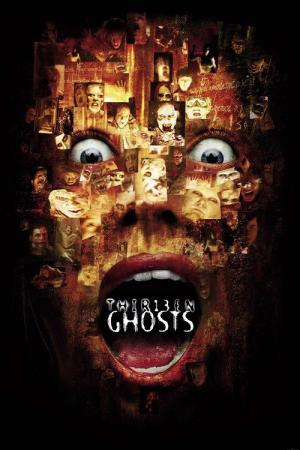 10 Best Movies Like Thirteen Ghosts ...
If you liked this film , you will definitely love these too! In this list we highlight some of the best films that share a very similar mood to 'Thir13en Ghosts', and are worth checking out.
1.
House on Haunted Hill (1999)
1h 33m Horror Mystery Thriller
A remake of the 1959 film of the same name. A millionaire offers a group of diverse people $1,000,000 to spend the night in a haunted house with a horrifying past.
2.
Amityville Dollhouse (1996)
1h 33m Horror
A dollhouse that is a replica of the infamous Amityville haunted house is given to a little girl. Soon after, all sorts of horrible unexplained accidents start to happen. The family must work together to fight off the terrifying evil that has inhabited their lives.
1h 44m Horror
A man who specializes in debunking paranormal occurrences checks into the fabled room 1408 in the Dolphin Hotel. Soon after settling in, he confronts genuine terror.
4.
Flesh for the Beast (2003)
1h 29m Horror
Six parapsychologists investigate a reputed haunted mansion and are set upon by three flesh-eating succubus ladies under the control of the sinister warlock owner bent on finding a mysterious amulet to give himself more power.
5.
Final Destination 5 (2011)
1h 32m Horror Mystery
In this fifth installment, Death is just as omnipresent as ever, and is unleashed after one man's premonition saves a group of coworkers from a terrifying suspension bridge collapse. But this group of unsuspecting souls was never supposed to survive, and, in a terrifying race against time, the ill-fated group frantically tries to discover a way to escape Death's sinister agenda.
6.
The Woman in Black (2012)
1h 35m Drama Horror Thriller
The story follows a young lawyer, Arthur Kipps, who is ordered to travel to a remote village and sort out a recently deceased client's papers. As he works alone in the client's isolated house, Kipps begins to uncover tragic secrets, his unease growing when he glimpses a mysterious woman dressed only in black. Receiving only silence from the locals, Kipps is forced to uncover the true identity of the Woman in Black on his own, leading to a desperate race against time when he discovers her true identity.
1h 18m Drama Horror
Brian Everett's younger brother Sam goes missing on the island of Tasmania during the middle of a mysterious quarantine forcing Brian to traverse across enemy lines to save his brother from an army of ghosts.
8.
Curse of the Puppet Master (1998)
1h 30m Horror
Robert "Tank" begins to work for Dr. Magrew sculpting a puppet for the Doctor to bring to life using the work of Andre Toulon. Robert begins to fall in love with the Doctors daughter, Jane. Unbeknownst to Robert the Doctor is trying to create a "perfect race" of puppet humans. Jane discovers a "matt puppet" which is from his first assistant. She comes back just in time to see her father, cut up by the puppets, has succeeded in putting a living human, Robert, into the puppet he carved.
1h 30m Horror Science Fiction
The Djinn having been released from his ancient prison seeks to capture the soul of the woman who discovered him, thereby opening a portal and freeing his fellow Djinn to take over the earth.
2h 5m Horror Mystery
In search for answers, a mother travels to the enigmatic town of Silent Hill when her daughter begins to suffer recurring nightmares related to the place. It doesn't take long for her to discover its home to beings as equally haunting as the town itself.
explore
Check out more list from our community