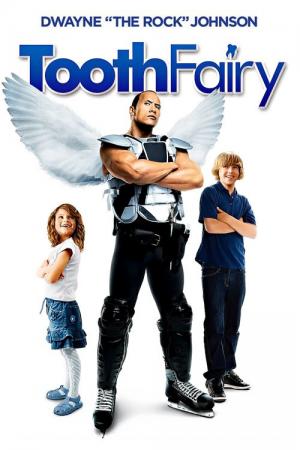 13 Best Movies Like The Tooth Fairy ...
If you liked this film , you will probably love these too! In this list we highlight some of the best films that share a very similar mood to 'Tooth Fairy', and are worth checking out.
1.
Little Monsters (1989)
1h 42m Adventure Fantasy Comedy Family
A young boy is scared of the monster under his bed. He asks his 6th grade brother to swap rooms for the night as a bet that the monster really exists. Soon the brother becomes friends with the monster and discovers a whole new world of fun and games under his bed where pulling pranks on kids and other monsters is the main attraction.
1h 50m Fantasy Comedy Family
Recently orphaned, a young boy is taken in by his godmother who is shocked to realize that she can see the boy's imaginary friend: a flamboyant, French magician named Bogus.
1h 27m Comedy Family Romance Fantasy
A group of beavers ask Dr. Dolittle to save their habitat from loggers. The only hope is to get the forest preserved because it's the home of a protected bear, but there's a problem: the bear's the only bear in the forest, so she can't reproduce. Undaunted, Dolittle persuades a circus bear to help out, but he has to teach him not just the ways of the wild, but the wiles of lady bears too.
4.
The Mighty Ducks (1992)
1h 41m Comedy Family Drama
After reckless young lawyer Gordon Bombay gets arrested for drunk driving, he must coach a kids hockey team for his community service. Gordon has experience on the ice, but isn't eager to return to hockey, a point hit home by his tense dealings with his own former coach, Jack Reilly. The reluctant Gordon eventually grows to appreciate his team, which includes promising young Charlie Conway, and leads them to take on Reilly's tough players.
5.
Alexander and the Terrible, Horrible, No Good, Very Bad Day (2014)
1h 21m Family Comedy
Alexander's day begins with gum stuck in his hair, followed by more calamities. Though he finds little sympathy from his family and begins to wonder if bad things only happen to him, his mom, dad, brother, and sister all find themselves living through their own terrible, horrible, no good, very bad day.
6.
Mr. Magorium's Wonder Emporium (2007)
1h 33m Family Fantasy Comedy
Molly Mahoney is the awkward and insecure manager of Mr. Magorium's Wonder Emporium—the strangest, most fantastic and most wonderful toy store in the world. After Mr. Magorium bequeaths the store to her, a dark and ominous change begins to take over the once-remarkable Emporium.
1h 48m Comedy Family Fantasy
Roberto Benigni adapts the classic children's tale by Carlo Collodi for the big-budget family-oriented comedy Pinocchio.
8.
Angels in the Outfield (1994)
1h 42m Comedy Drama Family Fantasy
Roger is a foster child whose irresponsible father promises to get his act together when Roger's favourite baseball team, the California Angels, wins the pennant. The problem is that the Angels are in last place, so Roger prays for help to turn the team around. Sure enough, his prayers are answered in the form of angel Al.
1h 38m Comedy Family
The tale of a workaholic dad-turned-dog who finds that being man's best friend shows him the most important job - being a great dad.
1h 26m Adventure Comedy Family Fantasy
Murray is a male fairy godmother, and he is trying to help 8-year-old Anabel to fulfil her "simple wish" - that her father Oliver, who is a cab driver, would win the leading role in a Broadway musical. Unfortunately, Murray's magic wand is broken and the fairies convention is threatened by evil witches Claudia and Boots.
11.
Jungle 2 Jungle (1997)
1h 37m Comedy Family
Uptight New York City executive, Michael Cromwell, pursues his soon-to-be ex-wife to South America and returns home with the son he never knew he had -- a boy raised in a tribal village in Brazil. Armed with only his blowgun, the 13-year-old Mimi-Siku discovers that the world outside his jungle home is indeed a strange place.
12.
Night at the Museum (2006)
1h 48m Action Adventure Comedy Family Fantasy
Chaos reigns at the natural history museum when night watchman Larry Daley accidentally stirs up an ancient curse, awakening Attila the Hun, an army of gladiators, a Tyrannosaurus rex and other exhibits.
13.
Rookie of the Year (1993)
1h 43m Comedy Family
12-year-old Henry Rowengartner, whose late father was a minor league baseball player, grew up dreaming of playing baseball, despite his physical shortcomings. After Henry's arm is broken while trying to catch a baseball at school, the tendon in that arm heals too tightly, allowing Henry to throw pitches that are as fast as 103 mph. Henry is spotted at nearby Wrigley Field by Larry "Fish" Fisher, the general manager of the struggling Chicago Cubs, after Henry throws an opponent's home-run ball all the way from the outfield bleachers back to the catcher, and it seems that Henry may be the pitcher that team owner Bob Carson has been praying for.
explore
Check out more list from our community