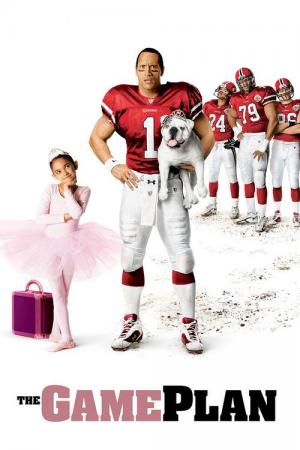 26 Best Movies Like The Game Plan ...
If you liked this movie , you will definitely love these too! In this selection we highlight some of the best films that share a very similar premise to '', and are worth checking out.
1h 32m Comedy Family
Two men get laid off and have to become stay-at-home dads when they can't find jobs, which inspires them to open their own day-care center.
1h 41m Comedy Family Fantasy
When minor-league hockey player Derek Thompson -- who has a penchant for knocking out his opponents' teeth every time he plays -- disillusions a fan, he is sentenced to a stint for one week as a bona fide, tutu-clad, real-life tooth fairy. Soon, Derek is inspired to rekindle his youthful dreams.
3.
Yours, Mine & Ours (2005)
1h 30m Comedy Family Romance
Admiral Frank Beardsley returns to New London to run the Coast Guard Academy, his last stop before a probable promotion to head the Guard. A widower with eight children, he runs a loving but tight ship, with charts and salutes. The kids long for a permanent home. Helen North is a free spirit, a designer whose ten children live in loving chaos, with occasional group hugs. Helen and Frank, high school sweethearts, reconnect at a reunion, and it's love at first re-sighting. They marry on the spot. Then the problems start as two sets of kids, the free spirits and the disciplined preppies, must live together. The warring factions agree to work together to end the marriage.
2h 5m Comedy Drama Family
Loving but irresponsible dad Daniel Hillard, estranged from his exasperated spouse, is crushed by a court order allowing only weekly visits with his kids. When Daniel learns his ex needs a housekeeper, he gets the job -- disguised as an English nanny. Soon he becomes not only his children's best pal but the kind of parent he should have been from the start.
1h 47m Comedy Family
When Danny O'Shea's daughter is cut from the Peewee football team just for being a girl, he decides to form his own team, composed of other ragtag players who were also cut. Can his team really learn enough to beat the elite team, coached by his brother, a former pro player?
1h 28m Comedy Family
Charlie and Dan have been best friends and business partners for thirty years; their Manhattan public relations firm is on the verge of a huge business deal with a Japanese company. With two weeks to sew up the contract, Dan gets a surprise: a woman he married on a drunken impulse nearly nine years before (annulled the next day) shows up to tell him he's the father of her twins, now seven, and she'll be in jail for 14 days for a political protest. Dan volunteers to keep the tykes, although he's up tight and clueless. With Charlie's help is there any way they can be dad and uncle, meet the kids' expectations, and still land the account?
7.
Cheaper by the Dozen (2003)
1h 38m Comedy Family
The Baker brood moves to Chicago after patriarch Tom gets a job coaching football at Northwestern University, forcing his writer wife, Mary, and the couple's 12 children to make a major adjustment. The transition works well until work demands pull the parents away from home, leaving the kids bored -- and increasingly mischievous.
8.
Little Big League (1994)
1h 59m Comedy Family
When the owner of the Minnesota Twins passes away, he bequeaths the team to his preteen grandson. The newly minted head honcho quickly appoints himself manager, causing unrest in an organisation that struggles to take orders from a 12-year-old.
9.
Parental Guidance (2012)
1h 44m Comedy
Artie and Diane agree to look after their three grandkids when their type-A helicopter parents need to leave town for work. Problems arise when the kids' 21st-century behavior collides with Artie and Diane's old-school methods.
10.
Are We There Yet? (2005)
1h 35m Adventure Comedy Family Romance
The fledgling romance between Nick, a playboy bachelor, and Suzanne, a divorced mother of two, is threatened by a particularly harrowing New Years Eve. When Suzanne's work keeps her in Vancouver for the holiday, Nick offers to bring her kids to the city from Portland, Oregon. The kids, who have never liked any of the men their mom dates, are determined to turn the trip into a nightmare for Nick.
1h 43m Comedy Family
An acclaimed college hoops coach is demoted to a junior varsity team after a public meltdown.
1h 37m Comedy Family
A decade has passed in the small town where the original Sandlot gang banded together during the summer of '62 to play baseball and battle the Beast. Now comes the sequel, a campy romp back to the dugout where nine new kids descend on the diamond only to discover that a descendant of the Beast lives in Mr. Mertle's backyard--a monster of mythical proportions known as "The Great Fear."
13.
Rookie of the Year (1993)
1h 43m Comedy Family
12-year-old Henry Rowengartner, whose late father was a minor league baseball player, grew up dreaming of playing baseball, despite his physical shortcomings. After Henry's arm is broken while trying to catch a baseball at school, the tendon in that arm heals too tightly, allowing Henry to throw pitches that are as fast as 103 mph. Henry is spotted at nearby Wrigley Field by Larry "Fish" Fisher, the general manager of the struggling Chicago Cubs, after Henry throws an opponent's home-run ball all the way from the outfield bleachers back to the catcher, and it seems that Henry may be the pitcher that team owner Bob Carson has been praying for.
14.
Angels in the Outfield (1994)
1h 42m Comedy Drama Family Fantasy
Roger is a foster child whose irresponsible father promises to get his act together when Roger's favourite baseball team, the California Angels, wins the pennant. The problem is that the Angels are in last place, so Roger prays for help to turn the team around. Sure enough, his prayers are answered in the form of angel Al.
1h 34m Comedy Family
Jack Cooper (Matt LeBlanc) could be a world-class baseball pitcher if he didn't keep buckling under the pressure. He tries to keep his spirits up after he's traded to a minor league team but loses all hope when he discovers that Ed, one of his teammates, is a chimp. Ed used to be the team mascot, but was promoted to third base when the owners realized he had a talent for baseball. As Jack struggles to get used to his new surroundings, Ed helps him regain his confidence on and off the field.
16.
Home Run Showdown (2015)
17.
Man of the House (1995)
1h 36m Action Comedy Family
Ben Archer is not happy. His mother, Sandy, has just met a man, and it looks like things are pretty serious. Driven by a fear of abandonment, Ben tries anything and everything to ruin the "love bubble" which surrounds his mom. However, after Ben and Jack's experiences in the Indian Guides, the two become much closer.
18.
The Mighty Ducks (1992)
1h 41m Comedy Family Drama
After reckless young lawyer Gordon Bombay gets arrested for drunk driving, he must coach a kids hockey team for his community service. Gordon has experience on the ice, but isn't eager to return to hockey, a point hit home by his tense dealings with his own former coach, Jack Reilly. The reluctant Gordon eventually grows to appreciate his team, which includes promising young Charlie Conway, and leads them to take on Reilly's tough players.
19.
I Heart Shakey (2012)
1h 30m Family Comedy
Shakey is a family film about a 35-year-old widower named J.T. O'Neil, his precocious 10-year-old daughter and their devoted mutt Shakey. After moving from a small town to Chicago and missing the fine print in their rental contract, J.T. is forced to try and get rid of his lovable pooch. Shakey and Chandler won't have it and hatch a plan to keep Shakey and teach J.T. a valuable lesson about loyalty and the importance of keeping family together.
1h 36m Comedy Family
The California Atoms are in last place with no hope of moving up. But by switching the mule from team mascot to team member, (He can kick 100 yard field goals!) they start winning, and move up in the rankings, Hurrah! The competition isn't so happy.
21.
Air Bud: Golden Receiver (1998)
1h 30m Comedy Family
Josh and Buddy move from basketball to American football in this first of several sequels to the original Air Bud.
22.
Babysitters Beware (2009)
1h 11m Drama Comedy Family
Seven-year-old Danny Parker is a good kid who loves his parents. But they have to go out on business dinners all the time, leaving him stuck with a sitter. It's not so bad when it's his favorite babysitter, Janelle but he also gets stuck with sitters like Ms. Greene who won't let him have any fun. Danny just wants to spend more time with his Mom and Dad.
1h 47m Comedy
A comedy that spoofs the inspirational sports movies, The Comebacks tells the story of an out-of-luck coach, Lambeau Fields, who takes a rag-tag bunch of college misfits and drives them towards the football championships. In the process, this life-long loser discovers that he is a winner after all by redeeming himself, saving his relationship with his family and friends, and finding that there is indeed, no "I" in "team"!
25.
The Bad News Bears in Breaking Training (1977)
1h 40m Comedy Family
Sentimental sequel film finds the Bears, somehow, the little league champions of California. As a result, the team is invited to play a between-games exhibition at the Houston Astrodome with the local champs, the Toros. Kelly Leak, the Bears' star player, decides to rejoin the team and go with them to Houston to make amends with his estranged father, Mike
explore
Check out more list from our community