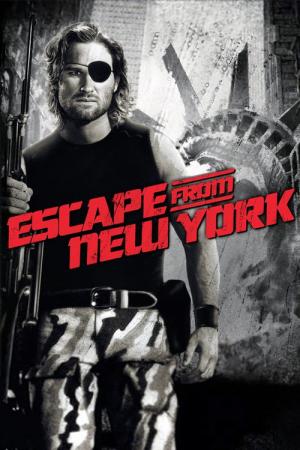 31 Best Movies Like Escape From New York ...
If you liked this one , you will for sure love these too! In this selection we highlight some of the best films that share a very similar premise to '', and are worth checking out.
1.
Escape from L.A. (1996)
1h 37m Action Adventure Science Fiction Thriller
This time, a cataclysmic temblor hits Los Angeles, turning it into an island. The president views the quake as a sign from above, expels Los Angeles from the country and makes it a penal colony for those found guilty of moral crimes. When his daughter, part of a resistance movement, steals the control unit for a doomsday weapon, Snake again gets tapped to save the day.
1h 35m Action Science Fiction
In the future, America is a dystopian wasteland. The latest scourge is Ma-Ma, a prostitute-turned-drug pusher with a dangerous new drug and aims to take over the city. The only possibility of stopping her is an elite group of urban police called Judges, who combine the duties of judge, jury and executioner to deliver a brutal brand of swift justice. But even the top-ranking Judge, Dredd, discovers that taking down Ma-Ma isn't as easy as it seems in this explosive adaptation of the hugely popular comic series.
3.
Terminator 2: Judgment Day (1991)
2h 17m Action Thriller Science Fiction
Nearly 10 years have passed since Sarah Connor was targeted for termination by a cyborg from the future. Now her son, John, the future leader of the resistance, is the target for a newer, more deadly terminator. Once again, the resistance has managed to send a protector back to attempt to save John and his mother Sarah.
1h 48m Action Thriller Science Fiction
In the post-apocalyptic future, reigning tyrannical supercomputers teleport a cyborg assassin known as the "Terminator" back to 1984 to kill Sarah Connor, whose unborn son is destined to lead insurgents against 21st century mechanical hegemony. Meanwhile, the human-resistance movement dispatches a lone warrior to safeguard Sarah. Can he stop the virtually indestructible killing machine?
5.
The Running Man (1987)
1h 41m Science Fiction Action Thriller
By 2017, the global economy has collapsed and U.S. society has become a totalitarian police state, censoring all cultural activity. The government pacifies the populace by broadcasting a number of game shows in which convicted criminals fight for their lives, including the gladiator-style The Running Man, hosted by the ruthless Damon Killian, where "runners" attempt to evade "stalkers" and certain death for a chance to be pardoned and set free.
1h 55m Crime Action Science Fiction
Simon Phoenix, a violent criminal cryogenically frozen in 1996, escapes during a parole hearing in 2032 in the utopia of San Angeles. Police are incapable of dealing with his violent ways and turn to his captor, who had also been cryogenically frozen after being wrongfully accused of killing 30 innocent people while apprehending Phoenix.
7.
Universal Soldier (1992)
1h 42m Thriller Action Science Fiction Crime
An American soldier who had been killed during the Vietnam War is revived 25 years later by the military as a semi-android, UniSols, a high-tech soldier of the future. After the failure of the initiative to erase all the soldier's memories, he begins to experience flashbacks that are forcing him to recall his past.
8.
Big Trouble in Little China (1986)
1h 39m Action Adventure Comedy Fantasy
When trucker Jack Burton agreed to take his friend, Wang Chi, to pick up his fiancee at the airport, he never expected to get involved in a supernatural battle between good and evil. Wang's fiancee has emerald green eyes, which make her a perfect target for immortal sorcerer Lo Pan and his three invincible cronies. Lo Pan must marry a girl with green eyes so he can regain his physical form.
9.
Executive Decision (1996)
2h 13m Action Adventure Drama Thriller
Terrorists hijack a 747 inbound to Washington D.C., demanding the release of their imprisoned leader. Intelligence expert David Grant (Kurt Russell) suspects another reason and he is soon the reluctant member of a special assault team that is assigned to intercept the plane and hijackers.
2h 8m Action Adventure Science Fiction
Decades after Sarah Connor prevented Judgment Day, a lethal new Terminator is sent to eliminate the future leader of the resistance. In a fight to save mankind, battle-hardened Sarah Connor teams up with an unexpected ally and an enhanced super soldier to stop the deadliest Terminator yet.
1h 30m Action Adventure Thriller
John Matrix, the former leader of a special commando strike force that always got the toughest jobs done, is forced back into action when his young daughter is kidnapped. To find her, Matrix has to fight his way through an array of punks, killers, one of his former commandos, and a fully equipped private army. With the help of a feisty stewardess and an old friend, Matrix has only a few hours to overcome his greatest challenge: finding his daughter before she's killed.
12.
Die Hard with a Vengeance (1995)
2h 8m Action Thriller
New York detective John McClane is back and kicking bad-guy butt in the third installment of this action-packed series, which finds him teaming with civilian Zeus Carver to prevent the loss of innocent lives. McClane thought he'd seen it all, until a genius named Simon engages McClane, his new "partner" -- and his beloved city -- in a deadly game that demands their concentration.
13.
Terminator 3: Rise of the Machines (2003)
1h 49m Action Thriller Science Fiction
It's been 10 years since John Connor saved Earth from Judgment Day, and he's now living under the radar, steering clear of using anything Skynet can trace. That is, until he encounters T-X, a robotic assassin ordered to finish what T-1000 started. Good thing Connor's former nemesis, the Terminator, is back to aid the now-adult Connor … just like he promised.
1h 56m Action Adventure Crime
Los Angeles SWAT cop Jack Traven is up against bomb expert Howard Payne, who's after major ransom money. First it's a rigged elevator in a very tall building. Then it's a rigged bus--if it slows, it will blow, bad enough any day, but a nightmare in LA traffic. And that's still not the end.
15.
Mad Max: Fury Road (2015)
2h 1m Action Adventure Science Fiction
An apocalyptic story set in the furthest reaches of our planet, in a stark desert landscape where humanity is broken, and most everyone is crazed fighting for the necessities of life. Within this world exist two rebels on the run who just might be able to restore order.
2h 17m Action Adventure Thriller
FBI chemical warfare expert Stanley Goodspeed is sent on an urgent mission with a former British spy, John Patrick Mason, to stop Gen. Francis X. Hummel from launching chemical weapons on Alcatraz Island into San Francisco. Gen. Hummel demands $100 million in war reparations to be paid to the families of slain servicemen who died on covert operations. After their SEAL team is wiped out, Stanley and John deal with the soldiers on their own.
17.
Mad Max 2: The Road Warrior (1981)
1h 36m Adventure Action Thriller Science Fiction
Max Rockatansky returns as the heroic loner who drives the dusty roads of a postapocalyptic Australian Outback in an unending search for gasoline. Arrayed against him and the other scraggly defendants of a fuel-depot encampment are the bizarre warriors commanded by the charismatic Lord Humungus, a violent leader whose scruples are as barren as the surrounding landscape.
1h 35m Action Thriller Science Fiction
Set in the near future, Lockout follows a falsely convicted ex-government agent , whose one chance at obtaining freedom lies in the dangerous mission of rescuing the President's daughter from rioting convicts at an outer space maximum security prison.
1h 36m Science Fiction
In a dystopian future, Dredd, the most famous judge (a cop with instant field judiciary powers) is convicted for a crime he did not commit while his murderous counterpart escapes.
20.
2019: After the Fall of New York (1983)
1h 36m Action Horror Science Fiction
After a nuclear war, society breaks down into two groups, the evil Euraks and the rebel Federation. A mercenary named Parsifal is hired by the Federation to infiltrate New York City, which is controlled by the Euraks, to rescue the only fertile woman left on Earth.
21.
The Fifth Element (1997)
2h 6m Adventure Fantasy Action Thriller Science Fiction
In 2257, a taxi driver is unintentionally given the task of saving a young girl who is part of the key that will ensure the survival of humanity.
22.
The Chronicles of Riddick (2004)
1h 59m Action Science Fiction
After years of outrunning ruthless bounty hunters, escaped convict Riddick suddenly finds himself caught between opposing forces in a fight for the future of the human race. Now, waging incredible battles on fantastic and deadly worlds, this lone, reluctant hero will emerge as humanity's champion - and the last hope for a universe on the edge of annihilation.
1h 58m Action Drama Science Fiction Thriller
In the year 2022, a ruthless prison warden has created the ultimate solution for his most troublesome and violent inmates: Absolom, a secret jungle island where prisoners are abandoned and left to die. But Marine Captain John Robbins, convicted of murdering a commanding officer, is determined to escape the island in order to reveal the truth behind his murderous actions and clear his name.
24.
The Scorch Trials (2015)
2h 11m Science Fiction Action Thriller
Thomas and his fellow Gladers face their greatest challenge yet: searching for clues about the mysterious and powerful organization known as WCKD. Their journey takes them to the Scorch, a desolate landscape filled with unimaginable obstacles. Teaming up with resistance fighters, the Gladers take on WCKD's vastly superior forces and uncover its shocking plans for them all.
1h 48m Action Thriller Science Fiction
The lethal Reaper virus spreads throughout Britain—infecting millions and killing hundreds of thousands. Authorities brutally and successfully quarantine the country but, three decades later, the virus resurfaces in a major city. An elite group of specialists is urgently dispatched into the still-quarantined country to retrieve a cure by any means necessary. Shut off from the rest of the world, the unit must battle through a landscape that has become a waking nightmare.
1h 31m Adventure Action Thriller Science Fiction
Taking place in a dystopian Australia in the near future, Mad Max tells the story of a highway patrolman cruising the squalid back roads that have become the breeding ground of criminals foraging for gasoline and scraps. After some grisly events at the hands of a motorcycle gang, Max sets out across the barren wastelands in search of revenge.
1h 48m Action
When rogue stealth-fighter pilot Vic Deakins deliberately drops off the radar while on maneuvers, the Air Force ends up with two stolen nuclear warheads -- and Deakins's co-pilot, Riley Hale, is the military's only hope for getting them back. Traversing the deserted canyons of Utah, Hale teams with park ranger Terry Carmichael to put Deakins back in his box.
1h 39m Action Adventure Comedy Science Fiction
When successful businessman Sam Treadwell finds that his android wife, Cherry model 2000 has blown a fuse, he hires sexy renegade tracker E. Johnson to find her exact duplicate. But as their journey to replace his perfect mate leads them into the treacherous and lawless region of 'The Zone', Treadwell learns the hard way that the perfect woman is made not of computer chips and diodes.
1h 43m Crime Drama
10 years after a global economic collapse, a hardened loner pursues the men who stole his car through the lawless wasteland of the Australian outback, aided by the brother of one of the thieves.
30.
The Purge: Anarchy (2014)
1h 44m Horror Thriller
One night per year, the government sanctions a 12-hour period in which citizens can commit any crime they wish -- including murder -- without fear of punishment or imprisonment. Leo, a sergeant who lost his son, plans a vigilante mission of revenge during the mayhem. However, instead of a death-dealing avenger, he becomes the unexpected protector of four innocent strangers who desperately need his help if they are to survive the night.
explore
Check out more list from our community