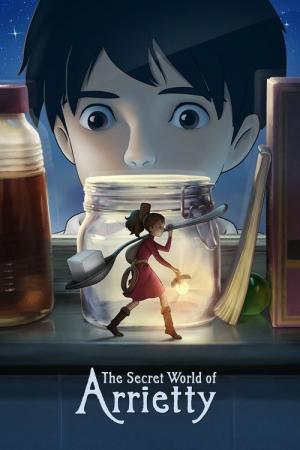 31 Best Movies Like The Secret World Of Arrietty ...
If you liked this one , you will probably love these too! In this list we highlight some of the best films that share a very similar mood to '', and are worth checking out.
2h 5m Animation Family Fantasy
A young girl, Chihiro, becomes trapped in a strange new world of spirits. When her parents undergo a mysterious transformation, she must call upon the courage she never knew she had to free her family.
2.
My Neighbor Totoro (1988)
1h 26m Fantasy Animation Family
Two sisters move to the country with their father in order to be closer to their hospitalized mother, and discover the surrounding trees are inhabited by Totoros, magical spirits of the forest. When the youngest runs away from home, the older sister seeks help from the spirits to find her.
1h 40m Animation Family
The son of a sailor, 5-year old Sosuke, lives a quiet life on an oceanside cliff with his mother Lisa. One fateful day, he finds a beautiful goldfish trapped in a bottle on the beach and upon rescuing her, names her Ponyo. But she is no ordinary goldfish.
4.
Howl's Moving Castle (2004)
1h 59m Fantasy Animation Adventure
When Sophie, a shy young woman, is cursed with an old body by a spiteful witch, her only chance of breaking the spell lies with a self-indulgent yet insecure young wizard and his companions in his legged, walking castle.
5.
Kiki's Delivery Service (1989)
6.
A Letter to Momo (2011)
7.
From Up on Poppy Hill (2011)
1h 31m Animation Drama
A group of Yokohama students fight to save their school's clubhouse from the wrecking ball during preparations for the 1964 Tokyo Olympic Games. While working there, Umi and Shun gradually become attracted to each other but have to face a sudden trial. Even so, they keep going without fleeing the difficulties of reality.
8.
Whisper of the Heart (1995)
1h 51m Animation Drama Family
Shizuku lives a simple life, dominated by her love for stories and writing. One day she notices that all the library books she has have been previously checked out by the same person: 'Seiji Amasawa'.
1h 57m Animation Drama Family Fantasy
After her werewolf lover unexpectedly dies in an accident, a woman must find a way to raise the son and daughter that she had with him. However, their inheritance of their father's traits prove to be a challenge for her.
1h 42m Animation Adventure Family Fantasy
A teenager finds herself transported to a deep forest setting where a battle between the forces of good and the forces of evil is taking place. She bands together with a rag-tag group characters in order to save their world—and ours.
11.
Castle in the Sky (1986)
2h 5m Adventure Fantasy Animation Action Family Romance
A young boy and a girl with a magic crystal must race against pirates and foreign agents in a search for a legendary floating castle.
12.
When Marnie Was There (2014)
1h 43m Animation Drama
Upon being sent to live with relatives in the countryside due to an illness, an emotionally distant adolescent girl becomes obsessed with an abandoned mansion and infatuated with a girl who lives there - a girl who may or may not be real.
13.
The Secret of Kells (2009)
1h 11m Animation Family Fantasy
Adventure awaits 12 year old Brendan who must fight Vikings and a serpent god to find a crystal and complete the legendary Book of Kells. In order to finish Brother Aiden's book, Brendan must overcome his deepest fears on a secret quest that will take him beyond the abbey walls and into the enchanted forest where dangerous mythical creatures hide. Will Brendan succeed in his quest?
1h 18m Animation Family Adventure Fantasy
Journey into the secret world of Pixie Hollow and hear Tinker Bell speak for the very first time as the astonishing story of Disney's most famous fairy is finally revealed in the all-new motion picture "Tinker Bell."
15.
The Tale of Despereaux (2008)
1h 33m Adventure Animation Family
Once upon a time... in the far away kingdom of Dor... lived a brave and virtuous mouse with comically oversized ears who dreamt of becoming a knight. Banished from his home for having such lofty ambitions, Despereaux sets off on an amazing adventure with his good-hearted rat friend Roscuro, who leads him, at long last, on a very noble quest to rescue an endangered princess and save an entire kingdom from darkness.
16.
The Tale of the Princess Kaguya (2013)
2h 17m Animation Drama Fantasy
Found inside a shining stalk of bamboo by an old bamboo cutter and his wife, a tiny girl grows rapidly into an exquisite young lady. The mysterious young princess enthralls all who encounter her - but ultimately she must confront her fate, the punishment for her crime.
1h 35m Animation Family Adventure Drama Comedy
Growing up can be a bumpy road, and it's no exception for Riley, who is uprooted from her Midwest life when her father starts a new job in San Francisco. Riley's guiding emotions— Joy, Fear, Anger, Disgust and Sadness—live in Headquarters, the control centre inside Riley's mind, where they help advise her through everyday life and tries to keep things positive, but the emotions conflict on how best to navigate a new city, house and school.
18.
Kubo and the Two Strings (2016)
1h 42m Animation Adventure Family
Kubo mesmerizes the people in his village with his magical gift for spinning wild tales with origami. When he accidentally summons an evil spirit seeking vengeance, Kubo is forced to go on a quest to solve the mystery of his fallen samurai father and his mystical weaponry, as well as discover his own magical powers.
19.
Song of the Sea (2014)
1h 33m Family Animation Fantasy
The story of the last Seal Child's journey home. After their mother's disappearance, Ben and Saoirse are sent to live with Granny in the city. When they resolve to return to their home by the sea, their journey becomes a race against time as they are drawn into a world Ben knows only from his mother's folktales. But this is no bedtime story; these fairy folk have been in our world far too long. It soon becomes clear to Ben that Saoirse is the key to their survival.
20.
Journey to Agartha (2011)
1h 56m Animation Adventure Drama Fantasy
The film centers on Asuna, a young girl who spends her solitary days listening to the mysterious music emanating from the crystal radio she received from her late father as a memento. One day while walking home she is attacked by a fearsome monster and saved mysterious boy named Shun. However, Shun disappears and Asuna embarks on a journey of adventure to the land of Agartha with her teacher Mr. Morisaki to meet a Shun again. Through her journey she comes to know the cruelty and beauty of the world, as well as loss.
21.
Princess Mononoke (1997)
2h 14m Adventure Fantasy Animation
Ashitaka, a prince of the disappearing Emishi people, is cursed by a demonized boar god and must journey to the west to find a cure. Along the way, he encounters San, a young human woman fighting to protect the forest, and Lady Eboshi, who is trying to destroy it. Ashitaka must find a way to bring balance to this conflict.
22.
Horton Hears a Who! (2008)
1h 26m Animation Comedy Family Adventure Fantasy
One day, Horton the elephant hears a cry from help coming from a speck of dust. Even though he can't see anyone on the speck, he decides to help it. As it turns out, the speck of dust is home to the Whos, who live in their city of Whoville. Horton agrees to help protect the Whos and their home.
23.
Stuart Little 2 (2002)
1h 18m Family Adventure Animation Comedy
Stuart, an adorable white mouse, still lives happily with his adoptive family, the Littles, on the east side of Manhattan's Central Park. More crazy mouse adventures are in store as Stuart, his human brother, George, and their mischievous cat, Snowbell, set out to rescue a friend.
1h 28m Fantasy Adventure Animation Comedy Family
Fed up with being targeted by the neighborhood bully, 10-year-old Lucas Nickle vents his frustrations on the anthill in his front yard ... until the insects shrink him to the size of a bug with a magic elixir. Convicted of "crimes against the colony," Lucas can only regain his freedom by living with the ants and learning their ways.
25.
Kirikou and the Sorceress (1998)
1h 10m Fantasy Adventure Animation Family
Drawn from elements of West African folk tales, it depicts how a newborn boy, Kirikou, saves his village from the evil witch Karaba.
26.
The Pagemaster (1994)
1h 20m Fantasy Science Fiction Family Animation
Tyler knows a lot about accidents. So much so, he is scared to do anything that might endanger him, like riding his bike, or climbing into his treehouse. While in an old library, he is mystically transported into the unknown world of books, and he has to try and get home again.
1h 18m Fantasy Family Animation Adventure
What can two little mice possibly do to save an orphan girl who's fallen into evil hands? With a little cooperation and faith in oneself, anything is possible! As members of the mouse-run International Rescue Aid Society, Bernard and Miss Bianca respond to orphan Penny's call for help. The two mice search for clues with the help of an old cat named Rufus.
1h 36m Comedy Adventure Family
A young Peruvian bear travels to London in search of a new home. Finding himself lost and alone at Paddington Station, he meets the kindly Brown family.
1h 43m Family Adventure Animation Fantasy
In a time of superstition and magic, when wolves are seen as demonic and nature an evil to be tamed, a young apprentice hunter comes to Ireland with her father to wipe out the last pack. But when she saves a wild native girl, their friendship leads her to discover the world of the Wolfwalkers and transform her into the very thing her father is tasked to destroy.
30.
Okko's Inn (2018)
12m Animation
We don't have an overview translated in English. Help us expand our database by adding one.
explore
Check out more list from our community