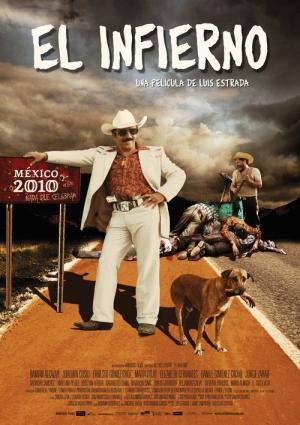 14 Best Movies Like El Infierno ...
If you liked this movie , you will definitely love these too! In this list we highlight some of the best films that share a very similar premise to 'El Narco', and are worth checking out.
2.
The Perfect Dictatorship (2014)
4.
Gangster's Paradise: Jerusalema (2008)
1h 27m Action Crime Drama
Johnny Sun is a Mexican American with a white mother and Mexican dad. He witnesses his parents murder and gets his revenge years later, leading to a hard life as a gangster in drugs and smuggling. He tries to keep his borther from the life and finds himself fending for his own life.
5.
Bring Me the Head of Alfredo Garcia (1974)
1h 53m Action Crime Drama
An American bartender and his prostitute girlfriend go on a road trip through the Mexican underworld to collect a $1 million bounty on the head of a dead gigolo.
2h 15m Drama Crime
An inside look at Italy's modern-day crime families, the Camorra in Naples and Caserta. Based on a book by Roberto Saviano. Power, money and blood: these are the "values" that the residents of the Province of Naples and Caserta have to face every day. They hardly ever have a choice and are forced to obey the rules of the Camorra. Only a lucky few can even think of leading a normal life.
2h 10m Drama Crime
Buscapé was raised in a very violent environment. Despite the feeling that all odds were against him, he finds out that life can be seen with other eyes...
8.
The Snitch Cartel (2011)
10.
House of My Father (2012)
1h 24m Comedy Western
Scheming of a way to save their father's ranch, the Alvarez brothers find themselves in a war with Mexico's most feared drug lord.
2h 50m Action Crime Drama Thriller
After getting a green card in exchange for assassinating a Cuban government official, Tony Montana stakes a claim on the drug trade in Miami. Viciously murdering anyone who stands in his way, Tony eventually becomes the biggest drug lord in the state, controlling nearly all the cocaine that comes through Miami. But increased pressure from the police, wars with Colombian drug cartels and his own drug-fueled paranoia serve to fuel the flames of his eventual downfall.
12.
Paper Soldiers (2002)
1h 28m Action Comedy
Paper Soldiers follows an overeager burglar named Shawn (Kevin Hart) through the ups and downs of his short, stressful career.
13.
Gangs of Wasseypur (2012)
2h 40m Action Thriller Crime
Shahid Khan is exiled after impersonating the legendary Sultana Daku in order to rob British trains. Now outcast, Shahid becomes a worker at Ramadhir Singh's colliery, only to spur a revenge battle that passes on to generations. At the turn of the decade, Shahid's son, the philandering Sardar Khan vows to get his father's honor back, becoming the most feared man of Wasseypur.
1h 40m Crime Action Drama
With friends like these, who needs enemies? That's the question bad guy Porter is left asking after his wife and partner steal his heist money and leave him for dead -- or so they think. Five months and an endless reservoir of bitterness later, Porter's partners and the crooked cops on his tail learn how bad payback can be.
explore
Check out more list from our community