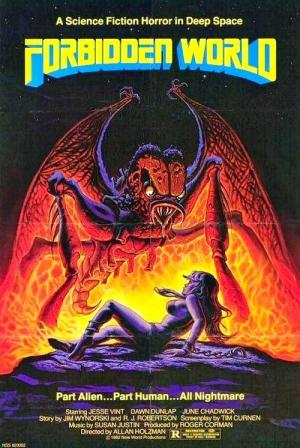 27 Best Movies Like Forbidden Planet ...
If you liked this movie , you will definitely love these too! In this collection we highlight some of the best films that share a very similar mood to '', and are worth checking out.
1h 57m Horror Science Fiction
During its return to the earth, commercial spaceship Nostromo intercepts a distress signal from a distant planet. When a three-member team of the crew discovers a chamber containing thousands of eggs on the planet, a creature inside one of the eggs attacks an explorer. The entire crew is unaware of the impending nightmare set to descend upon them when the alien parasite planted inside its unfortunate host is birthed.
1h 37m Science Fiction Thriller Horror
A crew of scientists arrives on a far, cold planet to examine archaic artifacts of unknown origin. They discover that their German enemies already have a ship there. When they seek their help after a failed landing, they only find the Germans' bodies, obviously slaughtered by one of the archaic creatures, awoken to new life. Now the alien is after them.
1h 12m Science Fiction Horror
The year is 1998, six years after the nuke wars reduced the world to rubble and a few bands of wandering survivors. One of these groups stumbles into an abandoned government research facility, where they were working on making the body capable of creating its own amino acids, thus obviating the need for food. They are then attacked by one of the leftover experiments and begin experiencing an attrition problem.
4.
Humanoids from the Deep (1980)
1h 20m Horror Science Fiction
They're not human. But they hunt human women. Not for killing. For mating.
5.
The Terror Within (1989)
1h 30m Horror Science Fiction
Experiments in biological warfare have destroyed all but a few remnants of the human race. Alone in a lab, eight students work feverishly to create a vaccine before they are forced outside in search for food. It is then that the surviving scientists discover creatures mutated by the plague. Now they prepare to do battle against their worst fear: The Terror Within.
1h 35m Horror Science Fiction
Remake of the 1958 horror sci-fi about a deadly blob which is the spawn of a secret government germ warfare project which consumes everyone in its path. Teenagers try in vain to warn the townsfolk, who refuse to take them seriously, while government agents try to cover up the evidence and confine the creature.
7.
Rats: Night of Terror (1984)
1h 25m Horror Science Fiction
A group of scientists have developed the Resonator, a machine which allows whoever is within range to see beyond normal perceptible reality. But when the experiment succeeds, they are immediately attacked by terrible life forms.
1h 41m Horror Science Fiction
A genetically re-engineered dog develops a psychic link with a monster created in a lab experiment which goes awry.
11.
Syngenor: Synthesized Genetic Organism (1990)
1h 38m Horror Science Fiction
A scientist engineers a group of genetically engineered cyborgs for use as "super soldiers" to fight U.S. wars in the Middle East. However, things get ugly when the cyborgs malfunction and turn on their creators.
12.
The Incredible Melting Man (1977)
1h 24m Horror Science Fiction
An astronaut exposed to cosmic rays outside of Saturn's rings returns to Earth and begins to melt away. Escaping from the hospital, he wanders around the backwoods looking for human flesh to eat.
1h 23m Horror Science Fiction
After being driven to extinction, great bloodthirsty dinosaurs come back to life with the assistance of a demented genetic scientist. She plans to replace the human race with a super-race of dinosaurs who will not pollute the planet.
1h 30m Science Fiction Thriller Horror
An alien microbe lands in remote Siberia in the 1950's. In the year 2004, US scientist working at a top secret underground lab in Alaska clone the microbe. A garbled distress signal is heard from the lab just before a complete lock down of the facility. This is the last word sent out from the scientists. A team of scientists and military personnel are in charge of finding out what went wrong.
1h 25m Horror Science Fiction
Paul Dean has created a deadly parasite that is now attached to his stomach. He and his female companion, Patricia Welles, must find a way to destroy it while also trying to avoid Ricus, his rednecks, and an evil government agent named Merchant.
1h 31m Horror Science Fiction
Amanda's deathbed request to her son, John, was for him to destroy all the lab notes etc. from her last experiment. She also blurts out he had a brother. At the funeral John meets Melissa, who claims to be his mothers biggest fan. Together with some of John's friends they go to Amanda's house, but none are prepared for what they find there.
17.
The Beast of Yucca Flats (1961)
18.
The Giant Spider Invasion (1975)
1h 24m Horror Science Fiction
A black hole hits North Wisconsin and opens a door to other dimensions. Giant 15 meter spiders emerge from it, who have an appetite for human flesh! Dr. Jenny Langer and Dr. Vance from the NASA try to save the world.
20.
Monster a-Go Go (1965)
1h 51m Science Fiction Action Horror
After she delivers her child in an ambulance, alien Eve is killed by a half-breed. Fortunately, Dr. Abbot scoops up the baby alien and escapes. In time, the baby grows into a gorgeous blonde named Sara and begins her quest to find a worthy mate. But Sara is also savage and leaves a trail of deaths in her wake. This carnage makes chemistry student Dean question whether to help her race or not.
1h 40m Comedy Horror Science Fiction
Just before bounty hunter Charile triggers his gun to destroy the last two Critter-eggs, he gets a message that it would be illegal to extinguish the race from the galaxy. He's sent a transporter where he puts the eggs - unfortunately the transporter takes him with it and then gets lost in space.
24.
The Flesh Eaters (1964)
25.
The Slime People (1963)
1h 16m Horror Science Fiction
After Los Angeles is invaded by an army of subterranean monsters a small group of people must fight for survival in the deserted metropolis.
1h 37m Horror Science Fiction
A rash of bizarre murders in New York City seems to point to a group of grotesquely deformed vagrants living in the sewers. A courageous policeman, a photo journalist and his girlfriend, and a nutty bum, who seems to know a lot about the creatures, band together to try and determine what the creatures are and how to stop them.
explore
Check out more list from our community