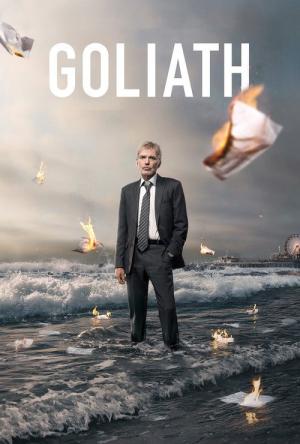 17 Best Shows Like Goliath ...
If you liked this movie , you will for sure love these too! In this selection we highlight some of the best films that share a very similar premise to '', and are worth checking out.
1.
Game of Silence (2016)
43m Drama
A successful Atlanta attorney's long-lost childhood friends unexpectedly reappear after 25 years. When a dark secret they thought they'd buried resurfaces, the brotherhood bands together to right the wrongs of their shared past - a journey that will push the limits of their loyalty and quench their thirst for revenge.
2h 15m Drama
Karl Childers is a mentally disabled man who has been in the custody of the state mental hospital since the age of 12 for killing his mother and her lover. Although thoroughly institutionalized, Karl is deemed fit to be released into the outside world.
5.
The Escape Artist (2013)
1h Drama
A chilling and bloody legal thriller that explores the line between law and justice. Will Burton, a talented junior barrister of peerless intellect and winning charm, specialises in spiriting people out of tight legal corners. He is in high demand as he has never lost a case. But when his talents acquit the notorious prime suspect in an horrific murder trial, that brilliance comes back to bite him with unexpected and chilling results, not to mention a shocking twist.
6.
Raising the Bar (2008)
1h Drama
The lives and cases of young lawyers who work on opposite sides - the public defender's office and the district attorney's office - as well as those who sit in judgment on their cases.
A look at the personal and professional lives of the judges, lawyers, clerks, bailiffs and cops who work at an L.A. County courthouse.
Forced to become an apprentice cop, cocky playboy Igor finds he's got a knack for police work. But his job soon takes him down a dark personal path.
10.
The Enemy Within (2019)
Erica Shepherd is a brilliant former CIA operative, now known as the most notorious traitor in American history serving life in a Supermax prison. Against every fiber of his being but with nowhere else to turn, FBI Agent Will Keaton enlists Shepherd to help track down a fiercely dangerous and elusive criminal she knows all too well. While Shepherd and Keaton have different motivations for bringing the enemy to justice, they both know that to catch a spy… they must think like one.
11.
A Civil Action (1998)
1h 55m Drama
Jan Schlickmann is a cynical lawyer who goes out to 'get rid of' a case, only to find out it is potentially worth millions. The case becomes his obsession, to the extent that he is willing to give up everything—including his career and his clients' goals—in order to continue the case against all odds.
1h Drama
A chance meeting between photographer Sara Hadley and Attorney Jack McAllister leads to an instant and undeniable attraction. Just as Sara and Jack's affair is starting, the lovers find themselves in an impossible situation—on opposite sides of a murder investigation.
Faith, a small-town Welsh lawyer, is forced to cut short her extended maternity leave when her husband and business partner, Evan, goes missing. As the truth of his actions surface, Faith must fight to protect her family and her sanity.
22m Comedy
That's right, honey! A decade after their unforgettable eight-season run, comedy's most fabulous foursome is back.
15.
A Date with Darkness: The Trial and Capture of Andrew Luster (2003)
Andrew Luster, the heir to the Max factor fortune, is convicted of rape on 86 counts. This Lifetime original movie recounts the rapes committed by the infamous Andrew Luster and the women who brought him to justice.
After a night of partying with a female stranger, a man wakes up to find her stabbed to death and is charged with her murder.
explore
Check out more list from our community