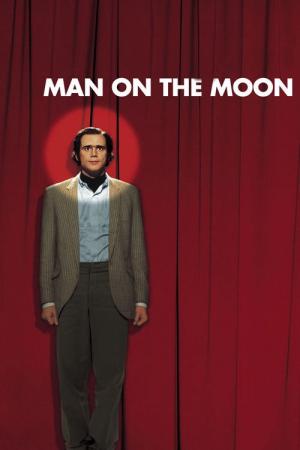 11 Best Movies Like The Man In The Moon ...
If you liked this movie , you will probably love these too! In this list we highlight some of the best films that share a very similar premise to 'Man on the Moon', and are worth checking out.
2h 7m Comedy Drama History
The mostly true story of the legendary "worst director of all time", who, with the help of his strange friends, filmed countless B-movies without ever becoming famous or successful.
2.
American Splendor (2003)
1h 41m Comedy Drama
An original mix of fiction and reality illuminates the life of comic book hero everyman Harvey Pekar.
1h 55m Comedy Drama
The true story of Dr. Hunter "Patch" Adams, who in the 1970s found that humor is the best medicine, and was willing to do just anything to make his patients laugh—even if it meant risking his own career.
4.
Dolemite Is My Name (2019)
1h 58m Drama Comedy History
The story of Rudy Ray Moore, who created the iconic big screen pimp character Dolemite in the 1970s.
5.
Postcards from the Edge (1990)
1h 41m Comedy Drama
Substance-addicted Hollywood actress, Suzanne Vale is on the skids. After a spell at a detox centre her film company insists as a condition of continuing to employ her that she live with her mother, herself once a star and now a champion drinker. Such a set-up is bad news for Suzanne who has struggled for years to get out of her mother's shadow, and who still treats her like a child. Despite these and other problems, Suzanne begins to see the funny side of her situation, and also realises that not only do daughters have mothers—mothers do too.
6.
Why Do Fools Fall in Love (1998)
1h 56m Drama Romance
In the mid-80s, three women (each with an attorney) arrive at the office of New York entertainment manager, Morris Levy. One is an L.A. singer, formerly of the Platters; one is a petty thief from Philly; one teaches school in a small Georgia town. Each claims to be the widow of long-dead doo-wop singer-songwriter Frankie Lyman, and each wants years of royalties due to his estate, money Levy has never shared. During an ensuing civil trial, flashbacks tell the story of each one's life with Lyman, a boyish, high-pitched, dynamic performer, lost to heroin. Slowly, the three wives establish their own bond.
7.
Broadway Danny Rose (1984)
1h 24m Comedy
A hapless talent manager named Danny Rose, by helping a client, gets dragged into a love triangle involving the mob. His story is told in flashback, an anecdote shared amongst a group of comedians over lunch at New York's Carnegie Deli. Rose's one-man talent agency represents countless incompetent entertainers, including a one-legged tap dancer, and one slightly talented one: washed-up lounge singer Lou Canova (Nick Apollo Forte), whose career is on the rebound.
2h 26m Comedy Drama
Famous and wealthy funnyman George Simmons doesn't give much thought to how he treats people until a doctor delivers stunning health news, forcing George to reevaluate his priorities with a little help from aspiring stand-up comic Ira.
9.
Isn't She Great (2000)
1h 35m Comedy Drama
An unsuccessful over-the-top actress becomes a successful over-the-top authoress in this biography of Jacqueline Susann, the famed writer of "The Valley of the Dolls" and other trashy novels. Facing a failing career, Susann meets a successful promoter who becomes her husband. After several failures to place her in commercials and a TV quiz show, he hits upon the idea for her to become a writer. In the pre-1960s, her books were looked upon as trash and non-printable. But then the sexual revolution hit and an audience was born for her books. The story shows the hidden behind-the-scenes story of Susann's life, including her autistic son and her continuing bout with cancer which she hid up until her death.
1h 48m Drama History
The brief life of Jean Michel Basquiat, a world renowned New York street artist struggling with fame, drugs and his identity.
2h 3m Comedy Drama
Lilah Krytsick is a mother and housewife who's always believed she could be a stand-up comedian. Steven Gold is an experienced stand-up seemingly on the cusp of success. When the two meet, they form an unlikely friendship, and Steven tries to help the untried Lilah develop her stage act. Despite the objections of her family and some very wobbly beginnings, Lilah improves, and soon she finds herself competing with Steven for a coveted television spot.
explore
Check out more list from our community