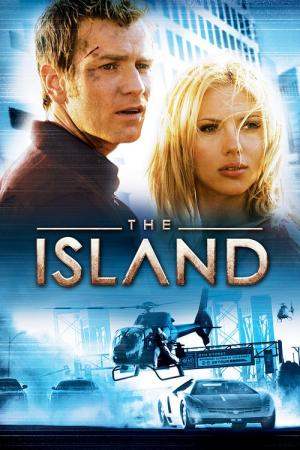 11 Best Movies Like The Island ...
If you liked this film , you will definitely love these too! In this selection we highlight some of the best films that share a very similar premise to 'The Island', and are worth checking out.
1h 49m Action Thriller Science Fiction
In the not-too-distant future the aging gene has been switched off. To avoid overpopulation, time has become the currency and the way people pay for luxuries and necessities. The rich can live forever, while the rest try to negotiate for their immortality. A poor young man who comes into a fortune of time, though too late to help his mother from dying. He ends up on the run from a corrupt police force known as 'time keepers'.
1h 47m Action Science Fiction Thriller
In a dystopian future, a totalitarian regime maintains peace by subduing the populace with a drug, and displays of emotion are punishable by death. A man in charge of enforcing the law rises to overthrow the system.
2h 4m Action Science Fiction Adventure Mystery
Jack Harper is one of the last few drone repairmen stationed on Earth. Part of a massive operation to extract vital resources after decades of war with a terrifying threat known as the Scavs, Jack's mission is nearly complete. His existence is brought crashing down when he rescues a beautiful stranger from a downed spacecraft. Her arrival triggers a chain of events that forces him to question everything he knows and puts the fate of humanity in his hands.
4.
The Maze Runner (2014)
1h 53m Action Mystery Science Fiction Thriller
Set in a post-apocalyptic world, young Thomas is deposited in a community of boys after his memory is erased, soon learning they're all trapped in a maze that will require him to join forces with fellow "runners" for a shot at escape.
1h 55m Action Science Fiction
In 2035, where robots are commonplace and abide by the three laws of robotics, a technophobic cop investigates an apparent suicide. Suspecting that a robot may be responsible for the death, his investigation leads him to believe that humanity may be in danger.
1h 48m Action Thriller Science Fiction
In the post-apocalyptic future, reigning tyrannical supercomputers teleport a cyborg assassin known as the "Terminator" back to 1984 to kill Sarah Connor, whose unborn son is destined to lead insurgents against 21st century mechanical hegemony. Meanwhile, the human-resistance movement dispatches a lone warrior to safeguard Sarah. Can he stop the virtually indestructible killing machine?
1h 29m Science Fiction Action Thriller
Set in a futuristic world where humans live in isolation and interact through surrogate robots, a cop is forced to leave his home for the first time in years in order to investigate the murders of others' surrogates.
1h 35m Action Thriller Science Fiction
Mind-control technology has taken society by a storm, a multiplayer on-line game called "Slayers" allows players to control human prisoners in mass-scale. Simon controls Kable, the online champion of the game. Kable's ultimate challenge becomes regaining his identity and independence by defeating the game's mastermind.
9.
Planet of the Apes (2001)
1h 59m Thriller Science Fiction Action Adventure
After a spectacular crash-landing on an uncharted planet, brash astronaut Leo Davidson finds himself trapped in a savage world where talking apes dominate the human race. Desperate to find a way home, Leo must evade the invincible gorilla army led by Ruthless General Thade.
1h 57m Science Fiction Mystery Thriller
An extremely wealthy elderly man dying from cancer undergoes a radical medical procedure that transfers his consciousness to the body of a healthy young man but everything may not be as good as it seems when he starts to uncover the mystery of the body's origins and the secret organization that will kill to keep its secrets.
11.
Terminator 3: Rise of the Machines (2003)
1h 49m Action Thriller Science Fiction
It's been 10 years since John Connor saved Earth from Judgment Day, and he's now living under the radar, steering clear of using anything Skynet can trace. That is, until he encounters T-X, a robotic assassin ordered to finish what T-1000 started. Good thing Connor's former nemesis, the Terminator, is back to aid the now-adult Connor … just like he promised.
explore
Check out more list from our community