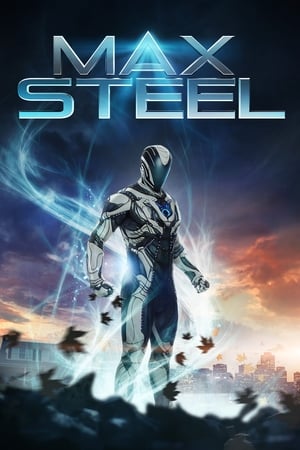 14 Best Cartoons Like Max Steel ...
If you liked this movie , you will probably love these too! In this collection we highlight some of the best films that share a very similar mood to '', and are worth checking out.
30m Animation Action & Adventure Kids Family Mystery
Generator Rex is an American science fiction "nanopunk" action animated television series created by Man of Action for Cartoon Network. John Fang of Cartoon Network Studios serves as supervising director. It is inspired by the comic M. Rex, published by Image Comics in 1999. The series premiered in the United States on April 23, 2010, on Cartoon Network. Generator Rex is rated TV-PG. The last episode of the third season had aired on January 3, 2013.
2.
Ben 10: Omniverse (2012)
22m Action & Adventure Animation
A year after the events that took place during the "Final Battle" and after the destruction of Omnitrix, 16-year-old Ben Tennyson has to face new enemies.
30m Kids Sci-Fi & Fantasy Action & Adventure Animation
The ThunderCats are on the move! After the kingdom of Thundera is attacked by the lizard people, Lion-O leads Tygra, Cheetara and the other heroes on a quest for the Book of Omens and the magic stones of legend. But he'll have to face villains like Mumm-Ra, the ancient evil sorceror, and Slithe, the dangerous lizard general. Luckily, he has the Sword of Omens and its amazing powers at his disposal.
4.
Green Lantern: The Animated Series (2011)
22m Action & Adventure Animation Sci-Fi & Fantasy
The Green Lanterns Hal and his partner Kilowog fight against the forces of the Red Lanterns.
5.
Ben 10: Secret of the Omnitrix (2007)
1h 11m Animation Science Fiction Family
After a battle in a power plant, Ben notices something strange is happening with the omnitrix, but doesn't tell anyone. Tetrax arrives, and tells them the omnitrix is broadcasting a self destruct signal. Tetrax and Ben go to find the creator of the omnitrix to fix the omnitrix before it destroys itself and the universe along with it. Gwen stows away to help her cousin.
23m Animation Action & Adventure
The Teen Titans are five heroes under one roof. Their names: Robin, Starfire, Raven, Cyborg, and Beast Boy They live in a large tower in the shape of a T that they call Titan Tower. No secret identities. No school. Just superheroes being superheroes. They must go up against their arch nemesis, Slade, and his evil minions. What he really plans to do is unknown but one thing's for sure... he's an evil madman.
7.
Marvel's Spider-Man (2017)
50m Action & Adventure Crime Drama Sci-Fi & Fantasy
Every teenager thinks their parents are evil. What if you found out they actually were? Six diverse teenagers who can barely stand each other must unite against a common foe – their parents.
8.
Iron Man & Hulk: Heroes United (2013)
2h 10m Action Adventure Science Fiction
When Tony Stark's world is torn apart by a formidable terrorist called the Mandarin, he starts an odyssey of rebuilding and retribution.
9.
Sym-Bionic Titan (2010)
23m Action & Adventure Animation
Sym-Bionic Titan is an American animated action science fiction television series created by Genndy Tartakovsky, Paul Rudish, and Bryan Andrews for Cartoon Network. The series focuses on a trio made up of the alien princess Ilana, the rebellious soldier Lance, and the robot Octus; the three are able to combine to create the titular Sym-Bionic Titan. A preview of the series was first shown at the 2009 San Diego Comic-Con International, and further details were revealed at Cartoon Network's 2010 Upfront. The series premiered on September 17, 2010, and ended on April 9, 2011. The series is rated TV-PG-V.Cartoon Network initially ordered 20 episodes; Tartakovsky had hoped to expand on that, but the series was not renewed for another season, as the show "did not have any toys connected to it." Although Sym-Bionic Titan has never been released on DVD, All 20 episodes are available on iTunes.On October 7, 2012, reruns of Sym-Bionic Titan began airing on Adult Swim's Toonami block.
10.
Next Avengers: Heroes of Tomorrow (2008)
1h 18m Animation Family
The children of the Avengers hone their powers and go head to head with the very enemy responsible for their parents' demise.
11.
The Legend of Korra (2012)
23m Action & Adventure Animation Drama Family Sci-Fi & Fantasy
Avatar Korra, a headstrong, rebellious, feisty young woman who continually challenges and breaks with tradition, is on her quest to become a fully realized Avatar. In this story, the Avatar struggles to find balance within herself.
30m Animation
Voltron Force is a spin-off of the 1980s animated series Voltron that was originally scheduled for a release in autumn of 2010. Eventually, the show premiered on June 16, 2011, exclusively on the Nicktoons television network to coincide with the premiere of the second season of Iron Man: Armored Adventures. It ended on April 25, 2012 with the episode "Black".
25m Animation Action & Adventure Comedy
Pretty Cure, known in Japan as Futari wa Pretty Cure, is a Japanese magical girl anime series The theme of the series revolves around Yin and Yang, which explains the relationship between Nagisa and Honoka trying to work together as Pretty Cures.
explore
Check out more list from our community