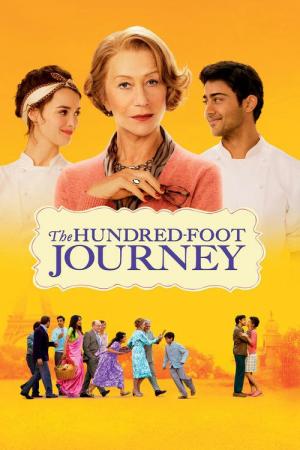 25 Best Movies Like The Hundred Foot Journey ...
If you liked this movie , you will for sure love these too! In this selection we highlight some of the best films that share a very similar premise to '', and are worth checking out.
1.
The Best Exotic Marigold Hotel (2011)
2h 4m Drama Comedy
British retirees travel to India to take up residence in what they believe is a newly restored hotel. Less luxurious than its advertisements, the Marigold Hotel nevertheless slowly begins to charm in unexpected ways as the residents find new purpose in their old age.
2h 1m Comedy
70-year-old widower Ben Whittaker has discovered that retirement isn't all it's cracked up to be. Seizing an opportunity to get back in the game, he becomes a senior intern at an online fashion site, founded and run by Jules Ostin.
1h 40m Drama
Adam Jones is a Chef who destroyed his career with drugs and diva behavior. He cleans up and returns to London, determined to redeem himself by spearheading a top restaurant that can gain three Michelin stars.
5.
The Second Best Exotic Marigold Hotel (2015)
2h 2m Drama Comedy
As the Best Exotic Marigold Hotel has only a single remaining vacancy - posing a rooming predicament for two fresh arrivals - Sonny pursues his expansionist dream of opening a second hotel.
6.
No Reservations (2007)
1h 44m Comedy Romance Drama
Master chef Kate Armstrong runs her life and her kitchen with intimidating intensity. However, a recipe for disaster may be in the works when she becomes the guardian of her young niece while crossing forks with the brash sous-chef who just joined her staff. Though romance blooms in the face of rivalry, Kate needs to look outside the kitchen to find true happiness.
1h 48m Drama Comedy
Members of a Yorkshire branch of the Women's Institute cause controversy when they pose nude for a charity calendar.
1h 46m Romance Drama Comedy
Martha is a single woman who lives for one passion: cooking. The head chef at a chic restaurant, Martha has no time for anything - or anyone - else. But Martha's solitary life is shaken when a fateful accident brings her sister's eight-year-old daughter, Lina, to her doorstep.
11.
My Big Fat Greek Wedding (2002)
1h 35m Comedy Drama Romance
A young Greek woman falls in love with a non-Greek and struggles to get her family to accept him while she comes to terms with her heritage and cultural identity.
12.
Paris Can Wait (2016)
1h 32m Romance
A woman at a crossroads traveling to Cannes along with her successful film producer husband, finds herself on a two-day road trip with his business associate. What follows is a carefree journey replete with diversions involving picturesque sites, fine food and wine, humor, wisdom and romance - reawakening Anne's senses and a new lust for life.
1h 24m Comedy
A veteran chef faces off against his restaurant group's new CEO, who wants to the establishment to lose a star from its rating in order to bring in a younger chef who specializes in molecular gastronomy.
1h 57m Comedy Drama Romance
Failed London banker Max Skinner inherits his uncle's vineyard in Provence, where he spent many childhood holidays. Upon his arrival, he meets a woman from California who tells Max she is his long-lost cousin and that the property is hers.
16.
Today's Special (2009)
1h 39m Comedy Romance
Young Manhattan chef Samir rediscovers his heritage and passion for life through the enchanting art of cooking Indian food.
17.
The Ramen Girl (2008)
1h 42m Romance Comedy Drama
An American woman is stranded in Tokyo after breaking up with her boyfriend. Searching for direction in life, she trains to be a râmen chef under a tyrannical Japanese master.
20.
Intrepido: A Lonely Hero (2013)
21.
Guess Who's Coming to Dinner (1967)
1h 48m Drama
A couple's attitudes are challenged when their daughter brings home a fiancé who is black.
22.
Catfish in Black Bean Sauce (1999)
23.
Papadopoulos & Sons (2012)
24.
Eat Drink Man Woman (1994)
explore
Check out more list from our community